Minimalist Bedroom Inspiration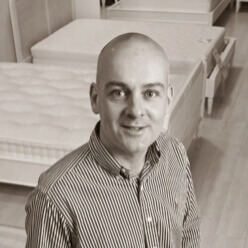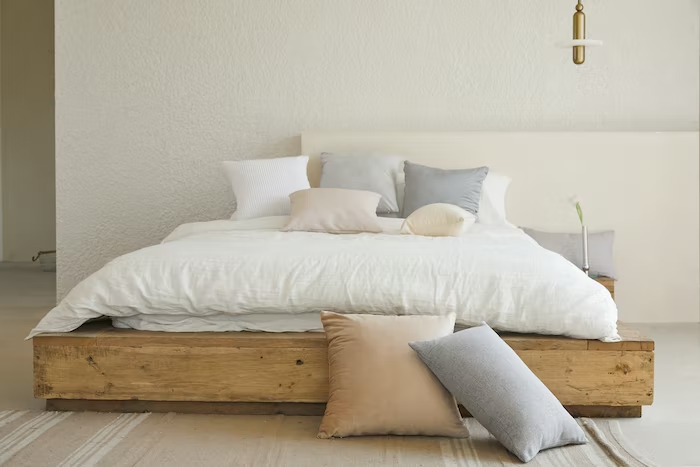 A minimalist bedroom encapsulates simplicity at its finest. Elegant, sleek and strictly clutter-free, minimalist design is all about clean lines, soft colours and open space.
So, in the spirit of keeping things neat, tidy and simplistic, we've put together everything you need to know in order to nail minimalist bedroom design. From furniture choices to colour palettes, minimalist beds and so much more, welcome to your definitive guide to creating a clutter-free and stylish bedroom.
How can I make my room look minimalistic?
The name of the game here is simplicity and a feeling of space. So if you have lots of trinkets, furniture and other bits and bobs, it could be time to invest in some sleek storage options or have a good spring clean! Focus on sticking to only essential items on display and choosing furniture with clean lines and simple shapes.
While maximalist design calls for loud colours, high levels of furnishing and lots of shelving, minimalism calls for muted shades, natural light, symmetry and natural materials to create a calm, inviting and harmonious aesthetic. Less is more!
Storage ideas for a minimalist bedroom
With this interior design trend, you want to double down on reducing the amount of clutter on display and instead invest in storage which is both minimal yet sleek.
First things first, it's time to declutter. Channel your inner Marie Kondo and go through your personal items – what do you love and need to keep, and what can you let go? If you're not using it, it's time to say goodbye!
Then, once you have your essential items, it's a wise idea to focus on having a few key pieces of storage furniture that you can compartmentalise and organise. In the vein of simplicity and clean lines, wardrobes with sliding doors that are flush with your walls are a great place to start as they maximise floor space. Bedside tables are fantastic for keeping your most used items close to you. And then maybe a simple chest of drawers would be a good idea too to tuck any extra clothes, bedding or books out of sight.
And finally, one of the best storage ideas for a minimalist bedroom has to be a storage bed! Perfect for those who want to make the most of their floorspace, storage beds are as stylish as they are functional. Allowing you to hide away any clutter within the bed's frame, a storage bed is a must-have for any true minimalist!
What bed frames can help create a minimalist style bedroom?
Ottoman Beds
Ottoman beds are incredible for increasing storage space in any room due to the discreet, abundant storage capacity beneath their frames. Ottoman beds generally have more storage capacity than beds with standard drawer storage and come in a range of fabric options, natural oak finishes and contemporary high gloss designs to help you achieve that sleek, simple look. Opening from either the foot end or from one side, these bed frames simply require you to lift a tab to easily store away any clutter and mess!
For a storage bed with minimalist style, our Verona White Ottoman Bed is just the ticket.
Divan Beds
Divan beds have the benefit of being both comfortable and on-trend, while also providing an efficient storage solution. The drawers in a divan base help to reduce the amount of floorspace used up by bulky furniture in your bedroom and are easy to access when needed. Divan bed bases can come with one to four drawers too, so you can make an informed decision about how much storage you'll need. Our minimalistic divan beds are also available in a range of contemporary fabrics, designs and colours – browse them all here.
Why not take a closer look at our stunning yet simplistic Hannah Classic 4-Drawer Arran Natural Divan Bed?
Metal Beds
If you're serious about committing to a life as a minimalist purist and won't have the need for a storage bed, a metal bed is a brilliant option to consider. Robust, simple and clean-lined to a tee, metal beds do away with large headboards and illustrious upholstery and will give your space a contemporary and streamlined feel.

Embrace the simple life with our modern Halston Black King Size Bed.
White Beds
Fresh, clean and classic, white beds are a dreamy fit for anyone looking for winning minimalist bedroom ideas. Plus, due to its neutral colour, a white bed is incredibly versatile as it can easily take to any minimalist colour scheme you choose. With clean lines and effortless style, our collection of white beds are sure to get you well on your way with your interior design plans!
Say hello to a fresh and clean space with our Malmo White Wooden Bed Frame.
Top tips for creating a minimalist bedroom
To get you started with creating your clutter-free, relaxing sanctuary of a new bedroom, we've put together a selection of the best minimalist, modern bedroom ideas. Let the pared-back creative juices flow!
Lighting
Bid farewell to chunky lamps and endless cables – you need to get clever when it comes to lighting. Rather than bedside reading lights, opt for smaller wall fittings instead that take up less countertop and floor space. It's crucial to remember too that minimalist design adores natural light, so make sure you're doing your utmost to allow the sunshine into your room. Do away with heavy curtains and opt for simple wooden blinds or simplistic, lightweight drapes instead so your windows can do their thing!
Colour choices
We're after clean and simple, so search for muted colours or monochromatic shades for your walls and wider colour schemes. Whites, soft greys and neutral tones are especially apt here as they'll help to reflect natural light and make your space feel larger, lighter and more airy. That's not to say you can't have other colour accents here or there – you may want to bring a splash of colour to proceedings through your bedding for example – just keep it casual and calm. We won't judge!
Natural materials
Minimalist design naturally conjures up thoughts of Scandi style, an aesthetic which whole-heartedly champions the use of nature-inspired style and furniture. Natural woods and neutral linens will work a treat to keep things feeling clean yet warm and inviting.
Multifunctional furniture
We've already mentioned the benefits of storage beds, but multifunctional furniture in general is a great idea of minimalist bedrooms. Consider purchasing pieces that will help you to stay organised and which can also be used for more than one purpose. For example, a natural wooden desk could also act as a dressing table or simplistic seating area!
Are you after some more interior design tips to transform your bedroom?
Say no more. Explore our blog and discover a huge collection of interior design and style advice, from Botanical Bedroom Ideas, to Space Saving Tips and even Feng Shui Ideas for Your Bedroom!