What is Maximalism? Ideas for the Bedroom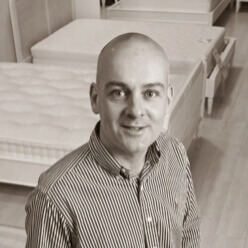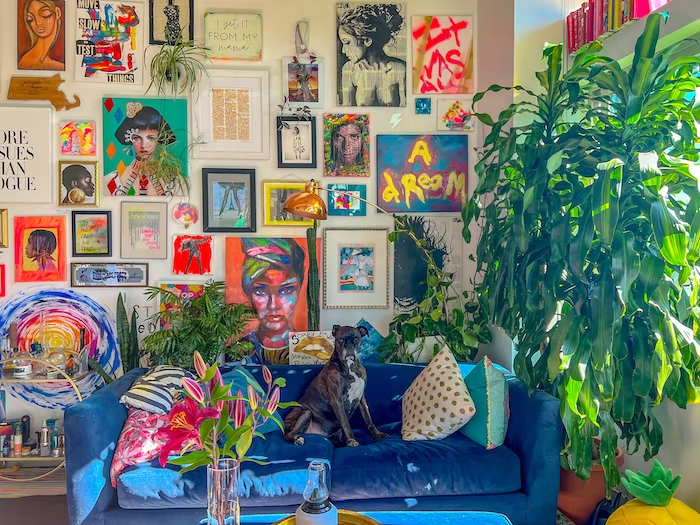 Move over minimalism, it's maximalism's moment in 2023. Because why have less when you could have more? From tips on colour, patterns, prints, beds and more, we've put together your complete guide on how to create the ultimate maximalist bedroom design.

What is maximalism in design?
The Macmillan Dictionary defines a maximalist in the realms of art and design as "someone who favours abundance and variety of objects, styles and patterns."
Rejecting the rules of minimalism, maximalism is all about creative freedom where a liberal use of pattern, colour and texture is embraced wholeheartedly. Think excess, think layers, think colour saturation, think clashing prints and bold design choices that would make even Laurence Llewelyn-Bowen blush!
How to create a maximalist bedroom
So, how do you bring maximalism to the bedroom, we hear you cry? You let loose! What's great about maximalism is that it's pretty hard to get wrong, you just add more of what you love… And then add some more. However, to avoid making your space look drab and gaudy rather than fab and eccentric, here are a few guiding hints and tips for you to live by as you get decorating:
Don't be scared of colour – be bright and bold
Use up your wallspace
Don't scrimp on comfort while being creative
Layer up on prints and patterns
Stock up on statement pieces and trinkets
Bring the outside in with plants and botanicals
Controlled chaos and unbridled creativity are the name of the game. Take a look at more of our advice below on how to create an incredible maximalist bedroom.
Colours
If you want to nail the maximalist bedroom look, you really can't shy away from colour. Prepare to be bold and get loud! From spicy reds to popping pinks, cobalt blues and eye-popping greens, you really can't go wrong here – it's all about expressing your inner artist.
And while you experiment with the shades of your walls, why not be brave with a colour-pop bed frame too? Take our stunning Lilly Upholstered Bed Frame in cotton candy pink below, for example. Eye-catching, couture and complete with a plush rolled headboard, this bed is sure to be the centre of attention in your room!
Or how about our Levisham Plush Velvet Bed Frame in this bold shade of ochre? Not only is this frame a serious splash of colour, but it's ottoman storage base is perfect for maximalist mad interior designers who need to tidy away their many bits and bobs every now and again!
Patterns
The beating heat of maximalist design, layering patterns will take your bedroom aesthetic to the next level. Clash away to your heart's content and explore florals, neons, animal prints and botanicals that will add real complexity and joie de vivre to the space. And the beauty of playing with patterns is the fact they're not limited to one design medium. From wallpaper to furniture, rugs, scatter cushions, throws and lampshades, you've really got scope for experimentation!
Prints
Much like with your patterns and materials, embrace contrast and clashing colours with a clever use of prints. A gallery wall is an amazing way to thrill your inner maximalist artist and brings a real sense of fun and creativity to your sleeping space. From animal prints to typography, Frida Kahlo inspired colour scapes and so much more, it's time to get framing and hanging! And that's another thing too – don't feel you need to stick to the same, uniform frames for each print. Mix things up a bit and play with ornate metal frames, neon plastic styles, canvasses and dark wooden frames too. Trust us, it sounds chaotic but using an array of frame materials can create real intrigue and texture to your gallery wall.
Shelves
In the spirit of 'more is more', shelving is a brilliant means to packing your maximalist bedroom with even more of your exciting and colourful collections. Proudly display your long-collected piles of books, trinkets, plants on shelving to avoid eating up your floorspace and slipping over the line of busy and exciting to cluttered and messy.
High Headboards
Well, it would be remiss of us not to give another shout out to how a bed could transform your design, wouldn't it? Enter, sky high headboards. Dramatic, attention-demanding and oh so chic, tall headboards are to maximalist bedroom design as the British are to queueing – they just go hand-in-hand. Here are a few of our favourite high headboard bed frames to whet your creative whistle.
Discover the beautiful Knightsbridge Upholstered Divan Base and Headboard.
Make the Emma Ottoman Arran Cyan Headboard and Bed Base yours today.
Take your design to new heights with the Esme Classic Gouache Raspberry Headboard and Bed Base.
Hungry for more design inspo?
Looking for more bedroom design inspiration? We've got you covered. Explore our blog and discover a huge catalogue of style advice, from Boho Bedroom Inspiration, to Preppy Style Bedroom Ideas and even Feng Shui Ideas for Your Bedroom!