Bedroom Design Trends 2021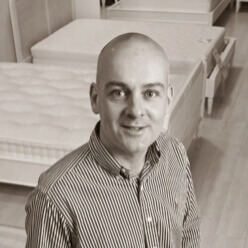 As 2020 draws to an end (no comment), we're guessing that many of you are dreaming up your new year's resolutions for 2021. So, let us help you out: instead of the usual 'run more' or 'stop saying sorry so much', why not commit to transforming your bedroom next year? After all, we've been indoors a lot this year and your bedroom is your own personal sanctuary of sleep and relaxation so you're literally investing in bettering your own health and wellbeing! How wholesome.
To help you on your way to embracing your inner Marie Kondo, we've put together the top interior design trends for your bedroom to gift you a little 2021 inspo. Merry Christmas!
The best bedroom trends and tips for 2021
1. Getting' techy with it
If you're not embracing tech in your interior design already, where on earth have you been? Whether you fancy installing some Bluetooth-controlled mood lighting or smartphone operated blinds, the latest interior design technologies don't just look cool, they're pretty handy too!
If you really want to jump into the new year (and a new bed) with your best tech-loving foot forward however, you can't go wrong with a TV bed. TV beds literally transform your room into the cosiest of home cinemas as they tidily house a TV screen in the foot of your bed which can be raised or lowered at the simple touch of a button.
Want to take it a step forward, Bill Gates? Upgrade to a TV & Media bed. Our Titan model has a built-in speaker system with 8 directional speakers in the foot of the bed and a further 8 located in the headboard. Talk about surround sound! This top of the range media bed also has a built-in woofer, a headphone socket, and an aux and USB port in each side of the headboard for easy access. I mean…
2. Loft-style bedroom beauty
Get the Shoreditch look. Loft-style bedroom design trends are set to be a big hit in 2021 as we trade colour pops and busy rooms for minimalist, decluttered chic spaces. Rather than clinging on to your trusty feature wall of yesteryear, why not make a statement with an interesting piece of art instead?
2020 has been an anxious time for the Arts, so shop local and support small. There are so many incredible independent artists that will really make your loft-style aesthetic sing. Check out Artfinder, the online marketplace that helps you shop original art from independent artists around the world – you won't regret it.
3. Go green
Those wanting to add a splash of colour into their bedroom design are increasingly moving towards shades that make a statement without feeling over the top.
Green is well known for having a calming effect, which along with its strong interior design trend credentials, explains why 1 in 10 #bedroomdecor posts on Instagram featured this natural yet versatile colour. From feature walls to a forest green bed, or even simply styling up with cushions and throws, there is no wrong way to use this colour. Be bold and go green in 2021.
Shop our Bella Gatsby Floor Standing Headboard in Forest Green
4. Functional fashion
We've spent a long time indoors this year staring at the same four walls. And internet shopping. And working from home. And doing home workouts. And doing a bit more internet shopping. Our point is that 2020 has meant we've needed our homes to be more multi-functional than ever before and this interior design trend is set to continue in 2021.
With all the extra bits and pieces we've acquired over the last 12 months for remote working, exercise and lockdown pampering, smart storage solutions in the bedroom are crucial to make sure you've still got some room to breathe and your room looks neat and tidy!
Storage beds are a fantastic option to explore. Under-bed drawers or a lift-up ottoman bed designs can maximise storage in a way that combines practicality with ultimate luxury. If you're moving house next year or simply fancy a style upgrade to keep things fresh, why not add some extra room with a unique storage bed?
Stock up on style and save floorspace with our stunning Savoy Ottoman Storage Bed
5. Au naturel eco-chic
Have you been listening to our favourite eco-warriors Greta and Mr Attenborough this past year? It's time to take action and save our planet. One way you can join in on the action is to incorporate eco-friendly materials in your bedroom design.
At Time4Sleep, many of our wooden beds are made from rubber wood, a material which uses the leftover wood from harvesting rubber to build the furniture. Our Marseille Ottoman bed is one such rubberwood statement furniture piece which sports graceful curves and sophisticated detailing. Who knew a bed could be good for the environment and look so fabulous at the same time?
6. If in doubt choose wood
Following on from our eco-chic style, one of the most popular bedroom trends in 2021 is the incorporation of wood! With many craving the outdoors and looking to live more sustainably, it's no surprise to see hear that statement wooden furniture has emerged as an interior design favourite.
Rattan in particular is a popular material at the moment and helps to create a pared-back, sophisticated look. From classic oak to ash tones, one of the benefits of wood is that there is a shade to compliment any room. One of the simplest ways to bring this into the bedroom, is to opt for a simple wooden bed or rattan headboard that will look beautifully stylish and stand the test of time.
One of our most popular wooden beds, the ever-classic and beautiful Loire Rattan Bed Frame
7. We're dreaming of a white Christmas (and 2021)
When it comes to the 2021 interior design colour palette, white's not going anywhere. A popular colour to form the base of many different interiors' styles, from Scandi to industrial, there are endless ways to use the colour from white wooden floors or crisp white sheets to create a stylish and trend-led space. White is a strong, stand-out colour that works really well in a large or master bedroom.
Layer up your space with soft shades such as grey, pink or burnt orange to add a touch of colour and bring together that crisp, clean look. Our Waldorf Pink Velvet Ottoman Bed is the perfect colour partner for white sheets, floors and walls, transforming your bedroom into a boutique hotel. I mean, just look at her!
8. Space-saving Scandi style
Let's be honest, nobody quite does elegant, minimalist and innovative design quite like our Scandi friends. In Scandi interior design, the emphasis is on building natural light to combat dark winters, so an airy colour palette of whites, beige, cool blues, soft greens and soft grey is the perfect base for your bedroom. Basically, if you see a colour or texture you like in the outdoor world, it's fair game to use in your Scandi bedroom. Think woods. Think whites. Think cool tones in the wilderness. But above all, Scandi designers really come into their own when it comes to saving space.
Whether it's innovative storage shelving or bespoke furniture, no matter how awkwardly shaped your room, the Scandi design bible will have your answer. Are you looking to maximise your bedroom space in 2021? Why not get a little cheeky and save some room with smart sofa beds or floor-saving trundle beds? You know the Norse gods will be smiling down on you for your ingenuity!
Our Hampton Day Bed with Guest Underbed is a brilliant Scandi-style space saver
Want some further advice on how to transform your bedroom in the new year? Check out our top tips on how to create a boutique hotel style space!