Ottoman beds are the holy grail of high-quality sleep and storage solutions for those looking to maximise floor space, minimise clutter and get a dreamy night's rest. But with so many designs, sizes and colours available, how do you go about finding the perfect ottoman bed for you?
Here, we've put together everything you need to know in our handy Ottoman bed buying guide so you can get snoring and storing in no time at all.
What is an ottoman bed?
The ottoman bed is aptly named after its historical namesake – a piece of furniture designed during the Ottoman Empire that acted as both a bed and a storage area. Although nowadays fancy gas-lift hydraulics are involved for a smoother operation, the premise is very much the same – an ottoman bed is both a sleeping and space-saving solution.
Benefits of an ottoman bed
Extra storage space
The main benefit of an ottoman bed is the amount of extra storage space you have underneath your mattress. Unlike other storage beds, such as a divan bed, ottomans make use of the entire bed base, rather than drawers and compartments, to ensure you have the greatest possible space-saving area available.
All you have to do is lift up the bed base to easily store bulkier and occasional-use items, such as linens, spare pillows, clothes or whatever else you need to pop away to give your bedroom a less cluttered feel, in the concealed storage space within.
Long-lasting quality
As the entire bed base forms part of the large storage compartment, good quality ottoman beds are built to be sturdy and stand the test of time. You can rest assured that your new ottoman bed will be your committed sleeping companion for years to come, as durability is much a part of their design as functionality.
Style that suits you
Not only are they practical, but our ottoman beds are also the epitome of stylish, on-trend design. Available in a range of coloured fabric options, upholstered headboards and leather finishes as well as natural oak bed frame designs, we're guaranteed to have the perfect ottoman bed to suit your individual style.
Easy assembly
If you've had some nasty run-ins with flat-pack furniture in the past, fear not – ottoman beds are a breeze to set up. Check out our foolproof guide on How to Assemble an Ottoman Bed for simple step-by-step instructions.
Choosing the right ottoman bed size
Choosing the right size ottoman bed for you and your space is really important. Whether you're searching for a cosy double or fancy a luxurious super king, take the time to check out the measurements of the styles you like before you buy as well as the space available in your bedroom.
Select a size to find out more and take a look at our guide to buying the right size bed.

Ottoman bed styles
Now you've got your dream bed size locked down, it's time to accessorise. Want to make a statement? We've got you covered – take a look at our stunning ottoman bed styles below and get your inner Laurence Llewelyn-Bowen on.
Wooden ottoman beds
For a classic, durable design that will forever be fashionable, a wooden ottoman bed is the perfect option to create a traditional, rustic aesthetic in any room, providing a solid foundation for a wide range of decors and themes.
Look no further than our stunning New England Ottoman for a glimpse of how a wooden frame can gift your space with feeling of timeless elegance.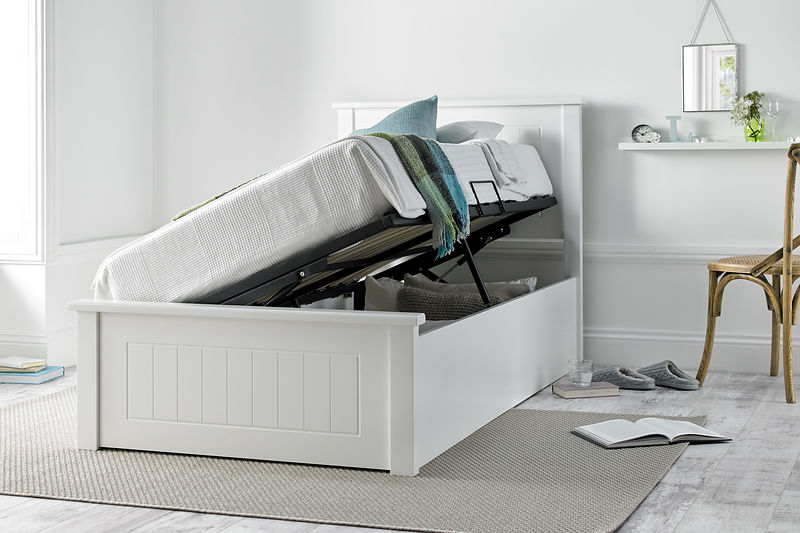 Another firm favourite with our customers is the Malmo ottoman bed with a beautiful oak finish. This bed was designed exclusively for Time4Sleep, so you won't find it anywhere else!
Upholstered ottoman beds
Looking for something that feels just as cosy as it looks? An upholstered ottoman bed could be just the ticket. With frames covered in soft fabrics to create a luxuriously snug feel in a range of covers, upholstered beds are chic, quickly growing in popularity and allow for a truly bespoke style, tailored to suit any bedroom.
For quintessential comfort, our Maxi Ottoman bed is the way to go. This plush grey upholstered frame has bundles of underbed storage to house your odds and sods and is sure to take centre stage in your space with its striking deep-buttoned headboard design.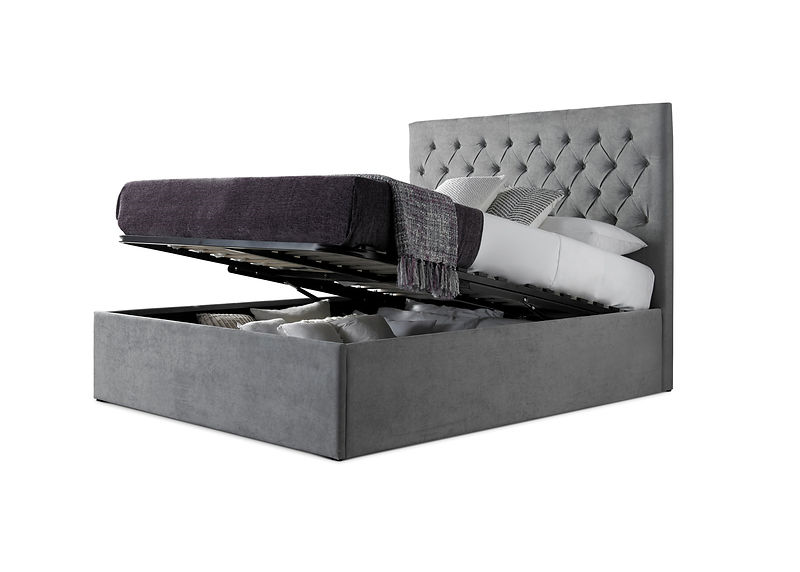 TV ottoman beds
If you want to save even more space in your bedroom, why not opt for a TV ottoman bed? As well as the base lifting to reveal a spacious storage area, the framework of the bed securely houses your TV with no sacrifice to your floorspace – so say goodbye to cluttered bed stands and unsightly wall brackets!
Imagine the home cinema possibilities and feast your eyes on our Copenhagen Ottoman TV Bed, a clean and contemporary model with a gorgeously upholstered exterior that is sure to make a statement in your room. Once you've packed away your linens and bedding in the underbed storage space, snuggle into your glorious new bed and relax - the TV can be effortlessly raised and lowered from the comfort of your bed with the handheld remote. Heaven.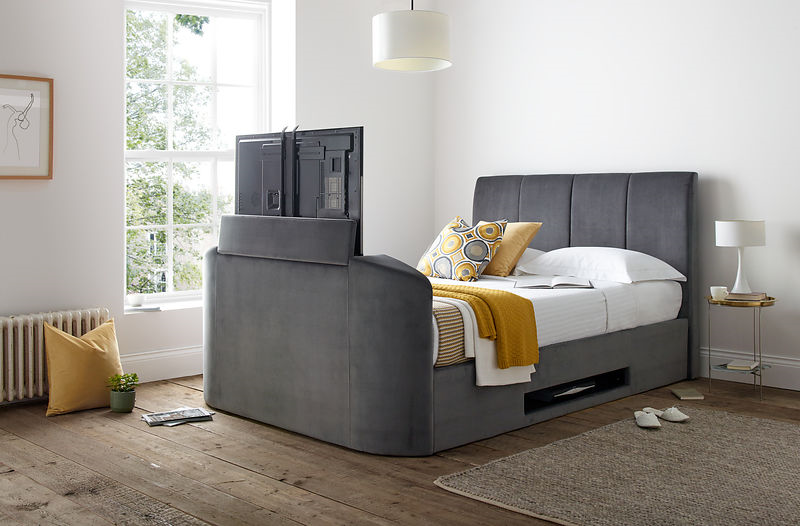 What to consider when buying an ottoman bed
So, you've made the very wise decision to invest in an ottoman bed, but before you place your order there are a few things you need to consider before you pick your perfect sleeping companion. Take a look at our super quick checklist below to make sure you've covered all bases to ensure you've made the right choice for you:
Does the ottoman bed base lift from the bottom or the side of the bed?
Ottoman beds can lift from either the bottom or the side of the bed, so make sure you check this before purchasing and ensure this suits your space and requirements.
How heavy is your mattress?
Each individual ottoman will have a weight limit for its base – read the details closely to double check your mattress does not exceed this. Need a new mattress, too? It's your lucky day! Check out our full range of comfortable, supportive mattresses today.
Have you measured the space you have available in your room?
Make sure your room is large enough to comfortably accommodate the size of ottoman bed you have selected, leaving enough space for easy access and manoeuvring. Take a look at our handy bed size guide above for help.
How much storage space do you need?
Find out the exact depth and width of the ottoman storage space and assess whether this fits your requirements – these details can easily be found on our product pages under the 'Dimensions' dropdown tab.