If you imagine the happiest moments of your life, we can bet at least three of them include you performing the obligatory dive-on-the-bed test at a hotel after checking in. But who says you can't replicate that joy in the comfort of your own bed at home?
Aside from asking countless hoteliers about the firmness of their beds, how do you know which is the best level of mattress firmness for you? The bedtime density debate is a highly subjective one, and so before you choose your next mattress, you need to be armed with all the facts to ensure you choose the perfect match for you.
Here, we've put together everything you need to know in our detailed mattress firmness guide to help you cut through the noise and get one step closer to the perfect night's sleep.
How firm should a mattress be?
Well, that's completely up to you – but your choice needs to strike the perfect balance between comfort and support. After all, what one person may find luxuriously soft and snuggly, may lead to horribly achy mornings for another. As such, it's crucial you choose a mattress firmness that both suits your personal preference and complements your sleeping style in order to get a good night's rest and wake up feeling refreshed – and the best way to do that is to try them for yourself!
Quite literally, mattress firmness refers to how the mattress feels when you lie on it. Does it push back and fully support your weight? Is it soft enough to mould to your body and cushion your joints? Whilst your choice will depend heavily on your personal preference, a good mattress should also support your entire body so that your spine's natural curvature is maintained, and your head, shoulders, hips and feet are properly aligned.
To help you determine the best choice for your needs, our Time4Sleep mattress firmness scale is a great indicator of what you can expect when you rest your sleepy self on each one of our mattresses. Ranging over a numerical scale from 1 to 5 - with 1 being soft, 3 being medium, and 5 being firm – check out our handy firmness indicator tool on our mattress product pages to see how we've graded the mattress in question (see below).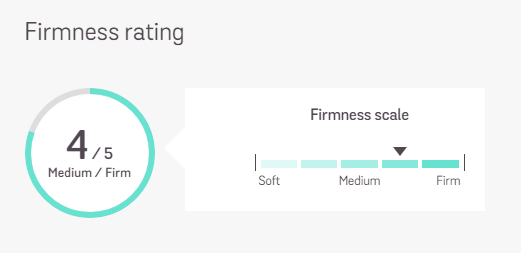 How to choose your mattress firmness
The firmness of your mattress will affect the quality of your sleep, it's as simple as that. And whilst scales and ratings can be helpful, the right type of firmness for your needs will depend on a number of factors from your weight to your favourite sleeping position or even whether you have a bad back.
Here's our guide to what level of firmness is best for every type of sleeper:
Benefits of a soft mattress
Best for:
Tossers and turners
Side sleepers
Light weights
Sleepers who move around a lot or those who sleep mostly on their side are best suited to softer mattresses as their snoozing style already alleviates pressure on their joints meaning they don't need the mattress to do as much work for them.
Plus, if you're a small-framed person with a light bodyweight, a softer mattress could be the choice for you as your lighter frame applies less than average pressure to the mattress.
Benefits of a medium-soft mattress
Best for:
Sleepers who occasionally change position
Average to light sized frames
With a little more support than a soft mattress, medium-soft mattresses are a great option for those who like to roll around a little come nighttime. This level of firmness still moulds gently to the contours and curves of your body but gives an added bit of lift to support you if you happen to roll onto your front or back during sleep.
Again, if you're of a lighter build but like a little more firmness beneath your body, a medium-soft mattress could provide the ideal balance between sound support and comfort preference.
Benefits of a medium mattress
Best for:
Sleepers who have no strict sleeping position
50/50 mix of support and softness
Average weight
Medium firmness mattresses are the most popular choice for those who prefer an overall balanced feel between softness, moderate sinkage and noticeable support. No matter your sleeping position, a medium mattress is a great option as they help to evenly distribute your weight and relieve pressure that could otherwise cause considerable discomfort on a softer mattress.
If you're not sure where to start on the firmness scale, this is a great option to begin with and assess whether you need something a little softer or firmer if need be.
Benefits of a medium-firm mattress
Best for:
Back sleepers
Average to larger sized bodies
Couples
With less sinkage and considerably more pushback, medium-firm mattresses are the perfect choice for those who sleep on their back as they provide more support for the lower back and maintain spine alignment.
A medium-firm mattress is also fantastic for couples, as depending on both of your body weights and sleeping positions, you may both require different firmness levels. This type of mattress provides a happy medium with a little extra pushback to counterbalance the additional pressure on the bed from the extra sinkage created by two bodies.
Benefits of a firm mattress
Best for:
Sleepers suffering with back pain
Stomach sleepers
Heavier bodies
A firm mattress is ideal for those who sleep on their front, have a larger frame or suffer from considerable back pain. This is because these sleepers require much less sinkage from their mattress – whether that be due to the extra weight of their body exerting pressure on both their joints and the bed or a need to keep their spine and joints as aligned as possible. Instead, these sleepers need a greater level of deep compression support to keep their body in a stable yet comfortable position and avoid any nasty aches and pains.
This is especially true for those who sleep on their stomach, as a firm mattress will prevent your hips and pelvis from sinking lower than your shoulders, avoiding an unnatural and uncomfortable curve in the spine when you hit the hay.
How firm should a child's mattress be?
When choosing a mattress for your child, firmness should be at the top of your checklist. Not only does a child's mattress bear a lot more wear and tear from heaps of bouncing and playing, but the mattress also needs to help aid the growth and development of your little one's body as they sleep. We would recommend opting for a medium-firm mattress, as these options provide extra support to growing bodies, ensuring their spine stays aligned and joint pressure is relieved.
Want more advice on mattress buying for kids? Check out our blog on Choosing a Mattress for Children.
Do mattress toppers help with firmness?
Want to know how to make a soft mattress firm? Or vice versa; wondering how to make a firm mattress softer? No worries – we've got just the ticket: mattress toppers.
A mattress topper sits on top of your existing mattress and provides support that can prolong a mattress's life by reducing pressure on the springs. Mattress toppers will change the feel of a mattress, improve your level of comfort while you sleep, and you could see your mattress provide full support for longer, whether you're after additional softness or a firmer feel.
To find out more, why not have a read of our insightful blog on everything you need to know about mattress toppers?