What is the best Time for Sleep?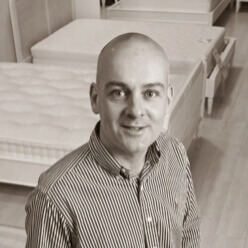 In a non-stop world where constant technological stimulation is forever at our fingertips, getting enough quality sleep is often overlooked and undervalued. Sleep deprivation can cause a multitude of physical and mental health issues and has been linked to increased risk of heart disease, impaired immune function and poor appetite regulation.
Vital for improving concentration and productivity, sleep is your best friend when it comes to living your best life – but how exactly can you make sure you are getting enough quality sleep? Well, knowing when you should be switching off and trading in Netflix for the land of nod is half the battle, so we've put together some thoughts and tips on when is the best time for sleep!
What's the best time to sleep?
Our internal body clocks, known as our 'circadian rhythm', are very much tied to the rise and fall of the sun. This means we typically experience sleepiness in the later hours when the sun sets and start to stir from our slumber as the sun rises in the morning. So a typical ideal bedtime would be somewhere between 8pm and midnight, but there is no one size fits all!
Experts suggested to Time.com that the 8pm to midnight window is the best time to sleep as your "brain and body have the opportunity to get all the non-REM and REM shuteye they need to function optimally." Getting enough non-REM sleep (sometimes known as deep sleep) is vital to rejuvenating our bodies and REM sleep is a chance for our brains to make and retain memories.
What time should I go to sleep?
Rather than solely focus on an ideal bedtime, ensure you are getting the right amount of sleep instead – this should be somewhere between seven and eight hours for adults. You should also focus on keeping to a similar bedtime and wake time when trying to boost your sleep quality. So count backwards seven or eight hours from when you need to be awake and start aiming for some consistency when it comes to sleep – your circadian rhythm will thank you!
Of course, if you're working the night shift, sleep can be a little trickier so head over to our blog on Optimising your sleep schedule for night shifts for some hints and tips on improving sleep if you're a night owl.
Routine, routine, routine
In case it wasn't clear, routine is one of the best weapons in the battle against poor sleep. Regularly heading to bed at a similar time each night and sticking to the same alarm clock in the morning is a great way to make sure your circadian rhythm is kept in balance to help you fall asleep quickly and wake up feeling refreshed.
However, timing isn't the only thing which you can introduce into your sleep routine to ensure you're getting the best quality shuteye. Reading, journaling or meditating are amazing activities for getting your brain and body ready for a restorative night's sleep. Avoiding excessive caffeine and turning off your technological devices in the evening are also easy wins to help your busy brain slow down and prepare itself for a calm and restful sleep.
The best beds for the best sleep
Now, heading to bed at the right time every night might not make a huge difference if your bed isn't up to the task. Luckily, our range of immensely comfortable double beds are ready to transform your sleep sanctuary and help you on your mission for consistent restorative kip.
The Kaydian Walkworth Ottoman is a statement bed guaranteed to rightfully become the centrepiece of any bedroom and it's elegant and snuggly Oatmeal fabric upholstery will have you wanting to crawl in and settle down come sundown. Made with quality materials and with a strong wooden base, this bed is bound to be your loyal bedfellow for many years to come and give you a strong foundation for a quality night's sleep every night. The Kaydian Walkworth also comes with ample storage space so you can tidy away any loose items and create a clean and clear sleep sanctuary.
There's a reason why the Louie Sleigh Bed is one of our bestsellers. This superior sleep station oozes elegant opulence and harks back to stylish 18th century France. Made from hardwood with a dark finish, the Louie exudes comfort and warmth, and also comes with a sprung slatted base for increased comfort. Dreamy.
Copenhagen Upholstered Ottoman TV Bed
If you struggle to avoid that late night Netflix binge, a TV bed could be the sleep station for you. Not only is it built with top quality materials and upholstered in the softest fabric, but the Copenhagen comes with a TV mechanism at the foot of the bed. Simply install your TV into the foot end of the bed and you'll be able to watch it rise, ready for action, at the touch of a button! Need a little more info? No worries. Check out our 5 reasons why your bedroom needs a TV bed.
If you're struggling to sleep the whole night through, check out cour guide on How to Sleep Better for some more tips and tricks you can add to your snoozing arsenal.