5 Reasons Why Your Bedroom Needs a TV Bed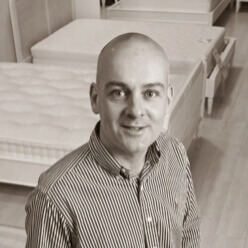 If you're searching for a design statement that is as practical as it is elegant, a TV bed could be the perfect centrepiece to turn your bedroom into a cosy sanctuary.
Whether you're tired of your laptop overheating on your bedding or you're looking for a sleek way to save space, there are countless reasons why your bedroom would benefit from the luxury of a TV bed. But before we get all starry-eyed at the thought of a personal bedtime cinema, what is a TV bed and how do they work?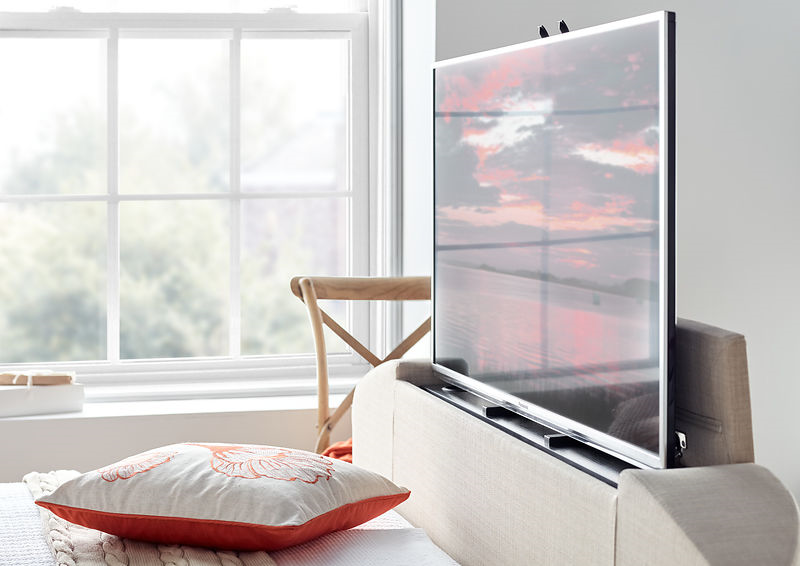 How does a TV bed work?
The beauty of the TV bed lies in its simplicity; it quite literally is a telly built-in to your sleeping station. With all the appearances of a normal bed frame, except for the addition of a taller than usual footboard, your TV screen is housed discreetly at the foot of your high-quality bed. Dependent on your design preference, the bed can either be operated manually or automatically, ready to rise to the occasion at the simple touch of a button.
What are the benefits of a TV bed?
We can all agree that the idea of a wide screen at the foot of the bed sounds pretty dreamy. After all, is there a greater joy in life than watching your favourite film snuggled up in your duvet? But TV beds are so much more than the ideal bedtime viewing setup – here are our top 5 reasons why you need one in your bedroom:
1. Saves you space
A TV bed is a brilliant space-saving solution. Say goodbye to cluttered TV stands and wall brackets of old; 2020 is the decade of decluttered spaces, clean design and tidy minds. The framework of your bed securely houses your TV with no sacrifice to your floorspace – plus, without the need of a TV stand, you'll save money too!
2. Provides additional storage
Need more storage space? We've got you covered. Ottoman TV beds are a unique combination of elegance and functionality, maximising your bed's storage as the base can be raised to reveal a sizable area for keeping clothes, bedding or larger occasionally used belongings.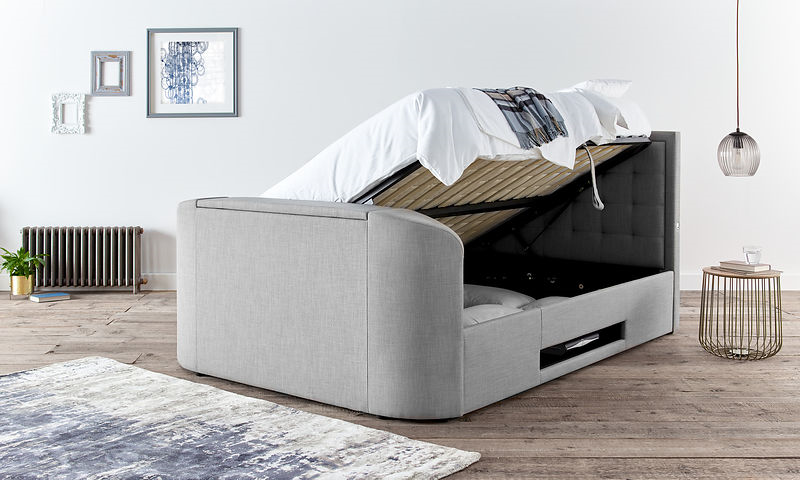 3. Offers customisable options to suit your taste
From ottoman TV beds to surround sound headboard speakers, velvet upholstery and a variety of sizes and colours, the possibilities are endless when customising your TV bed to make it the pièce de résistance of your room.
4. Hides messy wires and cables
After curating a beautiful bedroom aesthetic, there is nothing worse than having the illusion ruined by unsightly cables. TV beds are just the tonic as they are designed with this exact annoyance in mind, the cables required to power your screen secured neatly out of sight.
5. Creates the perfect home cinema
If you're a busy parent with kids running riot around the house, work a hectic nine to five or simply need a safe space to unwind, a TV bed transforms your bedroom into a dreamy home cinema escape. Switch off from the world, switch on your screen, and lose yourself in your favourite flick - you deserve it.
If you're in need of any further advice or information about our range of TV beds, our TV bed buying guide should have all the answers.