All kids are different, and it's important to get a bed for your child that's just as unique as they are. Whether you're buying your first ever child's bed or preparing for a new addition to the family, find out all about the best beds for your children here.
Double trouble
If you've got two children sharing a room, a bunk bed can be a much better option than having two singles. As well as taking up much less floor space, making more room for furniture, clothes storage and all the toys and games your kids want, bunk beds create fond memories of sharing and growing up together - despite the occasional disagreement about who gets the top bunk!
Bunk beds are also great for growing families - even if you only have one child now, buying a bunk bed means you're prepared for more to come along in the future. Space-saving, convenient and practical, bunk beds are also completely safe for children aged six and over - read our guide to bunk bed safety if you're having any doubts.
Super Storage
Whether it's toys, clothing, school books or video games, there's no doubt that kids need quite a bit more space than their size suggests. As children get older, their needs change and they often need even more room to store the things that are important to them.
That's why storage beds for kids are a great investment: they give children a place to put their favourite things, and they make even a smaller bedroom feel bigger by doubling up as both sleeping space and storage.
From cabin beds to mid sleepers and high sleeper beds, there's a lot of designs to choose from and plenty of different layouts and features too. Learn more about your options in our guide to super storage beds.
Fun and Functional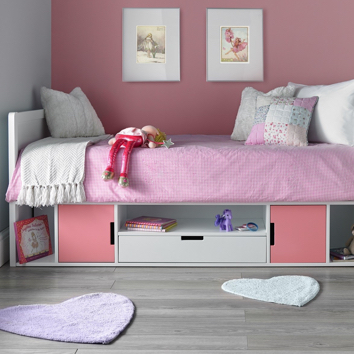 Bedtime isn't always popular with kids, but you can help make it more appealing by getting a bed that they'll really love. For instance, Time4Sleep offers a range of mid sleeper beds that turn the underbed space into a tent - perfect for a bit of quiet playtime, or inviting friends over to play games in.
A child's bedroom should always be personal to them, and whether they're into pirates, horses, sci-fi or princesses, there are plenty of ways to make their own space reflect their passions. From bedsheets and wallpaper to creative ways of using the space under a sleeper bed, you'll find loads of options once you start looking - why not get them involved in the design process too?
Grown-up styles
Kids grow up fast, and there might come a time when a race car bed or a pirate's hideout just doesn't quite cut it anymore. Fortunately, Time4Sleep has a fantastic range of beds for more mature children too. Designs like the Montreal High Sleeper or the Skye Drawer Bed are great for getting all the benefits of a storage bed, along with a more sophisticated look and feel.
From the age of 12 and up, kids are likely to want to have friends round to stay more often - so it's a good idea to think about designs with built-in guest bedding too. Products like the Liv & Lou Compact Single Guest Sleepover are a practical, affordable way to get two beds in one.
Children's mattresses
It's important for growing bodies to be supported by the right mattress, and you may need to buy new children's mattresses more regularly than you would for adults. Additionally, bunk beds and high sleeper beds tend to require lower mattresses to deal with the risk of younger sleepers falling out.
Don't worry - Time4Sleep offers a great variety of children's mattresses to suit all kinds of kids, and you can be assured they're all top-quality products made by some of the best manufacturers in the business. Read our guide to choosing a child's mattress for more information on what to consider.