Modern bunk beds demonstrate higher levels of safety than their predecessors, and with strict regulations in place parents can be certain of their robust, long-wearing structure.
The Royal Society for the Prevention of Accidents state that 'bunk beds are perfectly safe for kids as long as safety checks are in place', and these safety checks must be put in place by parents. Accidents often occur from missing safety features like guardrails or from misuse of the bed: in fact, around 40% of bunk bed-related incidents are related to children playing.
As parents, there are a few things you can do to keep your child safe. Firstly, set rules concerning the bunk bed - teach them how to use the ladder correctly and stress that the bed isn't a play area. You may also wish to install a clip light to illuminate the stairs at night; this can be particularly useful for kids who tend to get up to use the bathroom or enjoy their independence and prefer to tuck themselves into bed at night.
Another vital safety tip is to never hang anything from the guard rails on the top bunk. Scarves, belts and any other form of rope-like material can potentially strangle a child if they become caught in it.
What ages are bunk beds suitable for?
The upper bunk on a bunk bed should only be used by children aged six and above. If your child is of a responsible nature, you may wish to introduce them to a bunk bed slightly earlier but this is completely down to the judgement of each individual parent and isn't recommended by experts.
The bottom bunk, however, can be occupied by younger children. All children in the house should be made aware that bunk beds are not toys, and it's a good idea to set some rules as playing on the ladder or jumping from the top bunk can lead to accidents.
Is there a universal standard for bunk beds in the UK?
Every bunk bed sold in the UK must conform to the following British Standard: EN747-1:2012+A1:2015. These strict standards require every bunk bed to be solid in its construction and contain no sharp edges.
Other safety features have been considered too. All Time4Sleep bunk beds align to the following standards to ensure children sleep soundly:
Slats beneath each mattress must be less than 7.5cm apart
Guardrails must feature on both sides
Guardrails must be a minimum of 10cm taller than the mattress on the top bunk
A 300mm gap on the top bunk must be included for access
All gaps above the height of 830cm should be smaller than 75mm and larger than 60mm
Steps on the ladder must be a minimum of 3cm wide and 20cm apart
Do bunk beds require special mattresses?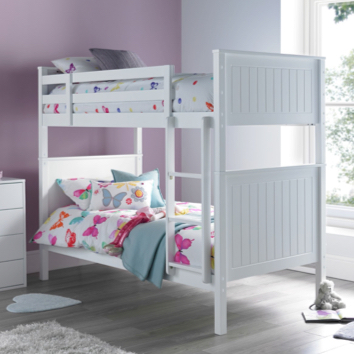 Most bunk beds take a standard single UK mattress, while others may occasionally require a smaller continental sized mattress. For health and safety reasons, there is a limit on the depth of the mattress for the top bunk - please check the specifications of the bunk bed before you make a purchase. You should look out for a mattress safety height sticker, which will appear on the top bunk side rail and include details about the recommended depth of a mattress suitable for your particular bunk bed.
If you're uncertain about which mattress to purchase, don't hesitate to ask a member of our customer care team for advice.
Aside for some minor differences in size, bunk beds do not require a particular kind of mattress. Whether the mattress you choose is pocket-sprung or made of memory foam, it should be suitable for your child if it's the right size.
To find out which kind of mattress will benefit your child the most, and improve their quality of sleep, take a look at our handy children's mattress guide.
We have a brilliant range of safe and stylish bunk beds available at Time4Sleep, with many offering innovative storage solutions. Take a look at the range here, and find an excellent price on a new bed for your child today!