Time4Sleep's range of kid's beds are self-assembly, and it's easy to put them together in your own home in a short space of time.
Who can build a child's bed?
Anybody! Our beds are designed for easy self-assembly at home, with no special tools required. For most beds, we recommend two people for assembly, because some steps might need one person to hold something in place while the other screws it in.
Is there a certain level of skill required?
We try to make it as simple as possible – even if you're a complete novice at DIY, the step-by-step instructions should be easy enough for most people to follow. It'll help if you've made self-assembly furniture before, but if you haven't, don't worry!
Start by reading the instructions all the way through, then lay out all the components and identify all the parts you'll need for the first step. Then simply proceed through each step in order. Give yourself plenty of time and space to work in, and don't worry if you make a mistake – in most cases you can just undo it and carry on.
With self-assembly furniture, everything should fit together nice and naturally. If something looks out of place or it feels like you're forcing a part somewhere it doesn't fit, you might need to re-check the instructions. It's best not to fully tighten any screws or bolts until the very end so it's easy to go back a step if you need to.
What tools are needed?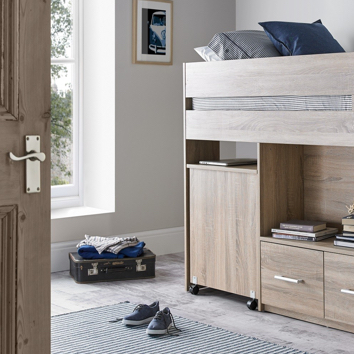 For most beds, you'll just need a Philips head screwdriver, and with a few designs you might need a hammer too, however we do not recommend the use of power tools as this can lead to the over tightening of bolts and fittings. The instructions should list any tools you'll need, and it's a good idea to get these ready before you get started.
Some other basic tools, like Allen keys and disposable wrenches, will be provided with the bed if they're needed.
How long will it take?
This depends on the model of bed you've got, as some are more complex than others – for instance, storage beds may have hydraulic lifts to consider, and bunk beds will take longer than single beds.
However, you should be able to assemble most of our kids' beds within the space of a few hours at most, and it may take less time if you have help.
Still having trouble?
If you're having any trouble with assembly, check out our A-Z assembly guides – we've made video guides for some beds that should help make things clearer.
If you're still finding things difficult, or if you just don't have time for self-assembly, contact our friends at HomeServe for a reliable, affordable home assembly service.
Explore our bunk bed range
If you need a bunk bed, take a look at our great range here. Stylish, practical and available in fun designs that kids will love, our bunk beds are perfect for kids of all ages.