Storage beds are great space-savers for adults and kids alike. Instead of Ottoman-style beds with hydraulic lifts, kids' storage beds are normally elevated off the ground, allowing the space underneath to be used in all sorts of ways. Find out more about kids' storage bed options here.
Cabin beds
Cabin beds are just a little higher than a traditional bed, but their frames are built on handy storage units like cupboards and drawers to help you and your child get the most out of your space. Perfect for storing favourite toys, shoes, clothing and books, they might even help your kids keep their rooms tidy.
Cabin beds come in a wide range of colours and designs, so it's easy to find one that fits the décor of your kids' bedroom. From colourful painted wood to a natural finish, they can be just as stylish as they are functional.
Taller versions of cabin beds that offer even more underbed space are known as mid-sleepers and high sleepers.
Mid-sleepers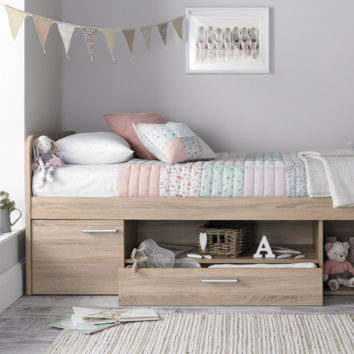 Mid-sleeper beds are somewhere between cabin beds and high sleepers. They're elevated a little way off the ground and normally have a ladder to get into them, while the space beneath can be used for storage.
Due to their elevation, mid-sleeper beds are best for kids aged six and over. While they're not too high off the ground (normally around one metre), they still have a guardrail fitted and it's recommended to choose a low mattress to avoid any accidents.
Mid-sleepers have an underbed clearance height of about 70cm, which can comfortably fit drawers, storage units or even a play space. While you can't really fit a desk under them, some designs have features like pull-out study desks, making them really versatile.
High sleepers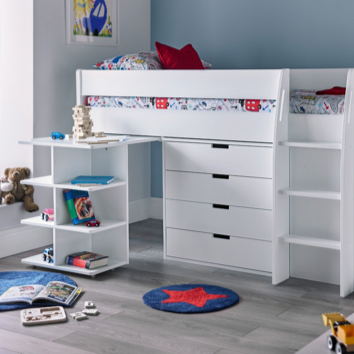 A high sleeper bed looks a bit like a bunk bed without the bottom bunk – although some designs do come with an optional pull-out guest bed, which is ideal for sleepovers. They are the tallest of kids' storage beds, normally offering around 150cm or more of underbed clearance.
This space under the bed can fit all sorts of things – from a mini sofa and a TV or a computer desk to shelving and storage, or even a small wardrobe. Many high sleeper beds come with their own underbed furniture and there are some seriously clever designs that fit a lot into a small space.
As with mid-sleepers and bunk beds, they have a ladder for access and they're best for children aged six or over for safety reasons.
Explore the range today
If you're wondering what you could do with the extra space provided by a cabin, mid sleeper or high sleeper bed, check out the range at Time4Sleep. We've got a huge variety of children's beds that are tried, tested and loved by kids.