Which way should your bed face?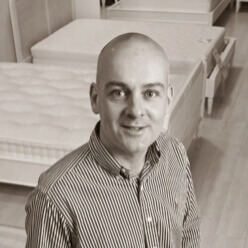 There's nothing worse than spending the night tossing and turning when you should be soundly snoring in the land of nod! Though there are several factors that can influence the quality of your sleep, research suggests that the position of your bed could make the difference between waking up groggy and irritable and fresh as a daisy! Who knew?
From channelling the ancient Chinese art of feng shui, to positioning your bed beneath a window, we've rounded up several simple bed alignment tips that you can apply to your design scheme right now. You'll be nodding off before you know it…
Where should your bed be placed in your bedroom?
Rearranging the furniture in your bedroom can not only make your space feel fresh and inviting, but it can have a significant impact on the quality of your sleep – making your living space feel harmonious, balanced and calm. And, as we spend around a third of our time asleep, the position of your bed is a particularly important consideration.
First things first, take a look at your bedroom as a whole – are there any fixed furnishings that can't be moved that you'll have to position your bed around? These could be windows, fireplaces, radiators, built-in wardrobes or water and gas pipes. Once you've identified these fixtures you can channel your inner interior designer and begin planning your layout!
Where you place your bed in your bedroom largely depends on what you want to achieve from your design scheme. What's most important is that your bedroom is uncluttered, organised and is an inviting space to spend time in. The most common placement for a bed is in a 'centred' position against the longest wall in your bedroom. This means that your bed can be the focal point of the room, and gives you space for bedside tables on either side.
However, this isn't the only option! For a bedroom which oozes carefree energy, why not consider placing your bed as an island in the middle of the room? Not only would this give your bedroom an indulgent, hotel-style feel, but it would be a brilliant way to show off a statement headboard. Or, if you've got yourself a room with a view, try placing your bed below (or opposite) a window. Waking up to that gorgeous landscape is a sure-fire way to feel refreshed and cheerful in the morning!
4 things to consider when positioning your bed
Create a sleeping space that feels welcoming and beautiful with these handy tips. Not only will your bedroom feel altogether more harmonious for a good night's sleep, but you'll also create a super-stylish design aesthetic.
1. Rearrange your bedroom the feng shui way
One of the most highly-regarded schools of thought when it comes to interior design is feng shui. Developed over 3,000 years ago in ancient China, feng shui is the art of arranging the objects and furniture in your home to create a space that's harmonious, balanced and at-one with nature… and it's not as tricky as you might think!
When it comes to positioning your bed, feng shui experts encourage you to place your bed in the 'commanding position'. This means that when you're sitting up in bed, leaning against the headboard, you should be able to see the bedroom door, without being directly in-line with it. Placing your bed in this position is supposed to make us feel more stable, balanced and secure (all the things you want when drifting off to sleep!).
For more feng shui advice, take a look at our guide to feng shui ideas for your bedroom.
2. Try placing your bed near a window
As we mentioned earlier, placing your bed below (or opposite) a window can be a lovely way to ensure that you wake up to a picturesque view. Just make sure you invest in black-out blinds or curtains to avoid any early morning starts!
And, if you struggle to regulate your body temperature at night, sleeping near a window also means that you can benefit from a cool breeze.
3. Rethink your storage solutions and create additional space
Did you know that a tidy bedroom can improve the quality of your sleep? So, now you've decided on the perfect position for your bed, it's important to ensure that your bedroom feels as calm and welcoming as possible to prevent any potential bedtime anxiety or stress. Yep, it's time to banish that unwanted bedroom clutter!
Utilising any freestanding furniture (such as wardrobes, chests of drawers and bedside tables) is the best way to start your bedroom organisation journey, but you could also consider investing in underbed storage drawers or a stylishly practical ottoman storage bed, such as our Serenity Upholstered Ottoman Storage Bed.
Tidy away unwanted bedroom clutter with our super-stylish Serenity Upholstered Ottoman Storage Bed in Steel Grey.
4. Invest in a TV bed
What could be nicer than catching up on your favourite series from the comfort of your bedroom? Angling your bed so you can view a television propped on a sideboard or chest of drawers may seem like a good idea, but it probably means that you're compromising your sleeping position in order to indulge in the latest Netflix boxset. The solution? An ottoman TV bed! Upholstered in glitzy silver crush velvet, you don't get beds more glamorous than our Copenhagen Upholstered Ottoman TV Bed Frame… and it comes complete with space for a 42" LED flat-screen TV!
Now you can place your bed in the perfect position and enjoy a private screening of your favourite programme or film.
Our Copenhagen Upholstered Ottoman TV Bed Frame in Silver Crush oozes indulgence and glamour.
On the hunt for a stylish new bed? Now you've rearranged your bedroom, and decided on the perfect position for your furniture, why not take a look at our full collection of stylish beds and bed frames?