What is a scroll bed?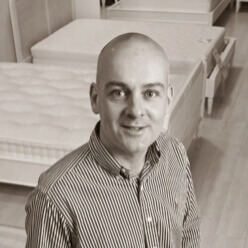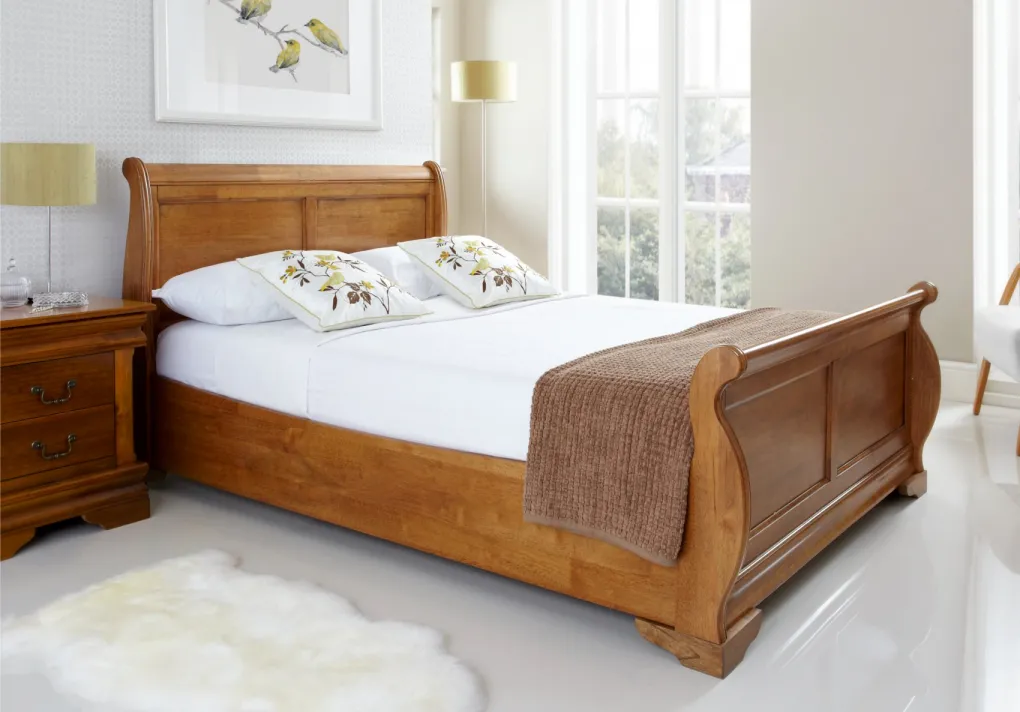 Bring a sleek, chic and classy focal point to your bedroom with the grandeur of a scroll bed. From solid oak frames to luxurious velvet upholstery and spacious ottoman designs, scroll bed frames are an incredible way to up the style stakes in your space and gift you with an incredibly cosy sleep.
So, what is a scroll bed? What types are available and which option is best for you? Here, we've done the bed test for you, delving into everything you need to know about the styles, benefits and functionalities of this sophisticated bed frame.
What is a scroll bed?
A scroll bed is the height of decadent design and demands attention in any space. With soft, subtle curves at either end of the bed, scroll beds are full of character and evoke an almost regal feel in the bedroom.
Scroll beds can come in many forms, from ottoman scroll beds to scroll beds with drawers, wooden scroll beds and upholstered scroll beds.
But no matter what style, material or storage option, you can be sure that a scroll bed will serve as an eye-catching piece of statement furniture in your bedroom for years to come.
What different types of scroll bed are available?
From imposing oak frames to luxurious upholstery, we have scroll bed frames to meet the needs and tastes of every customer. For those that require extra storage solutions, our ottoman scroll beds bring both wow factor and functionality. Or, if you really want to push the style boat out, why not try a grand and opulent sleigh-style scroll bed out for size?
Here's our pick of the best of the best.
Wooden Scroll Beds
Elegant to the very last, a wooden scroll bed, such as our Louie below, has proven an extremely popular choice with our customers. Offered in an oak finish, the Louie is inspired by classic 18th century French design, featuring romantic curves and sophisticated panelled detailing. If you're curating a bedroom with a country-style feel or fancy escaping to the chateau without leaving the comfort of your bed, our Louie is the one for you.
Upholstered Scroll Beds
Prefer a softer to touch? We've got you covered. Scroll beds also come in many wonderful upholstered options, the soft fabric of which add a strong sense of cosiness and hygge to any space. Take our stunning Francesca frame in Mink – an impeccably styled bed frame packing a snuggly punch with its luxuriously soft velvet upholstery. Evoking boutique hotel vibes, the Francesca also features a tall, deep-buttoned scroll headboard and footboard and a slatted base for added sophistication and comfort. Available in double to super king sizes, this bed is perfect for sleepyheads who want to make a statement.
Looking for some tips on where to start with upholstered beds? Check out our Upholstered Bed Buying Guide.
Scroll Beds with Drawers
Upgrade your bedroom with a scroll bed with drawers, such as our Olivia scroll bed pictured below. A more contemporary take on the classic scroll design, the Olivia remains just as elegant and regal with gentle curves and the softest of steel grey fabric upholstery. Not only does the sprung slatted base provide added comfort and support, but the Olivia also offers extra versatility and practicality of two easy glide drawers for storage.
Need more space for storage? Say no more. Here's our collection of storage beds.
Ottoman Scroll Beds with Storage
Want even more storage space? How does a bed that raises its base to reveal a full storage area below sound? Say hello to Ottoman scroll beds – the ultimate scroll storage bed. Take our Seville ottoman bed for example, a classic scroll design with the added benefit of ottoman storage, that doesn't compromise on style and sophistication. Inside the Seville frame there is a huge amount of storage space, perfect for packing away extra bedding, clothing or other items to keep your room looking fresh, tidy and clean. Style, storage and sumptuous comfort – result!
Fancy storing in style? Lift the lid of storage potential with one of our incredible ottoman beds.
Sleigh Beds
Oh, you fancy, huh? For the ultimate in luxurious design, comfort and grandeur, a sleigh bed could be just the frame for you. For a stunning focal point in any bedroom, why not opt for our Aldwych sleigh bed in navy velvet upholstery – a contemporary frame inspired by classic Chesterfield design with a deep-buttoned scroll head and footboard. If you want to sleep like a King or Queen, this is the bed for you.
Shop our complete collection of stunning sleigh beds.
Sleep in style with a Time4Sleep scroll bed
If we've whet your appetite with our gorgeous array of fancy frames within this blog, be sure to check out our full range of beautiful scroll beds. Bringing both wow factor and functionality, you'll be snoozing in style in no time at all.