Hygge Bedroom Design Inspiration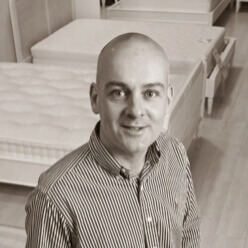 Hygge. You've heard influencers saying it. You've seen Pinterest boards displaying it. But what does it actually mean? And how the heck do you say it?
Pronounced 'hyoo-guh', hygge is a Danish word that's particularly hard to define. But despite our inability to verbally encapsulate it, hygge interior design has taken the world by storm in recent years.
Here, we take a look at what hygge means and how to achieve a hygge lifestyle, as well as some gorgeous bedroom design inspiration that'll turn your house into a true hygge home.
What is hygge?
Think cosy, think warm, think astronomical levels of snuggly comfort. But on top of that, think wellbeing, happiness and a sense of completeness and fulfilment. That's hygge.
We know: life goals.
Whilst hard to define in one word, hygge is a Danish concept which encompasses a feeling of cosy contentment that's achieved from immersing yourself in, and enjoying, the simple things in life. If you've ever sat around the fire with your family watching a heart-warming film and sipped on hot chocolate topped with marshmallows – you've experienced hygge already.
Meik Wiking, the CEO of the Happiness Research Institute in Denmark (what a job!) and author of the The Little Book of Hygge, has told of the importance of hygge to Danes. In fact, he even goes as far to say that "what freedom is to Americans… hygge is to Danes."
We don't know about you, but with a love of all things snuggly, it makes a lot of sense as to why Denmark is forever heralded as one of the world's happiest countries.
How to achieve a hygge lifestyle
The key to a hygge way of life is mastering mindfulness. You need to be able to live in the moment and learn how to be more present. Here are some easy ways you can get started:
Start journaling
Keeping a journal is a great way to reflect on your mood, actions and life. And before you think this sounds like far too much of commitment to you, we're talking sentences, not paragraphs. Note down how you're feeling in the moment, what you feel grateful for and how you plan to improve your situation.
There are some great products out there which will help prompt you on your journaling journey. Check out The Positive Planners – you can't go wrong.
Meditate
Take a couple of minutes a day to fully immerse yourself in your surroundings. Curl up in your bed or your favourite chair and make yourself aware of your senses: what can you hear, smell, touch, see, taste?
The '5-4-3-2-1' exercise is a brilliant way to meditate and ground yourself and bring you back to the present if your mind is particularly busy.
Read more
We've written about the benefits of reading before bed in the past, but picking up a book everyday – even just for ten minutes – is one of the best things you can do for your personal sense of wellbeing. From mental stimulation to stress relief, memory improvement and better concentration, the benefits are endless.
Notice every little detail
Make an effort to be more perceptive. If you're reading, take time to really build a visual image in your mind of the scene being described. If you're having a conversation, really make sure you're listening to every word the person is saying to you. If you're out on a walk, take note of what you can hear, what can you see, what you can smell.
Not only will this help you to be more present and engaging, but you'll also be surprised by the little everyday things that you've been missing!
Hygge bedroom design ideas
When it comes to hygge interior design, many people focus more on communal spaces such as the lounge. More personal areas of the home, such as the bedroom or guest bedrooms, tend to be neglected. But when the idea of hygge centres on such a personal sense of wellbeing, it surely makes no sense to forget the place you unwind and rest at the end of the day. In fact, we'd go as far to say that if you're going to hygge-fy any room at all, it should definitely be the bedroom!
Here, we've pulled together our top hygge bedroom design ideas to help you bring a sense of dreamy Danish contentment to your life.
1) Reduce clutter and free up your space
Whilst a key element of hygge is cosiness, we're talking organised, curated cosiness – not messy clutter. As a wise person once said, a clean space is a clean mind, so make sure to tidy away any occasional use or bulky items that are eating up precious floorspace. You need room to do the important things like snuggling down, reading and even some yoga!
If you're tight on storage space, opt for an ottoman bed. These beds are perfect for reducing clutter in any bedroom due to the discreet under-bed storage space hidden beneath the bed base. Not only are these beds practical, but our ottoman storage beds also look incredible too. Available in a range of coloured fabric options, as well as in natural oak and contemporary high gloss bed frame designs, you're sure to find a storage bed that suits your hygge interior design down to the ground.
What to find out more? Check out our Storage Bed Buying Guide.
Our stunning York Ottoman bed frame in Linen Off White with stylish diamond-tufted headboard design.
2) Create warmth and softness with texture
Let us introduce you to your new hygge best friends: blankets, throws, pillows and rugs. Texture is the aim of the game, so the more soft and snuggly touch and feel elements you can add to your bedroom, without making it feel cluttered, the better. Chunky knit blankets, faux fur rugs and embroidered throw cushions are fantastic ways to add texture and soften your space.
Beyond accessories, did you know your choice of bed can add texture too? Upholstered beds, covered in soft fabrics for a cosy feel, are both chic and luxurious. From soft velvets to faux leather, chenille and glitz, our range of upholstered beds are a fantastic way to add texture to your space and take your interior design to the next level.
Want to try before you buy? Check out our Upholstered Bed Buying Guide and request our free fabric swatches to find your perfect match.
For a textured colour pop, get your hygge on with our gorgeous upholstered Elona bed frame in Rosa Pink Velvet.
3) Incorporate rustic furniture and natural interior design elements
Danish design is all about sustainable living and being at one with both yourself and with nature. As well as bringing the outside in with green plants and air-purifying flowers, think about how you can be using natural materials within your hygge interior design.
Wooden furniture – from bedside tables to dressing tables and wardrobes – and wooden bed frames are a great way to embrace the elements and keep the Danes happy, too! Whether it's a rustic look in dark wood you're after, or an elegant painted white finish, wooden bed frames suit any bedroom interior design, and prove a solid foundation for a wide range of hygge décor and themes.
To browse our full range of sustainable wooden bed frames, check out our buying guide here.
If you're looking for sturdy, sustainable materials, look no further than our beautiful Loire Rattan bed frame for a touch of rustic elegance.
Want some more inspiration on how to transform your bedroom? Take a look at our blog on the best bedroom design trends for 2021.