Time4Sleep Bedroom Style Trends: June 2021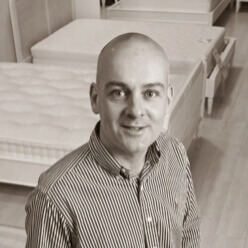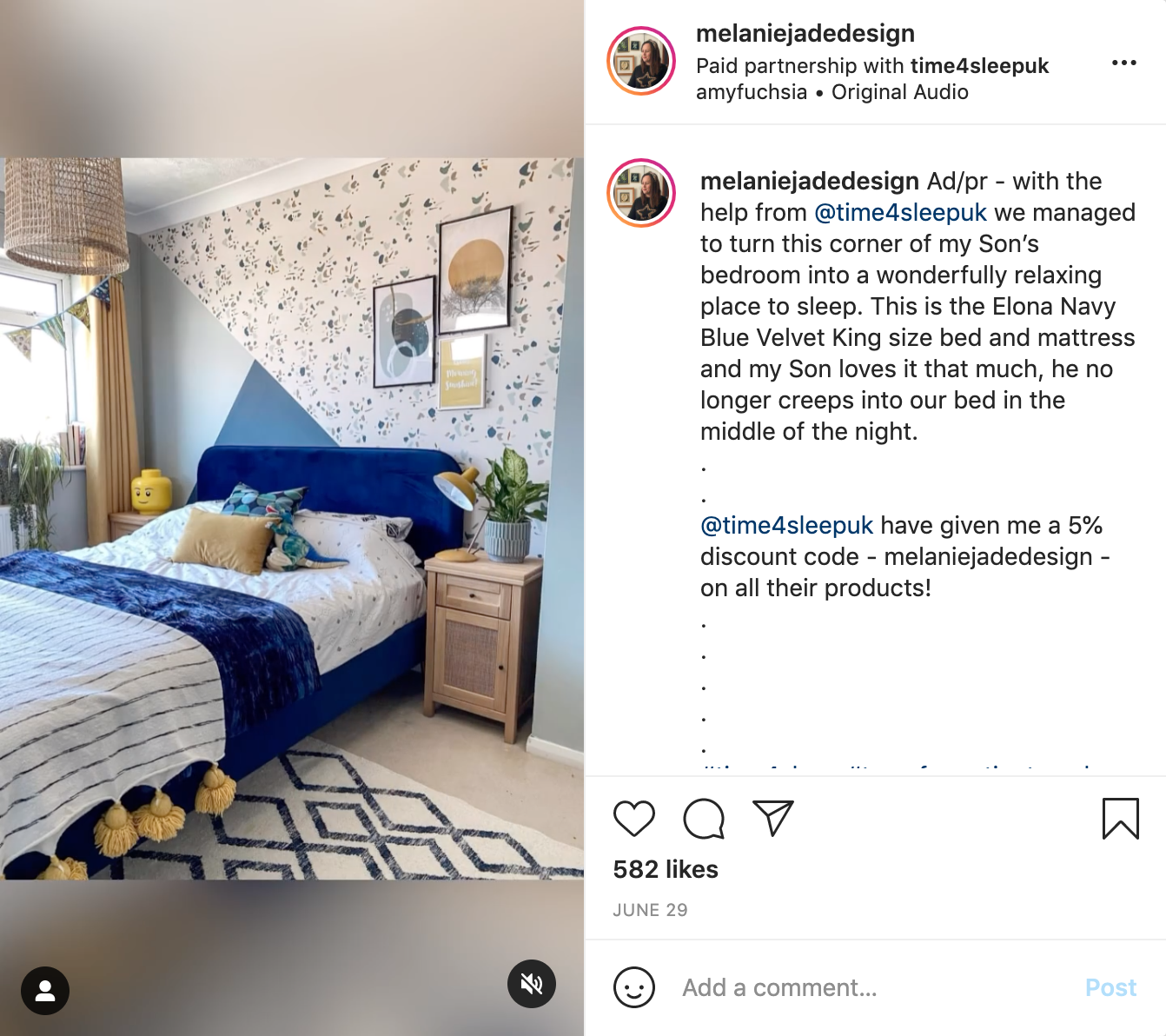 With the hope of freedom on the horizon and football coming home, it's time to channel some positive energy into your sleeping space and transform your bedroom with our top styling tips! To help you on your way with your mood boards and plans, we've pulled together our most stylish Instagram submissions from June for some inspo!
Whether you're after bold blue bed frames, sumptuous storage beds or lavish velvet upholstery, we're sure to have the perfect bed frame fit for you.
They say a picture paints a thousand words and this snap truly does – cosy, modern, striking and cool just to name a few! We worked closely with Melanie to help her create a fun and quirky design for her son's room and the results speak for themselves. From the bespoke geometric paint and paper walls to the clever contrasting use of yellow and blue and playful bunting, Melanie has knocked the interior design ball out of the park.
Our Elona Navy Blue Velvet Upholstered Bed Frame was the perfect choice for this space. Simple yet striking, the loud and proud blue velvet fabric really brings this bedroom aesthetic together, as well as adding some much needed warmth and texture to an otherwise graphic-heavy room. Complete with a sprung slatted base for extra comfort and support, we're sure that Melanie's little lad will keep up with no longer crawling into her bed in the middle of the night!
Want to go big with blue? Whether you're after a pale duck-egg or an eye-catching electric, check out our best blue bedroom ideas and inspiration here.
Sleek, Chic and Oh So Boutique
@our_rosebury_home

You'd be forgiven for thinking this picture of @our_rosebury_home's bedroom was straight out of a boutique hotel brochure. Sleek doesn't even cut it! The use of light and tonal greys in this bedroom are ingenious and really helps to bring warmth into the space, from the uplit bedside lamp to the bathroom mirror that bounces light back into the main room. We're obsessed with the layering of grey on the bed itself – the variety of textures from the upholstered headboard to the velvet lined cushions and quilted pillows bringing an added dimension of touch and feel to the space. You can't tell us you don't want to do the dive test on this bed so badly right now...
This very clever designer has chosen our Bella Classic Bed for their centrepiece. Offering classic elegance and sophisticated style, this bed frame really has it all. The floor-standing headboard is a true focal point, demanding attention with its winged design and deep-buttoned and cushioned style. Not just this, but just out of shot, the Bella also has the added benefit of four drawers for extra bedroom storage – two being a standard size and two continental. If you want a cosy sleep that packs a functional yet stylish punch, this is the bed for you.
PS – seven cushions are never too many!!
Are you after a bed frame for your bedroom that doesn't compromise when it comes to storage options? Say no more. Check out our full selection of stunning storage beds.
Serene Green Dream
@maidstone385

Ok, so this image is worth the head tilt – trust us. First-time buyers Shannon and Tom of @maidstone385 have transformed their main bedroom into a calming haven of complimentary colours and textures. From the waffle bedding to the velvet pillows and headboard, the use of texture brings cosy warmth whilst the clever use of forest greens and dusky pink work to cool down this space for a brilliant sense of balance. The colour green is a brilliant choice for bedroom spaces as it evokes a feeling of ultimate calm and relaxation as you bring the natural shades and tones of the outside in.
Our Levisham Ottoman Bed stands proudly in this snap from Shannon and Tom, flaunting it's gorgeous line-detailed, cushioned headboard. This ottoman bed is a refined design that combines simplicity with practicality as, not only does it look fantastic, but it's gas-lift base easily raises to reveal a huge storage capacity within its frame. The Levisham also has a fully sprung slatted base for added comfort and body support, meaning you can easily store and sleep your way to bedroom bliss!
Want to take your storage space to the next level? Shop our unrivalled range of opulent ottoman beds to get started!
Does your bedroom deserve its moment in the spotlight?
If you're a budding interior designer, show us what you've got! Simply tag a picture of your Time4Sleep bed with @time4sleepuk on Instagram and we'll make sure your bedroom takes centre stage in our next Bedroom Style Trends feature.