Blue Bedroom Ideas and Inspiration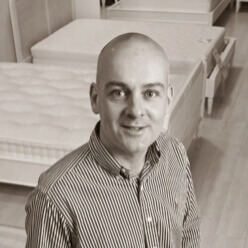 Calming, tranquil and cool, there's no denying that blue is en vogue when it comes to this year's interior design trends – especially in the bedroom. Harking to pale summer skies and the darkest depths of the ocean, blue is the perfect colour to experiment with in your décor as its wide variety of shades blend and contrast so beautifully with other colours and tones.
But as with any trend, where do you start? It's so easy to drown in Pinterest boards and Instagram bookmarks and have no clue where to begin. Whether you're after a pale duck-egg or a regal royal, we've pulled together our best blue bedroom ideas and inspiration to help you be bold with blue in the bedroom.
Why are blue beds so popular right now?
Well, this could have a little something to do with the fact that 'Classic Blue' was announced as Pantone's Colour of the Year 2020. In a year of uncertainty, Pantone described this shade of blue (which is reminiscent of the sky at dusk) as instilling calm, confidence, and connection – highlighting our desire for a dependable and stable foundation on which to build as we cross the threshold into a new era. Well. Amen to that!
As well as being the official Colour of the Year, blue is widely agreed to be the most recommended colour for the bedroom as it inspires relaxation and tranquillity: the perfect environment for a restful sleep.
Design-wise, blue also offers an incredibly versatile colour palette. Whilst reds and yellows can only go so far with their hues, blue has no limits: blue can add cold tones to soften a room with lots of light or even add an eye-popping electric shock of colour to a darker space.
What are the best blue beds at Time4Sleep?
We're so glad you asked: we've been looking for an excuse to brag about our blue beds collection for quite a while now. Here's a handpicked selection of our best blue bed frames to inspire your inner interior designer:
Elona Navy Blue Velvet Upholstered Bed Frame
Upholstered in a bold blue velvet with chrome plated legs, our Elona blue bed frame is the height of fashion and a celebration of understated elegance. Plus, the Elona comes with a spring slatted base for extra comfort and support so you can rest assured that you'll be sleeping soundly in style.
Emma Ottoman Gatsby in Indigo
Our Emma Ottoman Gatsby bed in indigo, is a contemporary soft-furnished frame complete with elegant lines and a high headboard for a dramatic yet chic look. The dark indigo blue fabric only adds to the grandeur of the design and would look incredible as a centrepiece in any bedroom.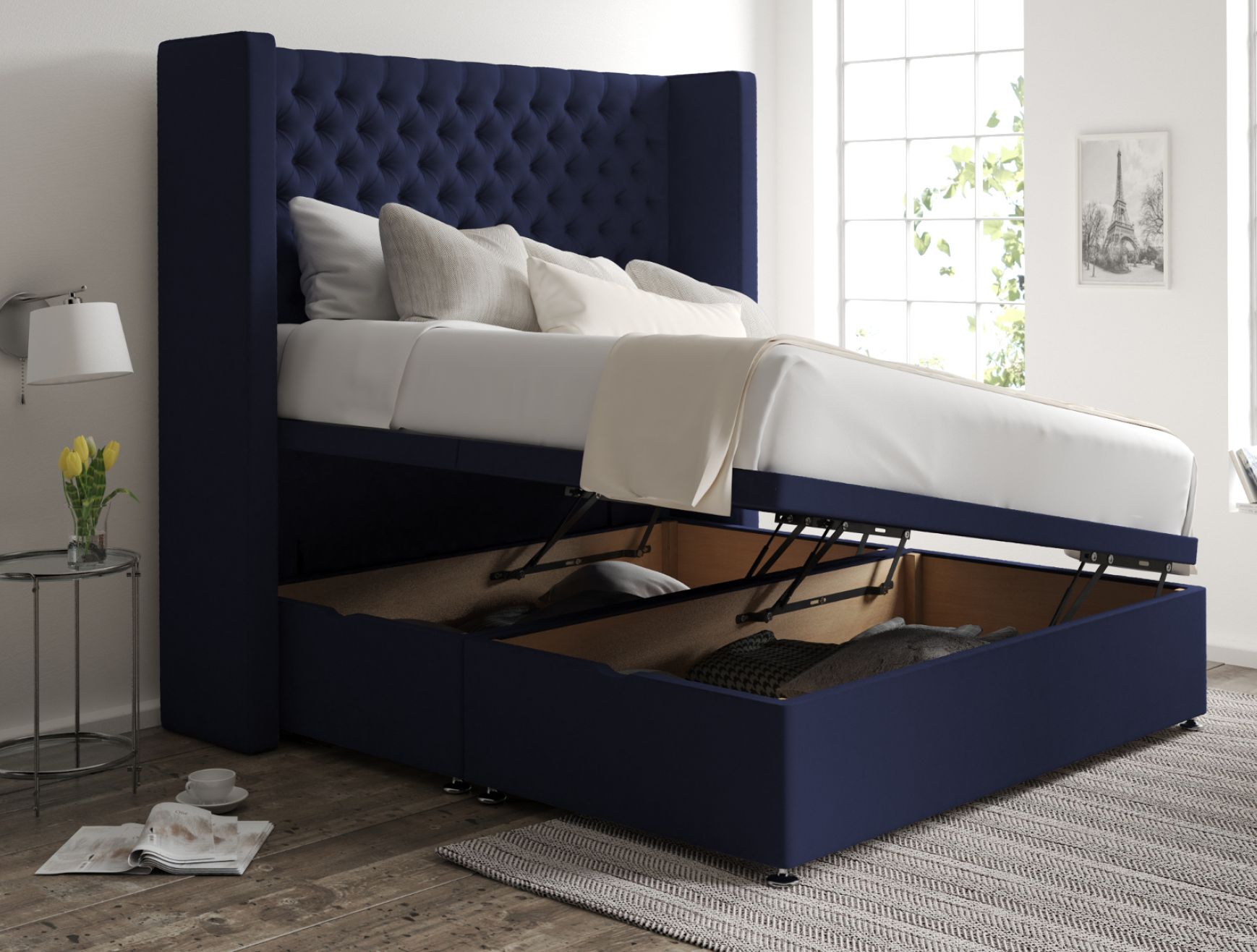 York Ottoman Plush Velvet Navy Bed Frame
Looking for blue bed ideas that include a little – or in this case, a lot – of storage? Look no further than our York Ottoman bed in navy blue. Not only does this bed's plush blue velvet and diamond tufted headboard design exude elegance and glamour, but the blue bed frame is extremely practical too. Handcrafted in Yorkshire, the ottoman base can simply be raised to reveal a high capacity storage space hidden within – perfect for storing away those occasional use items that you never know where to tidy away when Mum comes to stay!
How do you style a blue bedroom?
Now you've got some blue bed ideas, it's time to think about how you're going to style the rest of the room! You've got your heart set on a blue bedroom, so you need to know what colours will be perfect to accessorise with. Fortunately, blue's versatility really does you a favour here, as its shades are massively complimentary to a huge number of other colours on the colour wheel.
Here's our fool proof list of blue colour combos for feature walls and furnishings alike:
Teal blue and pink blush: Blue hues and millennial pinks are super on-trend right now.
Sea blue and neutral sand: Bring the beach home with you and pair nautical navies with neutral creams and ivories for a nautical nod
Ink blue and emerald green: Forget what you're Nan told you, blue and green can definitely be seen. Combine with brass accessories for a uber luxe touch.
Cobalt blue and burnt orange: A favourite in many design hotels, blue and orange combinations create an eye-catching visual with a modern feel.
Any blue and any white: El classico. Blue and white will never go out of style. End of discussion.