Time4Sleep Bedroom Style Trends: July 2021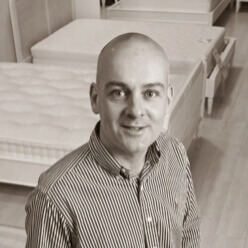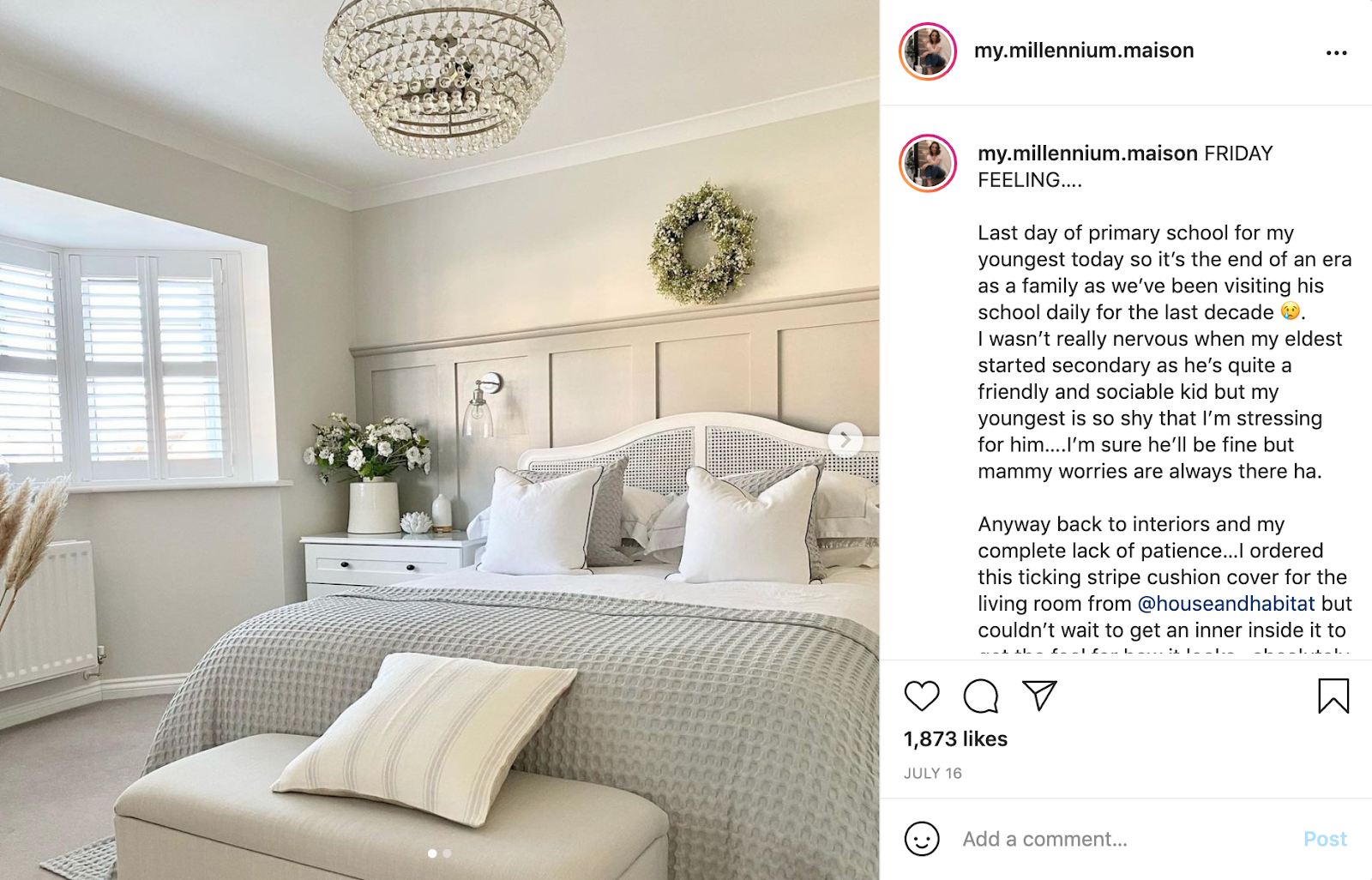 There's no getting around it, July was a sweaty one! No matter the amount of fans you ordered online, it was a tough month for getting a cool sleep. Nevertheless, in the wake of the summer sun, we came across some stunning customer posts on Instagram which we couldn't wait to share with you.
Whether you're after a countryside chic setup, a new velvet bed frame or a statement headboard to catch the eye, our July style trends are sure to give you some incredible interior design inspo!
Now, this looks like luxury, doesn't it? We mean – just look at that chandelier! Kathryn, the genius behind the gorgeous @my.millenium.maison Instagram account, has absolutely nailed this countryside boutique vibe in her main bedroom. Using various tones of natural beiges and greys, Kathryn has upped the luxe ante by layering textures, from wooden panelling, to waffle quilts and chic, velvet pillows. As if that wasn't enough, we are obsessed with her use of greenery in the room to drive the countryside aesthetic home, the speckled green wreath adding a really homely, cosy touch.
A bestseller at Time4Sleep, our Liberty Rattan Wooden Bed Frame plays its part very well in this stunning space. Exuding rustic opulence, the Liberty Rattan is inspired by French country chateaux design that's sure to catch the eye and add some extra intrigue to your bedroom styling. Plus, as the Liberty is finished in a gorgeous antique white paint, it means the frame is really versatile when it comes to varying bedroom designs, easily suiting a wide range of decors!
Fancy creating a French country chic bedroom? Check out our blog for all our top tips!
Pretty in Pink
@lovedean_home
A pop of colour is a great way to shake up your bedroom design and make a focal point out of your bed frame. But that doesn't mean the colour needs to be eye-popping and in your face! This tricky balancing act has been mastered by @lovedean_home who has skilfully managed to complement the natural colours of her bedroom with the subtle pink velvet of her bed frame for a warm and cosy feel. With added soft furnishings and textures, from rugs to throws and cushions, the sense of cosiness is only amplified by the soft, yellow lighting glow provided by the two matching lamps in the space. And is that a little kitty we spy?!
Pretty in pink, our Elona Rosa Pink Velvet Upholstered Bed Frame looks an absolute treat in this space. A celebration of simplistic, subtle design, the Elona features gentle, curved detailing to create a contemporary and elegant look. The Elona oozes warmth, not just from it's deep pink velvet upholstery, but also its gold legs which catch the light in the room so well and add an extra layer of modern luxurious sophistication. Dreamy!
Looking to add a pink twist to your space? Explore our range of stunning pink beds.
Hello Headboard
@apricotcottage_holmfirth_
This bedroom is all about symmetry and we are here for it! With a mix of blues, from navies to teals and hints of aquamarine, @apricotcottage_holmfirth_ has cleverly matched these cool tones with warm wooden furniture, giving their space an almost nautical note. We especially love the eye-catching rug that centres the room, drawing the eye to the statement bed and headboard, and helping to balance the level of soft furnishings and hard wooden floor and furniture in the room. Genius!
The star of the show, however, is undoubtedly our stunning indigo bed frame in this shot. While this particular model is now out of stock, our gorgeous Rylee Ottoman Gatsby Indigo Headboard and Bed is a very close alternative. Offering a modern twist on a buttoned headboard, the Rylee is a centrepiece with serious style and attitude with its sleek vertical lines, button detailing and deep blue upholstery. Plus, not only does it look incredible, but the Rylee is brilliantly versatile, too. Simply lift the side of this wonderful ottoman bed base to reveal an enormous storage space within the bed frame for storing any occasional use items or bedding to keep your bedroom cute and clutter-free!
Like the sound of a statement headboard? Discover our beautiful range of headboards to find the perfect match for your bed.
Does your bedroom deserve its moment in the spotlight?
If you're a budding interior designer, show us what you've got! Simply tag a picture of your Time4Sleep bed with @time4sleepuk on Instagram and we'll make sure your bedroom takes centre stage in our August Bedroom Style Trends feature.