How to Create a French Country Inspired Bedroom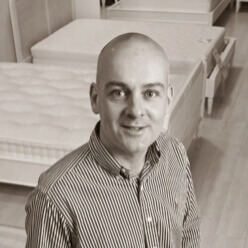 Picture this: the morning light gently kisses your pastel bedroom walls, bringing your ornate headboard and vintage-inspired furniture into view as you wake to the alluring scent of buttery, freshly baked croissants. Oh là là!
French country inspired bedrooms are the perfect marriage of très chic design and rustic charm to give your room that certain je ne sais quoi. Think Paris meets Provence. Imagine renaissance decadence meets casual elegance.
If, like us, you've had big goo-goo eyes for the Parisian interior design and landscapes in Netflix's Emily in Paris and want to capture the same joie de vivre in your own bedroom – look no further. Here, we've put together our top recommendations for how to create a French country bedroom, from colour palettes to dreamy French beds and the perfect finishing touches.
What is a French country bedroom theme?
French country style combines the most luxurious detailing from the days of Versailles with the rustic textures and earthly tones of the French countryside. Feminine, airy and light, a French country bedroom is sumptuously vintage without being stuffy; a seamless combination of rural and refined that is as homely as a farmhouse cottage in Provence and as decadent as a renaissance-era chateau.
How to create a French country inspired bedroom
French colour palette
French bedroom styles are all about pastel hues and statement furniture, so stay away from loud prints and colour-popping wall colours – neutral walls are a must! Instead, look to nature for inspiration. Creamy whites, warm hay-coloured browns and pale floral colours are the perfect way to capture the essence of the French countryside in your bedroom. We're talking more Vincent Van Gogh rustic landscapes than Henri Matisse colour explosions.
French beds
French-style beds are the crowning jewel of any French bedroom. From romantic rattan headboards to the sweeping curves of a sleigh bed, French beds serve comfort, style and charm in equal measure.
Louie Dark Wooden Sleigh Bed
Drawing on the luxurious influences of old-world France, the Louie Dark Wooden Sleigh Bed is a classic and versatile design that boasts graceful curves and chic design. Crafted from hardwood, the bed is finished in a brown stain finish, bringing a sense of serenity and relaxation to your space.
Loire Rattan Bed
The Loire Rattan Bed is a stunning French bed frame that encompasses all the rustic charm of a provincial farmhouse as it combines the beauty of weathered oak with an elegant rattan headboard. Each frame is carefully handcrafted with carved detailing to create an opulent design that sings with traditional French style.
Marseille New Oak Wooden Ottoman Bed
If you're looking for a French bed with some extra storage space, meet our Marseille New Oak Wooden Ottoman Bed. This stunning oak bedframe is sure to transform your bedroom into a boudoir, with the added bonus of allowing you to store away any extra bedding or other occasional-use items beneath its easily raised base.
French furniture options
The addition of French-style furniture will only add to the authenticity of your French bedroom design. From wardrobes to bedside tables and dressing tables, opt for elegant curves and hand-crafted detailing for a truly French vintage feel.
To create a complimentary set, why not pair our Loire bed with the Loire Weathered Oak Dressing Table? Finished with ornate curved plinths and stunning cornice detail, you'll be the envy of every Marquess with this high-quality statement piece.
Finishing touches
As with any styled bedroom, the devil is in the detail. To truly capture the essence of a French country bedroom, pay close attention to the accessories you buy. Fabrics like cotton and linen in rustic tones are essential to dressing your way to Versailles-worthy style.
Florals are crucial, too – no French country décor is complete with them, no matter whether they're real or faux! Why not opt for lavender and roses in the summer months and have a seasonal switch-up come autumn with winter daphne and pansies? Mais oui!