Spring cleaning your bedroom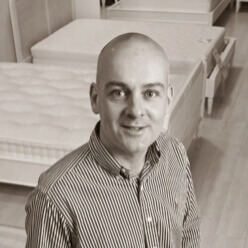 The daffodils are out in full bloom and the clocks have switched to BST. Spring is officially here and that can only mean one thing – it's time to get your marigolds on.
Throughout the winter, dust and allergens will have built up in your bedroom with the cold weather and there's no doubt you still haven't found a home for the mountain of presents you received at Christmas. At long last, get ready to open up the curtains, let the light in and prep yourself for the almighty spring clean.
A good spruce up can work wonders for your mental health and help you achieve a better quality of sleep. But while this all sounds dreamy, where do you start? Well, wonder no more – we're here to help you break down how to spring clean your bedroom and achieve sparkling success with not a speck of dust in sight.
Declutter
The last year has seen our bedrooms become quasi-office spaces, virtual pub quiz taverns and makeshift gyms. But with lockdown easing on the horizon, now's the time to convert your bedroom back into the sanctuary of sleep it once was and get decluttering!
After you've cleared your bedroom of everything that doesn't belong there, channel your inner Marie Kondo and delve into the depths of your wardrobes. Remember the main rule of bedroom sorting: if you don't love it or use it, it's time to lose it. This means saying a loving farewell to any unworn clothes, odds and sods which can go on to either be recycled, sent to your local charity shop or even sold online for a tidy profit.
If you've got clothes or books that you can't quite bring yourself to let go, why not invest in some spring cleaning storage like underbed drawers, or take things up a notch with one of our space saving Ottoman beds? A clutter free space is a big step forward to a better night's sleep.
Clean upholstered furniture
Cleaning your lovely upholstered bed and furniture can pose a bit of challenge. But don't fret, a few simple steps will have your signature pieces looking fancy fresh in no time.
Firstly, if your furniture has a label with cleaning instructions, make sure you read them before getting stuck in. If your furniture doesn't require more practiced hands, then start with a thorough vacuum, making sure to use the brush attachment for the main areas and a smaller nozzle to get right down the sides.
Now, it's time to spot clean! Make a quick mix of equal parts water and white vinegar and gently blot the fabric where any stains have manifested. After a few minutes, simply use a cloth to carefully wipe the stain away and your furniture could be looking as good as new. Who said spring cleaning your bedroom was hard?
If you've invested in an upholstered headboard, why not check out our blog on how to clean your headboard for all our top tips on keeping your centrepiece looking like a masterpiece?
Clean your mattress
Firstly, strip your bed and let your mattress breathe. Then it's time to get up close and personal with your vacuum as you hoover up all the dust and dirt in the fabric.
Once you've identified any need for spot cleaning, sprinkle your mattress with some baking soda. Baking soda absorbs moisture and other smelly particles and is great for keeping your mattress in good condition. Finally, flip your mattress and repeat.
A mattress protector is also a great preventative way of giving your mattress some much-needed TLC. Specifically designed to help keep your bed stay as hygienic as possible, a mattress protector repels allergens and can also protect against any liquid spills.
Clean curtains and blinds
Curtains and blinds can accumulate their fair share of dirt and dust which can cause asthma and allergies to flare and ultimately affect your sleep.
You might find a few hours hanging outside in the wind will give your curtains a renewed freshness, but if they're in need of a full spring clean, read the label first. For curtains able to withstand the washing machine, make sure to select a cycle with a low spin rate and high water level to best protect them. You might also need to do your curtains one at a time for best results, rather than filling your washing machine to the brim.
If you're hand washing your curtains, you might find the bath is the best space to give them a good soak using cool water. Whichever route you choose, be sure to get those curtains re-hung while they're still drying to avoid any unsightly creases or damp smells.
When it comes to cleaning blinds, the cleaning method depends on the type you have. For pleated, roman or roller blinds, a regular dusting with a cloth or brush should keep them in top condition, but venetian blinds and vertical blinds will need a bit more looking after.
For venetian blinds, wipe down with a damp cloth after a quick brush, adding some washing up liquid if required. If your vertical blinds are still a bit dirty following a quick dusting, they can be hand-washed – just make sure you do this gently, consult the label, and try not to fold them!
Deep cleaning carpets and rugs
The final piece of the spring cleaning your bedroom puzzle is to tackle the floor. Hard floors, like wood or laminate, are easily dealt with by a good hoover and a generous wash.
Carpets and rugs are more complex beasts. The first thing to do is to consult the label – you don't want to go ruining your rug by chucking it unceremoniously into the washing machine if it's not up to the task. That said, you could always outsource your deep carpet or rug cleaning to a professional – we promise we won't tell!
If you're still in the cleaning mood, you have a variety of options when it comes to cleaning rugs and carpets. For routine cleaning, introducing a carpet cleaning spray is a great way to keep on top of accumulating dirt. Simply work in the spray with a brush and then vacuum once dry.
For the more sporadic but deeper cleans, start by sprinkling a cleaning agent or baking soda over your carpet. After you've vacuumed your space, get out your steam cleaner and watch as your carpet breathes new life and becomes the epitome of freshness.
Is your bedroom furniture beyond saving with a spring clean? Say no more. Take a look at our full range of supportive mattresses, stunning upholstered beds and centrepiece headboards – there's no shame in starting afresh!