Sleep Under the Stars: The Best Beds to Buy According to Your Star Sign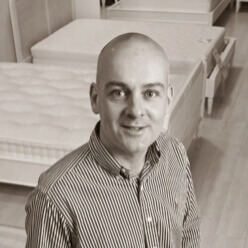 Settling down for an uninterrupted sleep has been a struggle this year to say the least. Starry sky or not, our dreams and sleep routines have suffered somewhat.
Here at Time4Sleep, we're always searching for new and innovative ways to ensure our customers get the soundest night's sleep - we want to make sure your dreams of deep sleep become a reality. So, have you ever considered your star sign?
We've teamed up with astrologist, Lisa Stardust, to create this expert-led bed-buying guide to help you choose the perfect bed frame, according to your zodiac sign.
Whether you're a Cancer who needs their bedroom to be blacked-out or a Virgo who prefers a simple setting for sleep, read on to discover which of our beautiful beds is best for you!
Aries: Bright and inviting
Aries are fiery fixators who always strive to perfect themselves. As a sign that that finds it difficult to quieten the mind, the bed needs to be a comfortable and inviting space that accommodates a well-rehearsed winding down routine as well as your standard night's sleep.
Aries need their bedrooms to be full of bright colours and flamboyant decor in order to tame their rambunctious spirit, hence why we recommend the Levisham Ottoman Plush Velvet bed in Ochre. This bright, sunny yellow and soft upholstery will liven up Aries' surroundings and provide the perfect setting for them to press pause before bedtime.
Taurus: All about the senses
Taurus is a star sign that requires a lot of rest and relaxation: being the most hedonistic and earthy of all the zodiacs, pure relaxation is the key for a Taurus to feel beautifully balanced and positive.
A well-rested Taurus needs to be surrounded by aromatherapy in order to drift into a deep sleep, and benefits from sensory stimulation before bedtime. With its natural beauty and fragrant oak frame, we couldn't think of a better bed choice for a Taurus than the Amelia Oak bed. Made of traditional wooden oak, this rustic bed is paired with a soft linen fabric that'll help fill a Taurus' room with serenity and a warm, sensually satisfying feel.
Bed: Amelia Oak Bed
Gemini: Calls for crisp whites
Moving on to Gemini's - who are notoriously known for their tendency to take too much on and tire themselves out and need sleep to be a time to fully switch off and distract themselves from the day's proceedings.
In order to fully immerse themselves in sleep, Gemini's need their bedrooms to embrace simplistic design with a crisp white finish, so as to avoid overstimulating their already busy minds. With this in mind, the Verona White Ottoman bed is the obvious choice. Its hand painted white wooden frame will offer a Gemini a clean and contemporary look for their bedroom that'll help wipe the worries away before winding down for a well-earned sleep.
Cancer: Down for darkness
Ruled by the moon, a Cancer likes to be surrounded by darkness before sleeping: for an optimum sleeping pattern, it's vital that a Cancer does as the moon does and follows the lunar cycles!
A Cancer should try and replicate the night sky in their boudoir and, in doing so, embrace the darkness. To help this star sign drift off into an undisturbed, dark sleep, we recommend the Emma Classic Continental frame in Gun Metal. It's towering headboard with its beautifully deep buttoned, dark colour, will cast a welcomed shadow over a snoozing Cancer and help them achieve the best night's sleep possible.
Leo: Turn to texture
Known to be some of the most fiery characters on the star sign spectrum, Leo's are extremely passionate and powerful. For a Leo to truly relax and recline from their energy-filled days, calming champagne colours and velvet textures can complement the strong forces of a Leo.
This brings us to our fifth bed recommendation, the Elena Rosa Velvet Upholstered bed frame in pink. A celebration of muted soft pinks, gentle fabrics and a curved detail, this bedframe is perfect for any Leo wishing to wind down for a supported sleep. Known for indulging in long slumbers, this bed frame is just right for a Leo as it comes with a sprung slatted base - offering a great foundation for extra comfort and snuggle time.
Virgo: Set on simplicity
Very aware of the ongoings of the outside world, a Virgo needs to be rid of their thoughts before settling down to sleep. So as to minimise distractions and avoid any unsettling dreams, astrologists recommend that Virgos decorate their bedrooms with the simplest of colour schemes and avoid cluttered spaces.
We recommend a Liberty Rattan Wooden bed for Virgos, the simple, classic bed can be accentuated with colourful accessories or left to stand out on it's own. Stripped back in colour and design, a busy-minded Virgo would benefit from this calming, classic wooden frame.
Libra: Picks a pastel
Ruled by Venus, the planet of indulgence, Libra's tend to steer themselves towards splendour. This star sign feels at one with the universe when reclining in the bougiest of bedrooms. Often drenched in pastel hues and luxurious fabrics, these colours help Libra's harmonise with the rhythms of the world - even during sleep.
For a Libra, we recommend the Rylee Classic Continental bed in Gouache Eau De Nil. Beautifully blue, its pale, pastel shade offers a modern twist on the deep buttoned headboard. With sleek vertical lines between, this bedframe is the best choice for this luxury-loving zodiac sign.
Scorpio: Very vintage
Self-professed lucid dreamers, a Scorpio likes to indulge in psychic thoughts and study their dreams. For a Scorpio, it's important to hold tranquillity above all else in the bedroom and put aside optimum time to rest and tune into their thoughts.
Drawn towards a more vintage appeal, we suggest the Amora Brass Bed which blends a classical and traditional look with an ornate styling - offering that little bit of edge that every Scorpio longs for. Ensuring elegance and a vintage flair, this beautiful bed is the obvious choice.
Bed: Amora Brass Bed
Sagittarius: Fuss free
Globe trotter and cosmic defender, a Sagittarius needs little rest in order to function at their best. A few hours here and there is enough to satisfy their sleep needs, for they're always on high alert.
In order to simmer that tension down and lower defences a little, a Sagittarius should surround themselves with fuss free decor so as to reduce the likelihood of nightmares and broken sleep.
We recommend the Shoreditch Metal Bed for a restless Sagittarius. Ready to rock at a moment's notice, its versatile, contemporary design is great for those who don't prioritise long, lazy mornings in bed. For an independent Sagittarius, this frame is an ideal choice for those who love to get up and go.
Bed: Shoreditch Metal Bed
Capricorn: Go for green
Known to put their all into the everyday, Capricorn's are the star sign that never seem to press pause. They find it difficult to rest and rehabilitate and are known to take naps throughout the week. To help them unwind, a long night's rest as well as a well-deserved day nap is the go-to routine for a Capricorn.
Capricorn's, or the sea-goat, should surround themselves with green hues before rest so as to ensure solace and serenity before sleep. The Hannah Ottoman Gatsby bed in Forest will inject just the right amount of deep green into the room - helping Capricorn's drift off to a un-disturbed dreamland.
Aquarius: Nice and neutral
Most relaxed when surrounded by water, Aquarians are the air and water sign and benefit from a bath before bedtime. Partial to a massage and attracted to calming essential oils, an Aquarius needs neutral colours in the bedroom - cream tones will allow them to feel as though they're amongst the clouds.
We suggest opting for a frame made from a soft woven fabric that is smooth to the touch - such as the gorgeous crafted Bella Ottoman Arran Natural Bed. Winged, grand and light in colour, it'll float any Aquarian to another realm.
Pisces: Ode to the ocean
Pisces, who are often stuck in a constant state of dreaminess, need more sleep than the rest of us: as their dreamworld acts as an escape from their everyday lives. Pisces need to indulge in their dreams a little more to be fully satisfied. Pisces should try and recreate their homeland (the ocean) in their bedroom decor so as to be reminded of the beauty of the sea: blues and lavenders should help with this.
With this in mind, we've determined that the Waldorf Blue Velvet Upholstered Ottoman Storage Bed is the most appropriate choice for a Pisces: with a headboard that replicates the rippling waves, this soothing design will act as a sea-inspired sanctuary at night.