Neutral Bedroom Ideas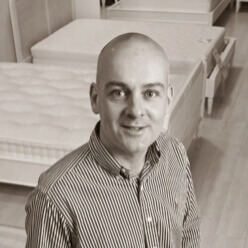 There was a time when "beige" was meant as an insult – but that time has long gone. From makeup palettes to high-end fashion brands, restaurant interiors to artwork, and now your bedroom – nudes are very much the new black.
Casual, calming and extremely on-trend, neutral bedroom ideas are all the rage right now as style icons everywhere strive to replicate the whimsical yet (seemingly) effortless vibe of the most beautifully boho chic boudoirs showcased in every interior magazine worth their salt.
But how do you go about curating your own neutral haven of sumptuous neutral luxury? Well, wonder no more, our nude-loving readers, for we are here to help. From colour palettes to accent colours, material, textures, furniture and so much more, consider this blog your neutral bedroom idea bible!
Colour Palette
Despite what the trends of yesteryear may have had you believe, neutral colour aesthetics are anything but boring and plain. In fact, there are hundreds of various warm and cool neutral shades to explore, evoking a calming oasis in your space to induce the most luxurious of sleeps night after night.
From crisp, clean whites to deep, delicious terracottas, neutral colours for the bedroom are soothing and cosy above all. And aside from your walls, there are plenty of other areas in your bedroom where you can experiment with different neutral shades to add some depth and dimension. For example, if you opted for a sand wall colour, why not offset your bedding with a deeper shade of russet to draw the eye to the main event of the room?
A great place to start with colour mapping your space is to get creative with testers and patches to see what works for you. Many paint companies have different testing options for you to use nowadays, from classic sample papers to test paint pots and even easily removable adhesive patches to really help you visualise different colours' impacts and impressions before you've even thought about fishing your roller brushes out of the cupboard.
Accent Colours
The beauty of neutral bedroom decor is that these nude tones are the perfect canvas for splashes of other colours here and there. However, be warned, you need to keep the overall impression you want your space to have in mind when you're searching for complimentary shades. Do away with thoughts of Barbie pinks and bright sky blues, and instead surround yourself with colours that hark from the natural world to keep your neutral theme on-track and successful.
Botanical greens, dusky pinks, moorish maroons and cooling greys are fantastic shades to start getting creative with as they'll stay true to your original vision and help you to start making design decisions when it comes to taking your space to the next level. By incorporating complementary colours into your soft furnishing choices, wall prints, plants, vases and other decorative pieces, you'll only be adding an extra level of depth, warmth and interest to your bedroom design.
Materials and Textures
Much like with accent colours, the best materials to reach for when planning your neural bedroom design are those that can be found in the natural world. Linens, wools and wooden finishes fit the brief perfectly and will only work to build texture and layers in your pared-back space.
Interior designers everywhere agree that layering materials and textures is the key to curating a warm and cosy space, especially when it comes to a neutral boho vibe. Picture boucle corner chairs, linen sheets, woollen rugs and rattan drawers. Sounds pretty dreamy, right?
Looking to add some warming texture to your neutral space? Take our Annecy Rattan Bedside Table for example. Rattan is a great choice to achieve a rustic chic aesthetic that's as fashionable as it is functional.
Furniture and Decor
Beds
It's the main attraction of the bedroom so it's worth taking the time to pick out the perfect bed for your new space! Wooden beds and white beds are an ideal place to start your headboard hunt as they'll slot right in as the star of any neutral bedroom show.
Our Liberty Rattan Wooden Bed in White is a gorgeous choice of bed for a boho-style room. Chic, contemporary, yet loyal to a neutral aesthetic, this bed is a classic, sturdy and comfortable frame with exquisite rattan detailing on its headboard. Looking for a bed to brag about? This is it.
Or, if you're after a more natural wood finish and a little extra storage, why not opt for our beautiful Brookes Wooden Ottoman Storage Bed? Hand crafted and solid, this bed frame is a perfect complement to neutral colour schemes and can be matched with our range of oak finish bedside tables for a streamlined matching furniture set. And as an added bonus, the Brookes bed features a large ottoman storage base beneath its frame, ideal for hiding away any unsightly clutter or extra bedding to keep your space looking neat and tidy.
Browse our full selection of stunning wooden beds and white beds.

Bedding
Materials like Egyptian cotton and linen are the best neutral bedding choices in our books as they're not only natural materials but they're lightweight and breathable to boot.
If you're after super smooth sheets that's sweat-wicking and helps to regulate body temperature while you sleep, Egyptian cotton is the bedding for you. However, if you're looking for bedding that keeps you just as warm in the winter as it does cool in the summer, you may prefer linen that works as a natural insulator while also allowing for ample airflow due to its materials weave.
Furniture
As we've mentioned, the most apt neutral bedroom furniture derives from the natural world. As such, we'd recommend picking hero pieces made from wood, stone, wicker, rattan and similar materials to stay true to your design.
If you're after some inspiration, look no further than our Loire Weathered Oak Dressing table, sure to add a natural yet clean feel to any bedroom, or our Tilly White Chest of Drawers with its classical French style and white-painted oak finish.
Wall Art
Add some character and personality to your neutral bedroom through wall art! Whether you're a fan of simply framed linework pieces, warming botanical prints or want to add some focal interest with a tasteful gallery wall, wall art is an amazing way to make your new room your own.
Lighting
Lighting serves an obvious function in any room of the house, but you shouldn't write your lighting pieces off as simple illuminating devices! Floor lamps, bedside lamps, sconces and hanging bulbs have the ability to add some really thoughtful and interesting detail to your bedroom aesthetic. As well as wooden materials, why not experiment with brushed golds, brasses and coppers with your lighting to bring some added sparkle and contrast?
Searching for more bedroom design ideas?
If you're all about making the simple shine, check out our Minimalist Bedroom Inspiration blog for more hints and tips on neutral bedroom ideas. Or perhaps you are still considering What Are The Best Colours For Bedrooms? Take a look at our blog for all the advice you need when it comes to beds, mattresses and bedroom styles!