How to arrange bedroom furniture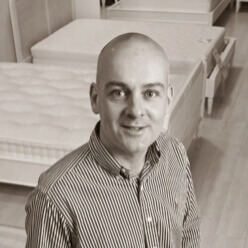 Arranging furniture is an art. There's literally a term for it – 'feng shui': an ancient Chinese belief that the way your house is built or the way that you arrange objects affects your success, health, and happiness. We'll have some of that, please.
So, where do you start when it comes to arranging your bedroom furniture? From bed placement to clever storage solutions, it's time to have a good think about how to arrange bedroom furniture and best set up your sanctuary for sleep.
But first, let's kick off proceedings with some furniture-based FAQs.
Does bedroom furniture have to match?
When it comes to your chosen level of uniformity, it's all about personal preference. If you fancy yourself as an interior designer, mixing and matching furniture can be a fun way to flex your creativity as you cultivate the ultimate bedroom. On the flip side, a matching set can provide a very pleasing symmetrical aesthetic to give your bedroom a sharp and balanced feel. Want to see a furniture set in action? Check out our range of high gloss bedroom furniture.
How to fit furniture in a small bedroom?
If your bedroom is on the smaller side, that doesn't mean you can't curate the ultimate safe haven. It just means you'll have to get smart with furniture placement, maximise storage solutions and focus on what is truly essential to retain your precious floorspace! If you're struggling for room, you could opt for one of our stylish yet practical Ottoman beds for underbed storage or even deploy some clever underbed drawers. Or, if you're a Netflix addict without space for a TV in your bedroom, then one of our TV beds could be just the ticket.
And what about irregular shaped bedrooms?
Not all bedrooms come in perfect rectangular setups, just like us humans they can come in all shapes and sizes! All you have to do is embrace the unique nooks and crannies your space has to offer. Deploying some bookshelves or floor-to-ceiling storage can be a greatly innovative way of getting the most out of your irregularly shaped space, or it could be that mapping out your furniture helps to break up different sections of your bedroom. Experiment with your space to find what optimises your floorspace and works for you.
How to arrange bedroom furniture in five simple steps
1. Measure your space
It's time to bust out the tape measure and get super familiar with the dimensions of your room. Working out the measurements of your space will help you map out where your current furniture can go and if you have space for some new homely purchases.
2. Assess the furniture you already have
When it comes to arranging your bedroom furniture, doing an audit of what you already have is a brilliant way to avoid unnecessary spending. Once you know what you have – and what you don't – you can fully map out the layout of your bedroom to help maximise floorspace and create a sophisticated sanctuary for sleep. If you're missing any essentials then look no further than our range of contemporary chic bedroom furniture for some design inspo to fill in the gaps.
3. Start by placing your bed
Real talk – the bedroom is the most important part and focal point of any bedroom. Plus, your bed is one of the larger, if not the largest, pieces of furniture in your bedroom so it needs to take priority when it comes to arranging bedroom furniture.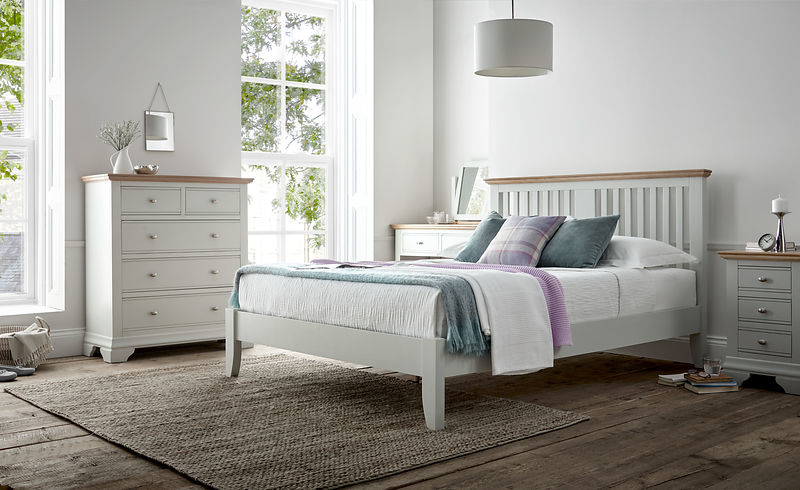 Typically, beds are placed against the wall opposite the door, so you're instantly drawn to the comfort of your bed as you walk in. If this isn't workable for your space, the next best bet is against the longest wall, but other practicalities might also come into play such as whether space is at a premium or if you and your partner need space either side of the bed to hop in and out. If this is the case, play around with positioning whilst all your other furniture is out of the room to find the perfect fit.
4. Work down through your furniture from big to small
The aim of the game here is to maximise your floor space without compromising on storage. Starting with your bigger items means placing your wardrobe or dressers first, followed by any bedside tables and then other less essential pieces such as desks or chairs. Working down from biggest to smallest is a fab way to constantly keep an eye on retaining floorspace and have you thinking about what you really need to make your bedroom work for you.
5. Add in any finishing touches
Once your staple pieces of furniture are ready in place, it's time to think about adding those finishing touches to your bedroom. Soft furnishings, indoor plants, floor lamps and well-placed eye-catching prints can be just the ticket to make your bedroom an inviting and relaxing space for sleep. If you're in need of inspiration, check out our latest Bedroom Style Trends blog to see some well-designed sleep sanctuaries guaranteed to bring out the interior designer in you.
If you're looking to reshuffle your bedroom and you want to start afresh, check out our range of stunning storage beds and top of the range furniture to help get you started. From bedside tables to chest of drawers and wardrobes, we've got you covered.