Time4Sleep Bedroom Style Trends: March 2021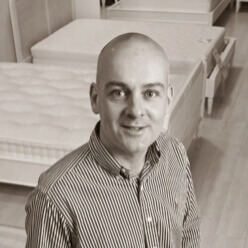 Spring is here, people! And with a new season, comes new bedroom style trends. To help you dust away the cobwebs in your old spare room, we've handpicked our favourite Instagram customer submissions from March to give you some hot off the press interior design inspiration.
From top of the range TV beds to statement headboards and some cute pups to boot, we've got you covered.
Press paws and unwind
@vincecockapoo
Vince knows what's up – you really can't beat Netflix in bed on a lazy weekend. Asides from being the cutest floof in the whole wide world, Vince also has some very clever owners who know a thing or two about layering neutral colours. We love how the pastel tones in the duvet cover are reflected in the room's décor, from the off-white walls to the contemporary print, the grey blinds and soft pink quilted bedding.
Naturally then, with its mid grey fabric, our best-selling Copenhagen Upholstered Ottoman TV Bed suits this bedroom down to the ground. A stunning centrepiece, the TV bed fuses style with functionality and tech. Not only does it look the part, but the Copenhagen has a huge internal storage area for tidying away any extra bedding (or chew toys!) and houses a TV mechanism at the foot-end of the bed that can be raised at the touch of the button. All you have to do is kick back, relax and let the credits roll.
Like the sound of having your own private cinema in your bedroom? Browse our full range of TV beds here and get in on the action.
A calming country oasis
@east_carr_farm_snainton
Jen, the fashionista behind East Carr Farm, has curated a truly calming oasis in her bedroom. Her choice of dark forest green for her feature wall and throw pillows evokes a soothing tone of nature and growth. The symmetrical positioning of bedside tables and lamps only serve to further the sense of balance in this space – and those high ceilings are to die for.
In keeping with Jen's calming aesthetic, our Ava Upholstered Storage Bed helps to keep her bedroom clutter-free for maximum floor space. The epitome of contemporary design, the Ava boasts a plush modern headboard, three spacious storage drawers and a low foot end for a wholly modern feel. Who needs a boutique hotel when you could stay at East Carr Farm?
If you're searching for a high-quality bed to suit your contemporary bedroom with the added benefit of extra storage, why not browse our beautiful collection of storage beds.
Pastel perfection
@our_baycliffe_home

That's right, we're treating you to a double doggy dose this month! Is there anything happier and more glam than a fluffball Pomeranian lounging on the softest of chic bedspreads? We think not. The owners of @out_baycliffe_home have only just moved into their newbuild house, but they've clearly wasted no time when it comes to making a design statement of their own. We're obsessed with the white wall panelling which gives the room a cosy, country feel alongside the muted tones of warm grey in the soft furnishings.
Our Maxi Driftwood Upholstered Ottoman Bed takes centre stage in this bedroom, and rightly so – it's a masterpiece of more than generous proportions! With a luxurious deep-buttoned headboard that stands 135cm tall, this cosy sleeper makes an impressive style statement in any master or spare room. Plus, the extra deep base means the Maxi offers considerably more storage than your average ottoman bed for tidying away any occasional use items and creating more space for little woofs to explore!
Treat yourself to the ultimate luxury of style, sumptuous comfort and storage. Here's our full range of decadent ottoman beds.
Where nature meets nurture
@mrs_v_at_number_3

If you could encapsulate a breath of fresh air in a bedroom design, this would be it. The subtle green walls at Number 3 work to bring the outside in, complementing the various houseplants and soft white textures in both the fixtures and furnishings. It's all very au naturel, darling – and we're here for it.
Mrs V was bang on the money when she chose our Chateaux White Wooden Bed for her room. Calling up classic French farmhouse style, the Chateaux oozes charming countryside elegance. And it's not just a pretty base either, this bed brings the ultimate level of comfort with its sprung slatted base for extra support.
For a classic, sturdy design that will never fall out of fashion, browse our beautiful collection of wooden beds to find your perfect match.
Does your bedroom deserve its moment in the spotlight?
Want to show off your chic interiors? Hit us up! Simply tag a picture of your Time4Sleep bed with @time4sleepuk on Instagram and we'll make sure your bedroom takes centre stage in our next Bedroom Style Trends feature.