Convert Your Guest Room into a Home Office Space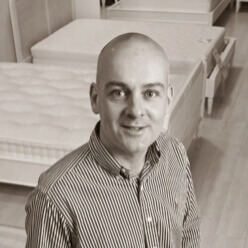 2020 has seen our lives be turned upside down. Multiple times. One welcome change, however, is that many more people will be looking to work from home in 2021. Not only is this a positive move for many people's wellbeing but it's good for the environment and our wallets, too! But where do you start when it comes to making sure your home office is fit for purpose? Look no further than your unoccupied guest bedroom.
With more and more workers discovering that agile working can actually work, the time is nigh to invest in your work from home setup. And we're not talking about a makeshift desk on your dining room table – oh no – we're talking about repurposing a spare room into a dedicated space with quality home office furniture, adequate light, and personal touches. The whole shebang.
We've scratched our heads and put together some top tips to help you curate and convert your guest room into a home office space that works for you.
What to consider before you get started
Let's start with the boring bits, and yes, this does involve a tape measure. Wherever you're planning on setting up your work from home station, you first need to have a solid grasp on measurements. You'll also need to have a think about whether you've got an adequate supply of plug sockets within reach, enough natural light, and (crucially) if you're in strong Wi-Fi range.
How to convert your guest room into a home office
Create a space full of natural light
Natural light does wonders for productivity and overall wellbeing, as well as looking after your eyes if you're staring at a screen all day. Station your work from home desk next to a window or hang a large mirror in your room to reflect daylight back into your space (spoiler: this will actually make your room look a little bigger, too!)
Take your time choosing the perfect home office furniture
As you'll know by now, a bad office chair can leave your back in complete tatters after a long 9 to 5, so don't you dare think about just stealing a chair from your dining room. Invest in office pieces which will make your working from home environment as comfortable as possible – you'll be surprised by how much more productive you are.
From desks to lamps, ergonomic chairs to tape dispensers, take a look at this super handy list of the best at-home office equipment from ES Magazine.
Go green!
Not only are plants a brilliantly inexpensive way to spruce up any space and make it feel more homely, but they also bring many other great benefits to the table. Home office houseplants can purify your air, boost your mood, and increase your productivity tenfold – your boss won't know what's gotten into you!
How about the humble Aloe Vera for your desk? Nice to look at, air purifying, mood-boosting and full of anti-bacterial healing qualities for when you get a papercut – dreamy.
Maximise storage space
Tidy space, tidy mind! Plus, you want to look like you've got your life together on Zoom with your colleagues don't you, and a room full of strewn ring binders and spare clothes isn't the vibe you're going for.
We don't want to eat up floorspace in your new home office, so consider open shelving and storage units that won't ask too much of your space. Why not browse our stunning range of bedroom storage pieces to see if anything could double up as a practical home office furniture statement?
Make it multi-functional
Just because you've converted your guest bedroom into a home office space, doesn't mean you can never have a guest stay over again! You've just flipped the tables on the room's primary function.
Why not consider a versatile home office furniture piece like a day bed? Ideal for lounging on when you're having a work-related brainstorm or transforming into a cosy bed when your mother-in-law comes to stay, the day bed truly is a multi-functional masterpiece.
The best day beds for your at-home office space
A day bed is a fantastic, space saving solution that can give you the space your home office needs, whilst still offering a place for friends or family to rest their heads. Typically single in size, a day bed can slot neatly into your home office workstation without eating up precious floor area. Here are our top day bed picks:
Hampton Day Bed
Our gorgeous Hampton Day Bed is an extremely versatile bed, providing under-bed storage for your office supplies as well as a comfortable snoozing station. Finished in a clean and contemporary white paint, the under bed is mounted on easy-guide castors, easily rolling out from the main bed to provide an occasional guest bed. Simples!
Esprit Fossil Grey Upholstered Day Bed Frame
Our Esprit Day Bed has multi-function at its very core and will have you answering work calls perched in extreme comfort and ready for any surprise guests with its roll out bed! Upholstered in fossil grey fabric, this chic design will transform your home office into the work from home paradise you never knew you needed.
Do you have other grand ideas for your spare room? The possibilities are endless. Check out our blog on making the most of your guest room for more divine design inspiration.