5 Children's Bed Options for 2021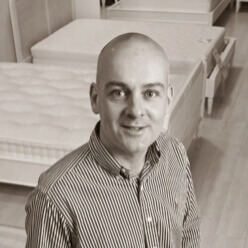 Ah, your little miracle is growing up – fast. Gone is the crib where they slept many a swaddled sleep and now, they're in dire need of a 'grown up' bed they can vault out of instead.
To help you choose the perfect first bed for your toddler, we've pulled together our 5 best children's beds options for 2021. Sturdy, stylish but – most importantly – safe, we're sure to have the bed for your 'mini me'.
Best Kids' Beds For 2021
The versatile frame
Lockdown learning is tough, end of story. So, why not make it easier for your little tyke by opting for a bed with a desk? We know it sounds too good to be true, but beds with desks are a real thing and are a great way to transform your child's bedroom into a multifunctional and productive space. And as an added bonus: they look pretty cool, too.
Our Modena High Sleeper bed frame with desk is a brilliant place to start your search for premium quality without the price tag. The Modena is manufactured from a solid wood frame with MDF panels make this bed a sturdy and well-constructed high sleeper that will make a fantastic bed, desk and jungle gym at sleepovers!
Want to take a look at some more desk beds, high sleepers and bunk beds? Say no more. Explore our full collection.
The alternative frame
Want to make bedtime fun? Look no further than our Hickory house bed. The Hickory's adorable design is begging to be draped in fairy lights and favourite things and is the perfect spot for a bedtime story. Say goodbye to the nightly struggle to get your toddler to bed and hello to a little guy or gal who cannot wait to jump into their night-time fortress or princess castle!
The Hickory bed is a standard UK size single bed for kids, with a frame height of 160.5cm. Simple yet effective, this design is finished in a gloss white paint and will make your child's sleepovers a thing of legend.
Need a little more guidance? Check out our blog on more fantastic beds to transition your toddler from crib to bed.
The sleek frame
Do you have a little fashionista on your hands? If so, our Portland single bed could be the perfect first bed for your little one. Offered at a very attractive price, the bed is crafted from environmentally rubberwood, which is both durable and environmentally friendly. The Portland range is available in brilliant matt white and cool grey.
Perfect for creating a sleek, retro style, the Portland bedroom range is perfect for creating a cool and refreshing space for your little one to unwind in after a long day smashing ABCs and In the Night Garden.
To shop the full collection, browse our Portland range here.
The storage frame
As much a gift for you as it is for your toddler, you can never go wrong with a storage bed. If you're constantly side-stepping toys and hurdling over colouring books, it's time to invest in a bed that'll help you declutter as well as help your little one drift off into the land of nod.
Our New England Solo white wooden ottoman storage bed will do just that. Serving timeless looks alongside the practicality of in-built storage, the New England's sprung slatted sleeping platform can be easily raised to reveal a large capacity boarded out storage area that is perfect for storing toys, books, clothes and extra bedding. Result!
Sound good? Get storing today and browse our range of single ottoman beds for kids!
The classic frame
When in doubt, go classic. Perfect for any little boy or girl, our Bronte bed frame is a sturdy metal frame complete with smooth lines and a stunning cream finish.
The Bronte is a fantastic option if is this your first time searching for single beds for kids as it will truly stand the test of time – and many a bed-jumping session. Plus, a single bed gives your toddler more space to play and give you more place to store. It's a win-win!
Check out our full range of classic single beds for kids here.
Now you've found the perfect kids' bed, it's time to turn your attention to choosing a mattress. But where to start? Fear not, we've created a whole guide to help you navigate this comfy question. For everything you need to know, take a look at our handy advice on Choosing a Mattress for Children.