5 Perfect Beds to Transition Your Toddler From Crib to Bed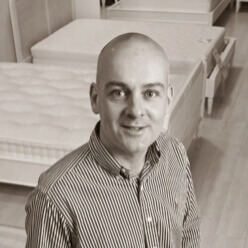 Has it been around two years since the glorious birth of your little miracle? Or has the little tyke started to climb out of their cot and explore their surroundings at night? If so, it might be time to make the transition from cot to children's bed.
Now there are many things to consider when making this change – such as using the same bedding as the cot, introducing a bedtime routine and even celebrating the move – but the discussion often comes back to one central question: what bed is best for kids?
Don't panic, my child. We've got you covered. Here, we've handpicked 5 perfect beds to transition your toddler from crib to bed.
Top 5 toddler beds
The Portland is a perfect transition bed for kids. It's wooden panelling is solid, supportive and durable, providing years of quality sleep for your little one (no matter how much they jump/colour/dribble on it).
The crowning glory? The pull-out bed tucked neatly underneath. Not only have you got yourself a neat wee space saver, but an extra pull-out bed is ideal for when you need to be on hand to comfort your toddler through difficult nights or scary dreams. What's more, when it's time for sleepovers with mini friends, the Portland ensures you're good to go!
If you're looking for a solid bed that's going to be a safe haven and sleeping station for your toddler for years to come, the New England is a fantastic choice. Fitted with a fully sprung slatted base, this children's single bed will provide top quality in the comfort department and has plenty of room underneath for storage or exploring!
This bed is incredibly versatile and fits in seamlessly with any bedroom décor. Its clean and sophisticated finish means there's no need for a fresh bed when your child's ready for some more grown-up looking bed sheets.
For toddlers who need a little more convincing that giving up the crib life is a good move, the Louie is perfect. Not only does the Louie emanate a relaxed vibe, but its curved footboard and headboard can be easily sold to your toddler as a magic carpet or a version of Santa's sleigh, making bedtime that little bit easier.
This kids' bed is a unique combination of elegance and playfulness, the perfect sleeping setup that will make a statement in your child's room throughout their early years.
Need another kiddy convincing tactic? Our Vancouver Cabin could be the answer. Coming with a combination of open shelving and drawers underneath the bed, you have access to both a neat storage solution and a place to parade your toddler's prized possessions with joy.
What better way to convince your little one that the bed is better than the crib than to entice them in with a display of their favourite toys?! Genius.
Our Maine Storage Bed is another brilliant bed to help you transition your toddler from crib to bed. The under-bed drawer is a great place to tuck away night-time essentials like spare pyjamas and bedsheets and the open storage area underneath the foot of the bed is an ideal area to show off your toddler's go-to cuddly animals, colouring books or toy cars.
Want to see our full range of children's beds? Say no more. From girls' beds to boys' beds and everything in-between, you're sure to find the mini-bed for your mini-me.