Why choose an Upholstered or Fabric Bed ?
A lavish upholstered bed can give an opulent feel to your room
Upholstered beds come in a range of fabrics and can work equally well in classical or contemporary design scheme.
An upholstered bed can be a way to inject colour into your room while keeping your remaining décor neutral.
Upholstered headboards make a comfortable back support when sitting up in bed.
With a wide range of storage options available upholstered beds can be a practical as well stylish addition to your bedroom.
What style and designs are available?
The beauty of Upholstered beds is that they come in a virtually endless range of designs and colours and there should be sufficient choice to inspire all tastes.
Tips for creating a contemporary upholstered look in your bedroom
Choose designs with straight lines will help create a minimal look
Low footboard end designs often have a more modern feel and help to make the room feeler bigger
Use bold colours to create a dramatic statement and create impact
For a contemporary solution to your bedroom you may even choose to incorporate a TV and ottoman storage into your bed design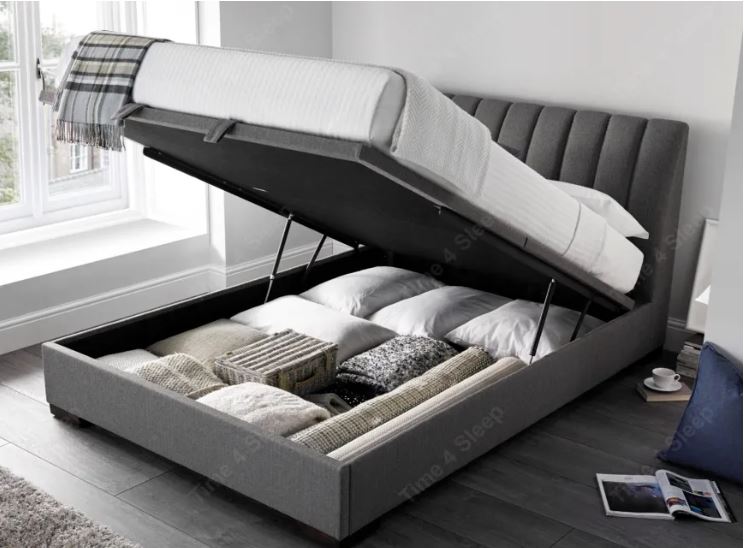 Tips for creating a more classical look
Often older period properties can suit a more classical look.
Consider sleigh bed type designs that have sweeping curves that create a softer look.
Opt for neutral fabric which are easy to co-ordinate.
If your looking for more interest and detailing consider option for buttoned headboard
https://www.time4sleep.co.uk/products/oxford-upholstered-sleigh-bed
Tips for creating a transitional timeless design
With this style of bed its doesn't really need to be either traditional or contemporary it is easy to achieve a look which can be both. If your looking to achieve something in the middle our suggestion would be to look at:
Chesterfield inspired design whilst being very on trend also incorporates traditional tufting or buttoning detail and when combined with a contemporary fabric can create a lovely focal point in your bedroom.
In a similar way winged back backed bed can bridge the gap between tradition and contemporary design.
https://www.time4sleep.co.uk/products/knightsbridge-upholstered-divan-base-and-headboard
Key points to consider when buying an Upholstered bed?
We have discussed style and design but there are also a number of practical consideration when determining which bed may work best for you.
How much room have I got in the bedroom? Some style of beds often take up more space than others. For example Sleigh beds which have a scroll head end and foot end will take up more floor space than a bed with a straight headboard.
Do I need storage in the bed? If so consider what type of storage you would like. The basic options are drawers or an ottoman base system where the entire base of the bed is raised usually with the assistance of gas pistons to reveal a large storage area. If considering this option you should also consider which way you would like the base to lift some beds will lift from the side and others will left from the footend of the bed
How deep is the mattress going to be that I am using on my upholstered bed? If you have a very deep mattress you may need want to consider a slightly higher headboard as if you choose a bed with a low headboard depending on how many pillows you have on your bed you may not see the headboard design.
How tall are you? We often find that taller people prefer to have a design which has no footboard as it provides more room and is less restrictive.
Are you looking to enhance the feeling of space in the bedroom? Often opting for a design which a low footend will help to enhance the feeling of space in the bedroom
Many retailers will offer a fabric sample option. This will allow you to see and feel the fabric before ordering your bed. This is a great way of matching the fabric to your décor or other furnishings.
What colours are the colour trends for Upholstered beds?
Currently the biggest selling colour inn upholstered bed is grey and shades of grey! Grey is a popular colour as it can be easily co-ordinated with other home furnishings and is less likely to show mark than very light colours.
The next best selling colour are natural shades which once again are versatile and easy to co-ordinate.
If your looking for something more adventurous, Pinks, Blue , Green and Ochre are new colours which are emerging and growing in popularity.
Discover the latest range of colours here:
https://www.time4sleep.co.uk/beds/upholstered-beds
What types of fabric should I choose for my new upholstered bed?
Faux Leather – Leather is practical and sleek, it can be easily wiped down. The fabric is soft to the touch and does not crack or fade easily.
Chenille – characteristic in it's style and feel, chenille is a lovely soft fabric. Durable but still soft to the touch this is an luxurious fabric for your bed.
Velvet – the epitome of opulence, a velvet upholstered bed will give your room a luxury look. Velvet is a type of short piled woven fabric. It can be made from either synthetic or natural fibers.
Glitz – a member of the velvet family, glitz fabric is characterised by a crushed velvet appearance. It is produced by mechanically twisting and crushing the material whilst still wet, resulting in a lustrous, patterned appearance.
Textured/ Woven fabrics - a woven fabric is any fabric made by interlacing two or more threads at right angles to one another creating a durable fabric. Woven fabrics can come in many different colours and shades.
Shetland Wool Look Fabrics – These wool effect fabrics are all available in a beautiful natural colourway.
FAQ
What sizes are Upholstered beds available in?
Ottoman storage beds at Time4Sleep are available in single, compact double, double, king size and super king size.
How can I find out the dimensions of an Upholstered bed I am interested in?
Under each bed description there will be a section for dimensions. If you cannot find the information you need here, please call one of our friendly sales advisors who will be happy to assist.
Can I also install a DVD player or games console into my Upholstered TV Bed?
Many models have a little compartment where DVD players or games consoles can be stored. From there, you can run the cables under the bed and into the Upholstered compartment to connect.
How do I clean my Upholstered bed?
All fabrics can be cleaned with a dry cloth or the upholstery attachment of your vacuum cleaner. If anything is spilled on the fabric you may choose to gently dab it with a clean damp cloth, although for best results when cleaning your upholstered bed we would always recommend the services of a specialist cleaning company. No abrasive cloths or products should be used to care for your upholstered bed.