Modern and oh so minimalist, high gloss furniture is the interior design trend of the moment. In fact, you'll be hard pushed to find a contemporary home worth its salt that is without a high gloss statement piece or two.
Refined, stylish and uber slick, high gloss bedroom furniture is all the rage so it's high time you jumped on this glossy bandwagon and pimped up your sleeping space. Here, we uncover everything you need to know, from our bestselling high gloss products to cleaning and care advice.
What is high gloss furniture?
Forgive the pun but high gloss does exactly what it says on the tin. Picture an almost mirror-like sheen and you'll be bang on the money. The effect is achieved through a glossy finish applied to the furniture, resulting in a super shiny, chic and light-reflecting look.
High gloss furniture, considered by many as a 'speciality' finish due to its smooth and polished appearance, is often applied to minimalist design pieces. But that by no means results in a minimalist impression. The result is an ultra-refined, stylish finish that's hard to take your eyes off.
What is high gloss furniture made of?
Typically, high gloss furniture is made from either two types of wood: MDF or solid wood. Whilst MDF is more affordable, solid wood is much more durable, making it a far better investment in the long-term. A high gloss lacquer finish is then applied meticulously to the material to achieve that statement high sheen finish.
At Time4Sleep, all our high gloss products are manufactured to the highest standard, made with top quality engineered timbers and finished with the speciality Italian lacquer.
Once the frame has been built, the wood is lacquered using pre-laminated white melamine across the surface of the product. The surface is then sanded using an Italian DMC widebelt sanding machine to prepare the wood for the primer/base coating. Once the base coat has been applied, further sanding is needed before the top coat can be applied.
Finally, once the top coat has been added, the entire surface is buffed and polished to give the final high gloss, smooth finish.
Is high gloss furniture in style?
In short, yes! High gloss furniture is seriously à la mode. In the modern quest for the perfect balance of effortless yet stylish minimalism, the simple yet high impact elegance of high gloss design is a fantastic option for those who love to keep up with contemporary interior design trends.
It's simple, it's chic, it's durable, it's easy to maintain, it's affordable, and most importantly, it's absolutely gorgeous.
Does high gloss furniture scratch easily?
Compared to matte finishes, high gloss furniture is more susceptible to wear and tear as scratches, stains and smears are more visible on its surface. But don't fret, treating your high gloss furniture with a bit of common sense is all it takes to avoid damaging your contemporary pieces! Treat it with care and you'll be rewarded with a scratch-free surface.
Rather than drag any furniture, it's better to lift and place them. Before writing directly onto a thin piece of paper with a scratchy pen, put down a cushioning buffer first. Use a coaster!
How do you clean high gloss furniture?
Your M.O. here should always be 'gentle'; both in your choice of cleaning agent, and your actual physical cleaning technique. Stay far away from harsh cleaning agents, and instead opt for a day-to-day wipe down with warm water and a microfibre cloth.
For more stubborn marks, such as pen marks and sticky spills, try adding a little soap to your water for a gentle soapy solution and again, rub gently with your microfibre cloth. Always remember to buff dry, don't leave your surface wet.
With high gloss furniture cleaning, prevention is always better than cure so stock up on coasters, clean up spills straight away and don't apply heat directly to the surface.
Popular high gloss furniture at Time4Sleep
Ice High Gloss 2-Drawer Bedside Table
Sleek and chic, our Ice High Gloss 2-Drawer cabinet is the epitome of slick design. With lots of room within its drawers (38cm x 45cm), this statement piece not only looks the part, but plays the part too. Goodbye cluttered floors; hello smart storage.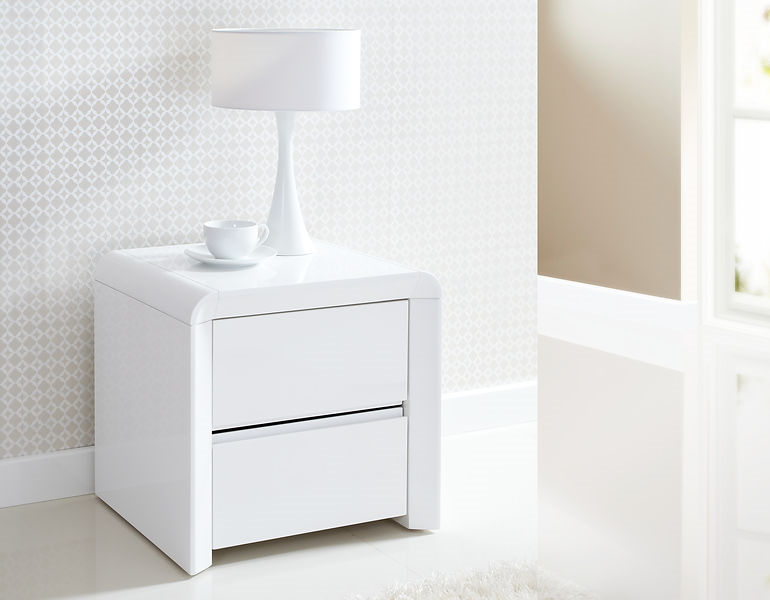 Ice High Gloss 3-Drawer Bedside Table
Beautifully finished in a stunning high gloss white finish like its 2-drawer counterpart, the Ice 3-drawer bedside is a contemporary design that will work really well with an upholstered bed frame in a bedroom with a modern aesthetic.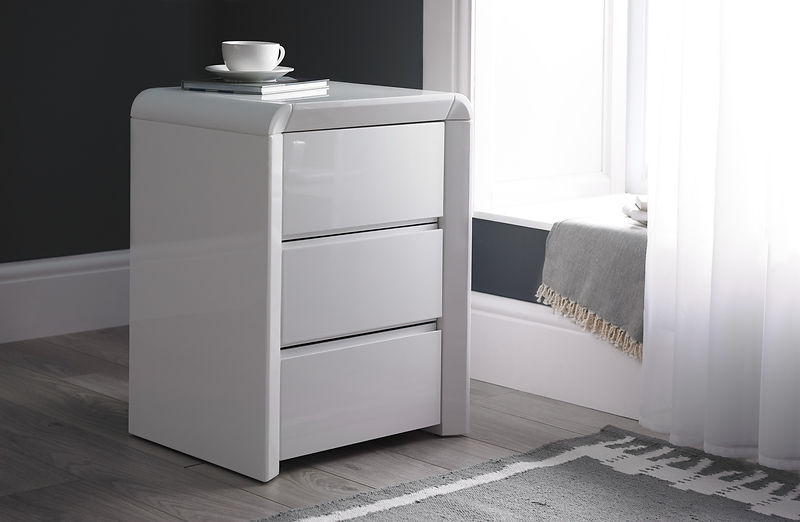 Ice High Gloss Chest
Need a bit more storage space for your odds, sods and everything in-between? Meet our Ice High Gloss Chest. Arriving fully assembled for your convenience, this high gloss chest of drawers features 3 large drawers, and 2 smaller compartments for jewellery and other smaller or more precious items. Practical and bang on trend, this is a sure-fire statement piece for any contemporary bedroom.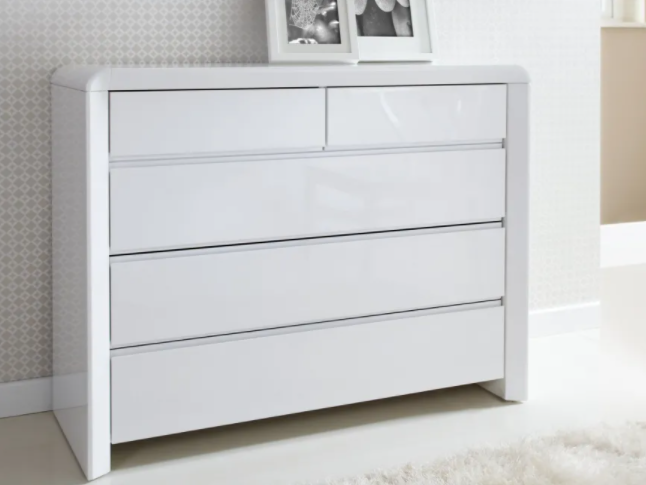 Ice High Gloss Dressing Table
How about a dressing table to complement your storage units? The Ice Dressing Table is happy to oblige. Simple yet sleek, this dressing table boasts 2 handy drawers that are perfect for storing away any bits and bobs to keep your table top looking clutter-free, fresh and fancy. PS: please note that the Ice High Gloss Stool must be purchased separately.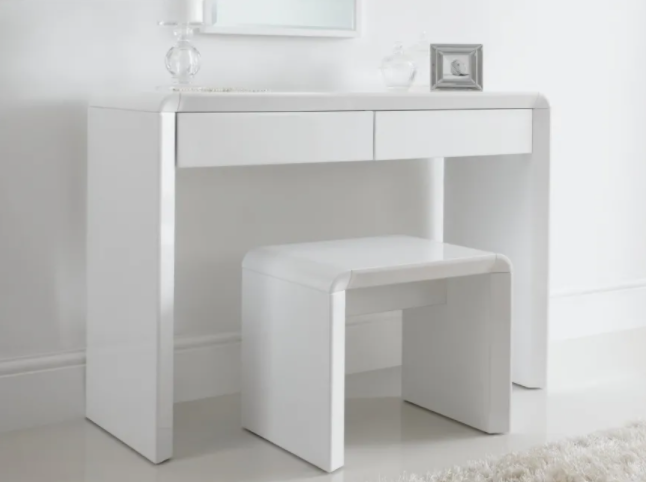 Are you ready to give your bedroom a glossy glow up? Explore our full range of stunning high gloss furniture and achieve that clean contemporary look today.