Storage Bed Advantages At a Glance
Small Space storage is at a premium so a storage beds are a great space saving solution
A Storage Bed minimises the amount of storage needed from cupboards and wardrobes
Children's storage beds are great for keeping rooms tidy and displaying favourite toys and books
Ottoman storage allows practical utilisation of the vast storage area under your bed
Guest Bed storage offers the opportunity for extra sleeping space without compromising on space in your room
Benefits of Storage Beds
Storage is always at a premium, no matter how much space you have, so perhaps a bed with storage could be a practical solution for your bedroom. Buying a bed with storage gives you a great opportunity to gather up all those items, which would normally clutter up your room and giving you a smart and serene sleeping space.
We have so many choices from Ottoman beds to beds with storage drawers, cabin beds and even beds you can store a spare guest mattress underneath or a television in. If you have a storage requirement for your bedroom we will have the solution you need.
Imagine your child's room free from toys, games and books with them stored neatly in cabin bed storage space or storage cubes and cupboards.
Ottoman storage beds offer invaluable spacious storage perfect for a multitude of purposes – bedding storage, Christmas gifts, seasonal wardrobe storage – all allowing you to maximise the other storage in your room and easily accessed with a quick lift of the bed base.
A guest bed offers a specific storage opportunity but if you have family or friends to stay then it is invaluable to have this storage option.
Beds with drawers offer a great solution for storing items which you need to hand but allowing them to be discreetly hidden out of sight. Drawer beds are a great way of optimising space in your room and maybe even minimising the amount of other storage units you need to buy. Some beds offer drawers built into the bed base and others offer the option of versatile drawers which slide under the bed base.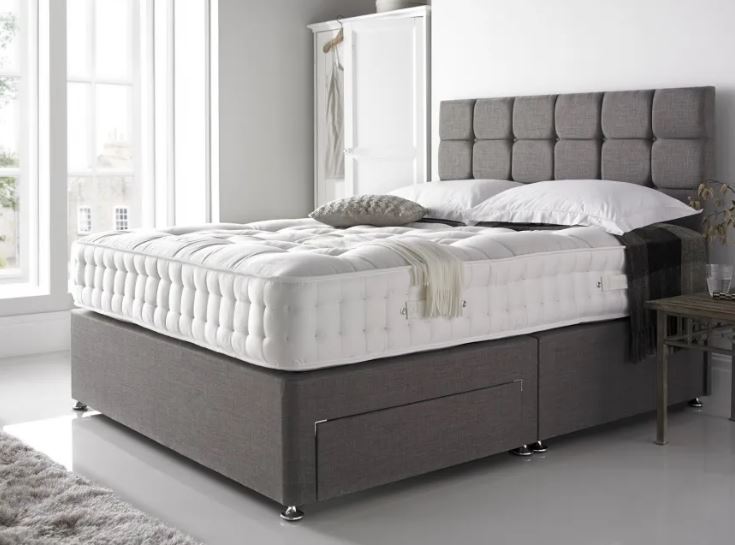 Choosing the right storage bed for you.
There are a wide range of different styles of storage bed available and it is worth taking the time to reflect upon what will best suit your requirements.
Divan style storage beds with drawers
This is the traditional style bed base which can have a combination of different drawer options. The most popular option is four standard drawers although you can also have two drawers and end drawers. Another option is a four drawer continental which means that you get 2 standard drawers and 2 smaller drawers at the head end of the bed which can be useful in situations where you have the restriction of bedside cabinets. Divan bed frames can offer a cost effective and flexible storage solution.
Divan style ottoman bed frames
If your looking for more storage another option would be a divan ottoman base. The advantage of this style of base is that you considerably more storage space. Another key advantage is that as the mattress sits on top of the base and there is no upholstered frame surrounding the mattress it occupies a smaller foot print in your bedroom, this can be an important consideration in smaller bedrooms. These types of base can be either front or side opening as demonstrated in the examples below. Another important consideration when evaluating which option to go for is how you use your bedroom and where you are able to access the storage from. Side opening ottomans can be useful if you have restricted access on one side of the bed. The design of an ottoman style headboard can be given either a traditional or contemporary look depending on the style of headboard you opt for.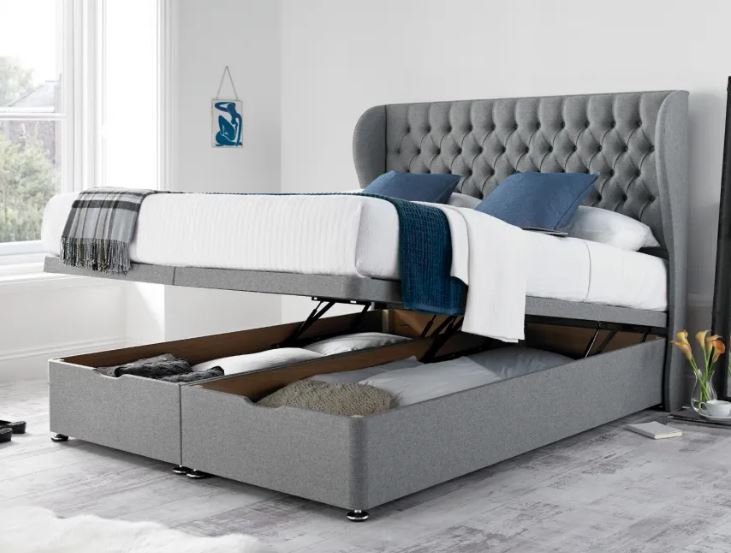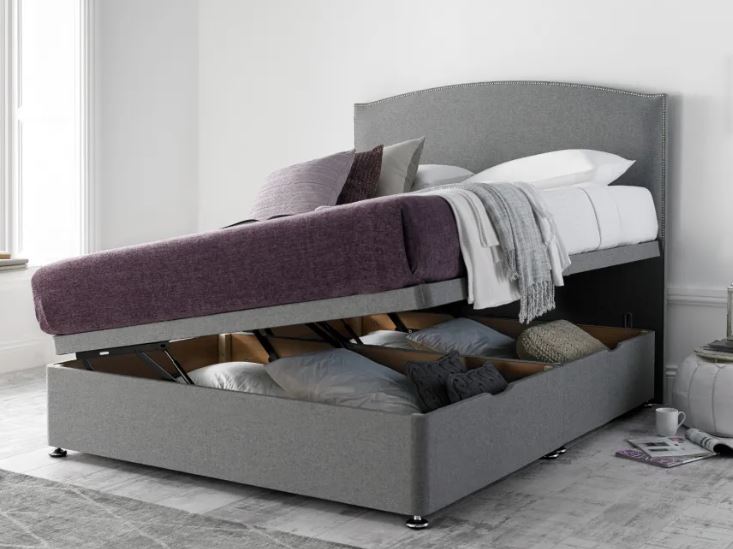 Upholstered Ottoman Bed frames
Ottoman beds can be side or foot opening. Think about your room and where you are best accessing the ottoman so you can pick the option which best suits you. Think about depth of the storage on your ottoman, will your chosen ottoman store the items you are hoping to add. There are essentially 2 slightly different styles of ottoman base that are available the most common style is the sprung slatted base system as shown below: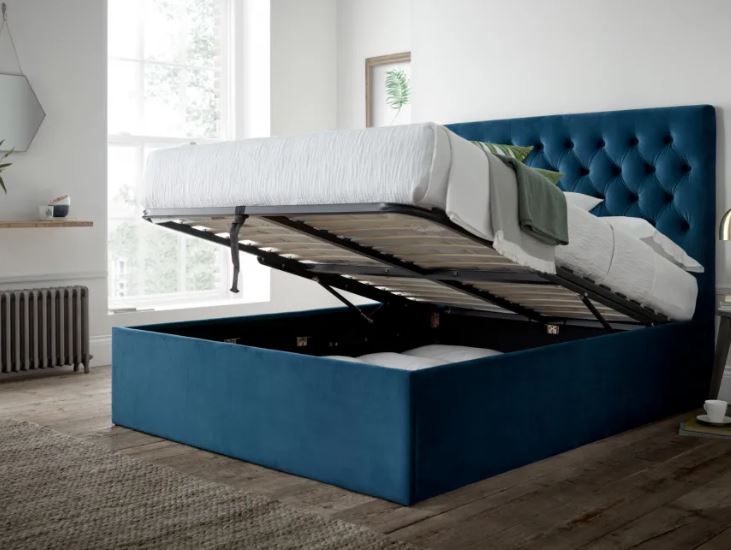 On this style of base, the slatted base site within the frame of the bed creates an attractive visual look. The disadvantage of this style of bed is that the frame increases the footprint of the bed within the bedroom. If space is at a premium you may wish to consider a platform style base where the mattress sits on top of a solid boarded base.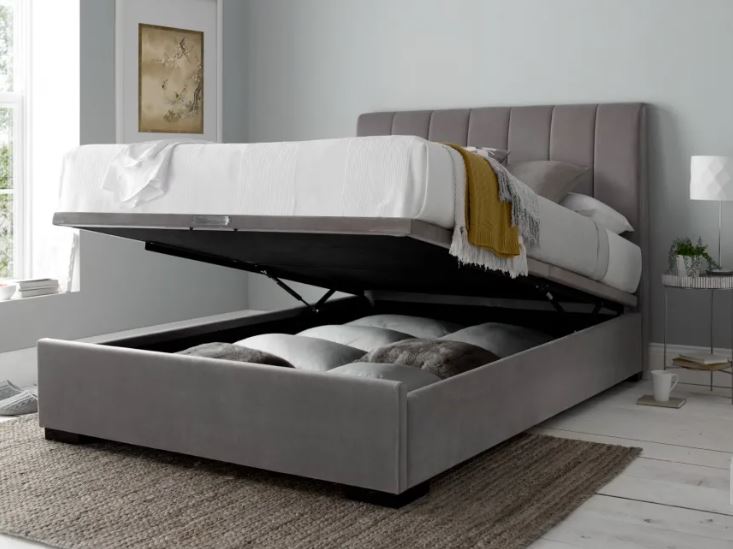 Many of our Kaydian range of beds incorporate this style base system.
Upholstered and wooden Bedframes with Drawer Storage
As an alternative to the traditional divan style bed, bedframes can come with side opening and opening drawers or even free standing drawers. The key point is to take time to measure up and consider how you are going to access the storage to make sure you opt for the correct solution for your room.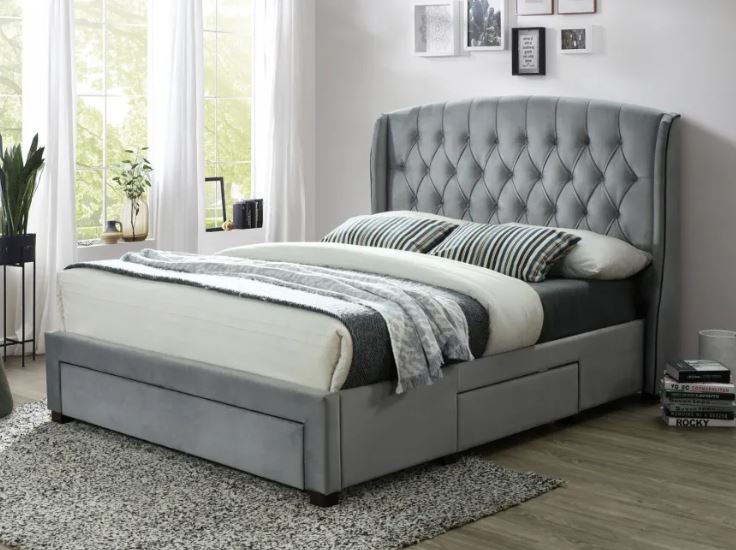 Children's Bed Storage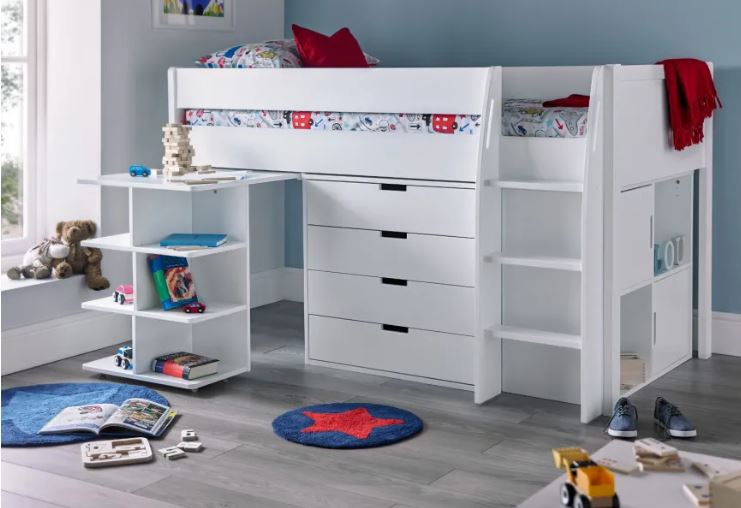 What sort of storage would you want for your child's room, cupboard space to hide away items or display shelving to hold favourite books, teddies or night light. Having in mind what you want to store may help focus your choices. Ultimately the choice of bed will often depend upon on the age of the child and the size of the bedroom. Typically younger children will have cabin beds, slightly older children may have Mid Sleeper beds and old children may have high sleeper beds. The guides below contain additional information in relation to children's beds.
FAQ
What sizes are Ottoman Storage beds come in?
Ottoman storage beds at Time4Sleep are available in single, compact double, double, king size and super king size.
What sizes are Drawer Storage beds available in?
Beds with drawers are available in all sizes at Time4Sleep
How can I find out the dimensions of a storage bed I am interested in?
Under each bed description there will be a section for dimensions. If you cannot find the information you need here, please call one of our friendly sales advisors who will be happy to assist.
Which offers more storage - Ottoman or Drawer Storage?
An ottoman will offer the maximum storage with the whole area underneath your mattress base available to store your items.