What is a guest bed?
A guest bed is simply a bed that provides your guests with a comfortable place to sleep when they stay over. There are many different types of guest beds, which vary in size and generally a guest bed is smaller in size so that when its not in use it doesn't take up too much space, and the bed can then be used as a sofa or seat depending on the type of guest bed you choose.
What should I consider when buying a guest bed?
Whether you have family who live in a different part of the country, children who often have friends to stay or just want the occasional spare sleeping space for friends it is important to find the right bed for your individual needs.
Guest beds come in many forms so before you buy it's best to consider the following check list:
How often and for how long will your guest bed be used?
Who it will mostly be used for – adults or children or both?
How much space do you have for a guest bed?
How does a guest bed fits within your room décor
Is your guest room also going to be use for other purposes?
How big is the under bed mattress this could be a full size 3'0 mattress or it could be a smaller size. If you're wanting a full size underbed mattress always remember to ask or check the detail in the description if buying online.
What quality of mattress are you wanting? Remember the mattress or sleeping surface is the most important part of the bed, the more you are able to invest the better your guest stay is likely to be.
Finally don't forget to consider the additional bedding and duvet you will require for your guest bed when utilised, some will require single, some super king
What type of guest beds are available?
With many different options available we have summarised the main options below:
Wooden Guest Bed Frames
Wooden guest beds are a very popular option due to their versatility. The under bed can be rolled out and used as separate stand alone bed or the bed can be put next to the single bed and raised to the same height to effectively form a super king size bed. Often both beds will have full size 3'0 mattresses, therefore you will need to have a reasonable amount of space to work with. If you're looking for a guest bed which provides ample space then these frames are perfect.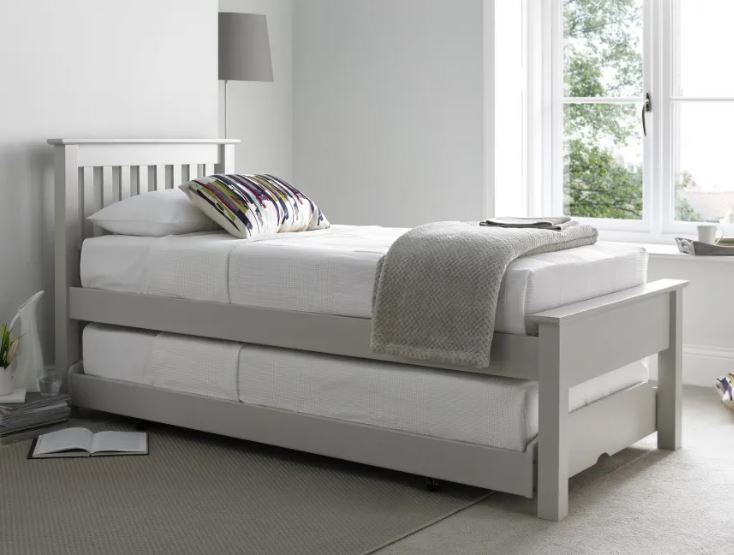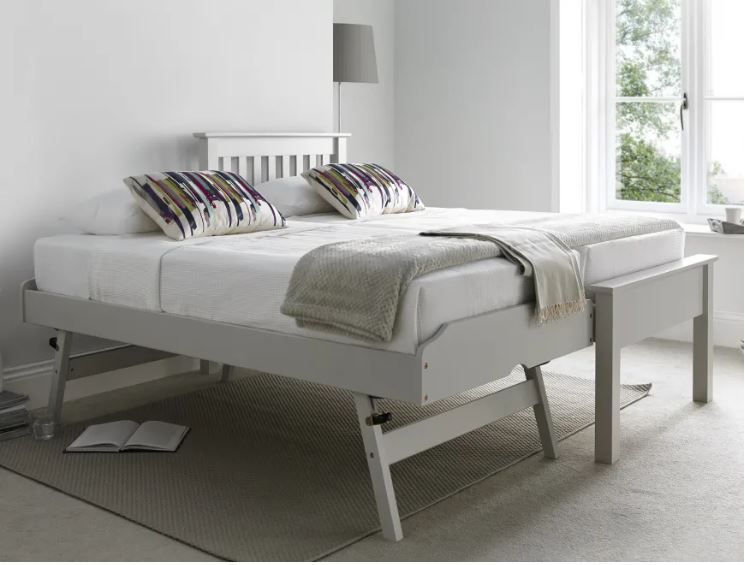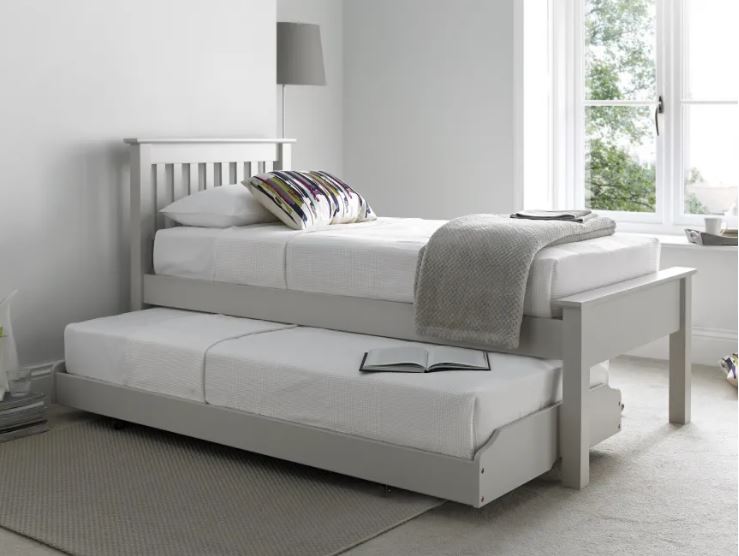 Similar style beds are also available in metal options
Trundle beds
Trundle beds are similar in style to the above bed however the underbed simply roles out it does not raise up to the same height as the main bed. Our Portland trundle bed is an example of this style bed. Quite often the under bed mattress will be a little smaller than the main mattress, this style of bed is great for sleepovers and for kids rooms!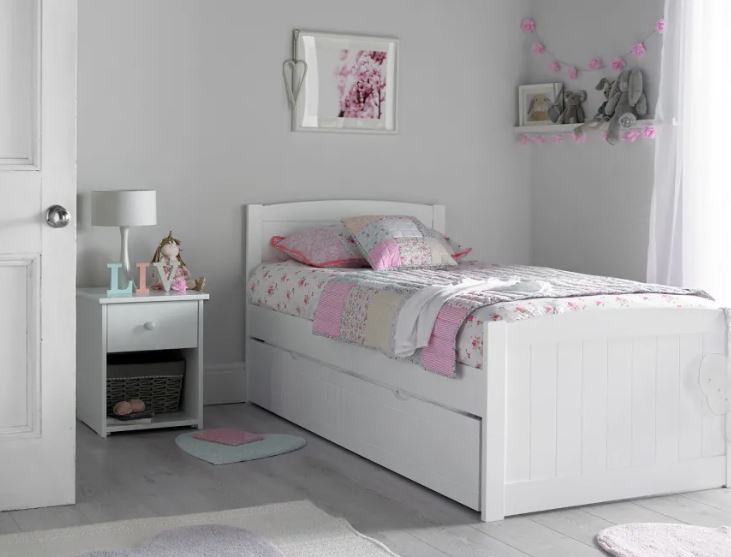 Divan Guest Beds
Divan Guest beds are available in a wide range of different colour options and have the added advantage that you can choose a headboard design that suits your design scheme.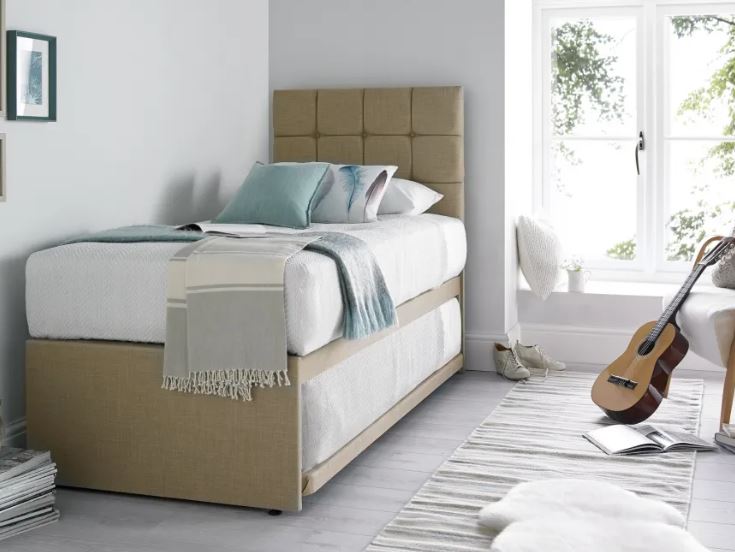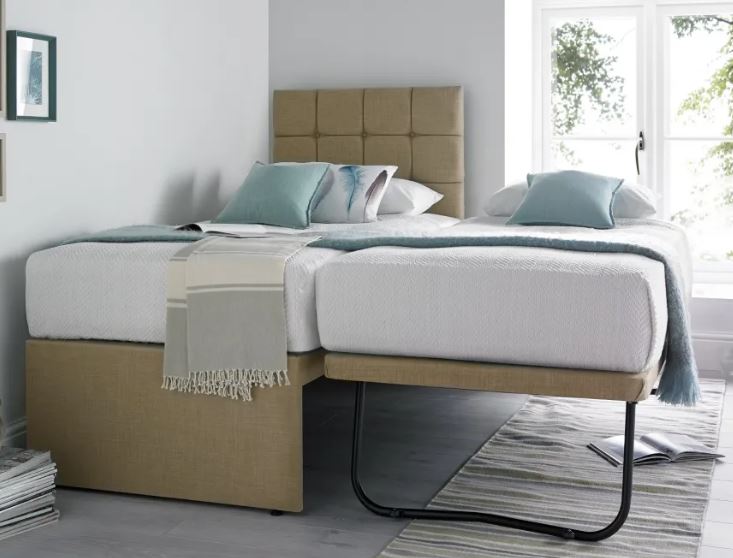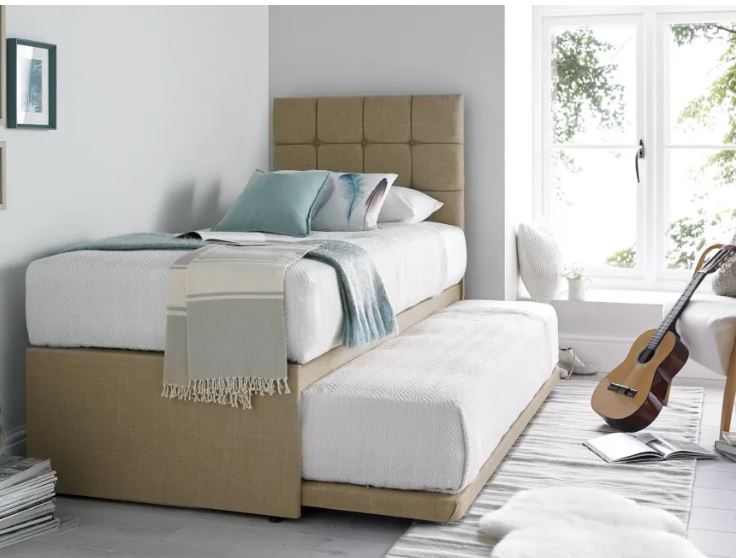 Day Beds
Day beds are a versatile solution that may work well in instances where you may want to use the space as a multi functional room such as office / spare room. Days bed tend to be more visually appealing and are dual purpose, again these styles are typically available in wood, metal and upholstered frames.
Sofa Beds
If your looking for versatility then a sofa bed could be the perfect option. These can be purchased for as little a few hundred pounds to a few thousand pounds. The array of options is vast and your sofa bed will depend upon the size of your space, fabric option, the type of mechanism and the style that you are looking for.
Bunk Beds
Not quite a guest bed but worthy of note is that if space allows there are bunk beds which have a double with single overhead. This would be a great way of having versatile sleeping space on a permanent basis, for more regular extended family visits. In addition children's High Sleeper beds can be purchased with futon options at ground level as another guest option. We also have a number of bunk bed options which also have an extra underbed beneath, so you can roll the bed out as and when it is required.
FAQ
What are the different types of guest beds available?
Our range of guest beds include trundle beds, sofa beds, divan guest beds and bunk beds.
What sizes are Guest beds available in?
Standard guest beds offer a single bed with an additional single sleeping space underneath giving an overall sleeping space around the size of a king size bed. Some guest beds remain as two separate single bed sized sleeping areas. The key message here is to check the detail of what you are getting as it can vary.
How can I find out the dimensions of a Guest bed I am interested in?
Under each bed description there will be a section for dimensions. Of particular note is the size guide for the 'additional' bed and mattress to allow your to purchase correctly sized bedding. If you cannot find the information you need here, please call one of our friendly sales advisors who will be happy to assist.