Grey Beds at a Glance
A pale grey bed creates a cool, calm and restful ambiance for your room
Darker shades of grey beds allow you to make a striking statement and provide a focal point
The neutral tones of grey allow simple additions of vivid accent colours
Warm Grey colours can be further capitalised on by using opulent fabrics, adding to the inviting look and feel
Mid-grey is a great colour to blend with the contemporary 'concrete' design trend
Why are grey beds so popular?
The colour Grey evokes a cool, calm and elegant feel in your room and is a strong but neutral colour. This acts as a versatile base for adding in complementary or contrasting fabrics or furnishings.
Grey beds have a timeless appeal. It's popularity means that there are a vast range of shades and styles of grey bed on the market. This wide range allows you to achieve many different looks across the same tonal range.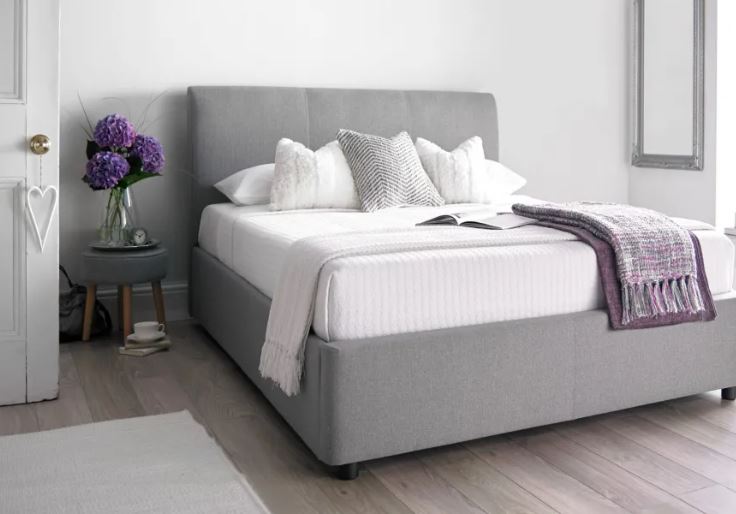 Shades of Grey
The many shades of grey allow compatibility with many colours and schemes.
Pale Grey
Pale grey works well as a base colour and could be utilized in many ways. Add vibrant accent colours with bedding and other soft furnishings for a pop of colour. Layering soft shades of grey bed linen and furnishings with your grey bed continues to give a serene and calming atmosphere.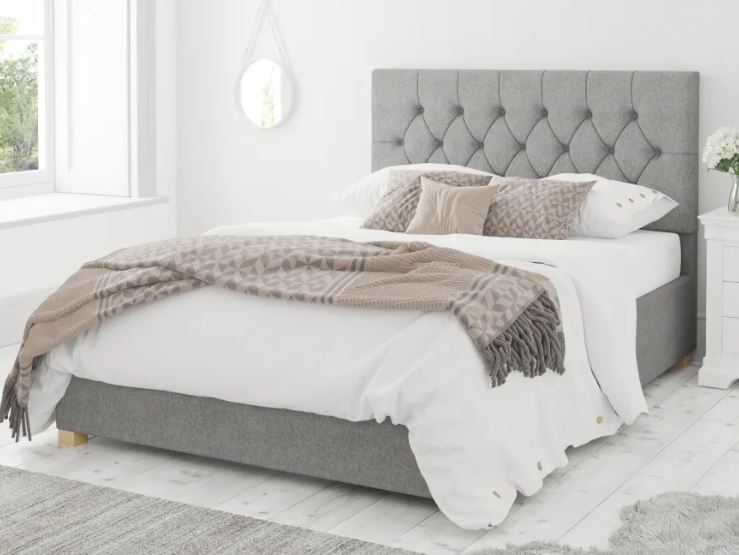 Warm Grey
Warm greys in opulent velvet and chenille fabrics give your room a cosy, inviting feel. Team this with small accents of colour to warm or cool the tones of your room.
Mid 'Concrete' Grey
Concrete is the material of the moment - teaming a mid-grey bed with concrete furniture or accessories is a great way to achieve this contemporary look.
Charcoal Grey
Charcoal grey shades can offer a strong, atmospheric look. Deep and dramatic when paired with other dark tones, this can give a modern look to your room. Charcoal tones work well with strong patterns too so consider bold designs like geometric or bold patterns for your soft furnishings.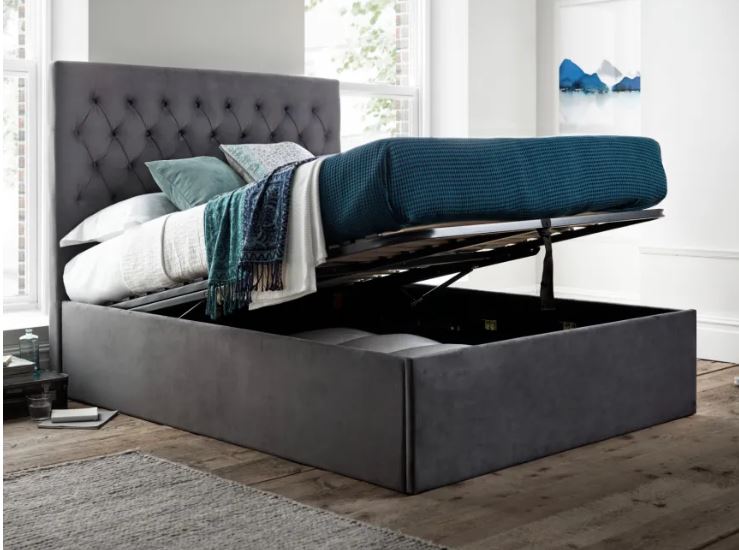 What styles of grey bed should I choose?
With such a wide range of styles available it is easy to choose a grey bed that will work well in either a traditional or contemporary design scheme.
If you're looking for a timeless classical traditional look the we would recommend considering a sleigh bed which are characterized by an outwardly scrolling head and footboard which combine to create an elegant focal point for your room.
Grey painted shaker style beds which blend minimalist designs and clean lines can be used to create a classical look which is sure to stand the test of time.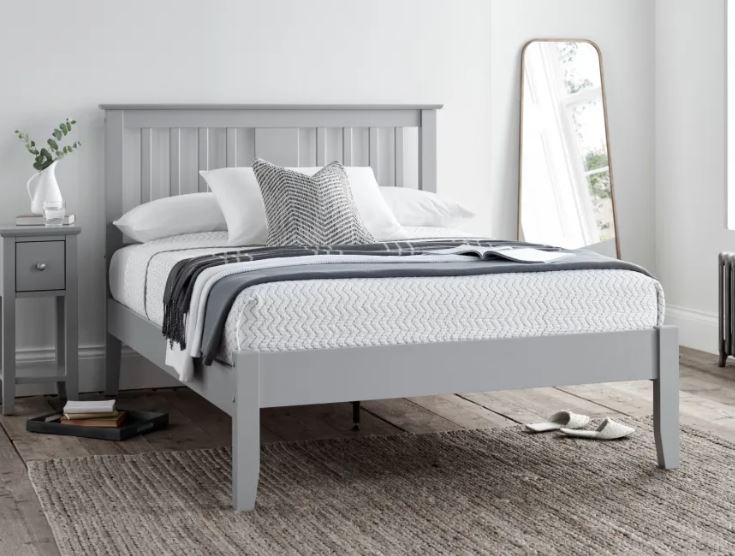 To create a look that combines classical and contemporary look you may wish to consider a winged back upholstered bed or Chesterfield Inspired design. Whilst if your looking to create a more contemporary look you may choose to opt for an upholstered bed with clean contemporary lines.
I am looking for a Grey Storage Bed – what options are available?
Ottoman beds offer the option of having storage underneath the mattress and base area of the bed. There are essentially three different types of ottoman base.
The most popular type have sprung slatted base which has an external frame around the bed with an integral headboard.
An increasing popular alternative to this are ottoman beds which have a boarded top and the mattress sits on top of a platform top. This type of base option reduces the foot print of the bed as the mattress sits on the base and the frame sits under the mattress rather than around the mattress.
The third option is a traditional ottoman divan style bed base which has the benefit of a small foot print and the flexibility to add different styles of headboard.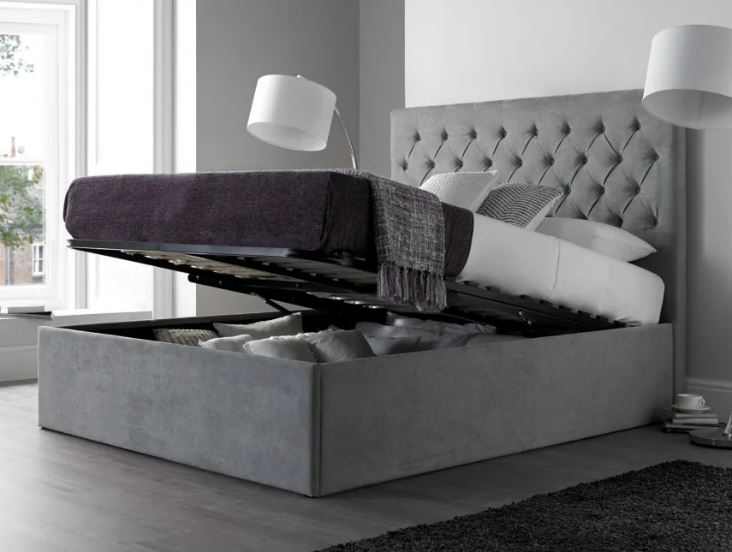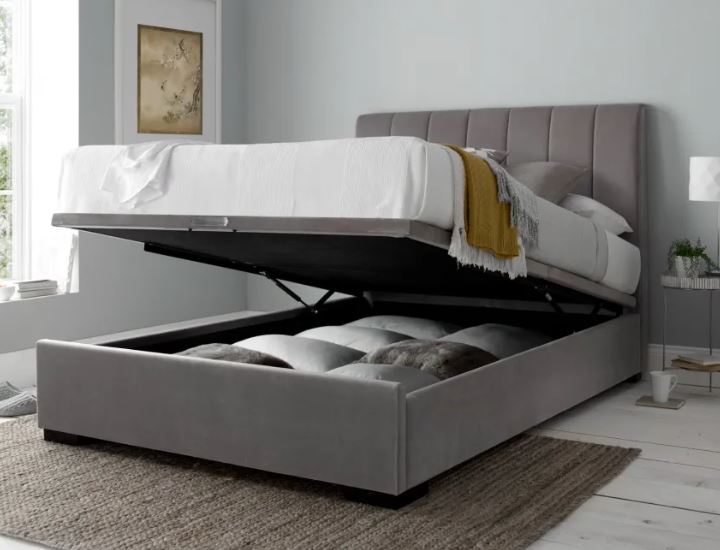 Bed frames with under bed drawers can be a great choice if your looking for the convenience of drawers. The only slight disadvantage of this type of storage option is that drawers do not offer as much storage as an ottoman system.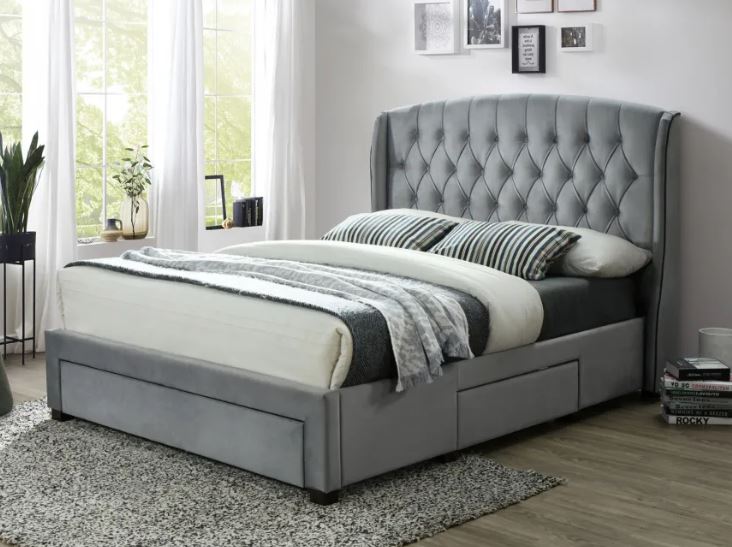 Divan style bases offer the flexibility of being able to choose different drawer configurations to meet the needs of your room and to be able to select and update the style of your headboard as fashion change.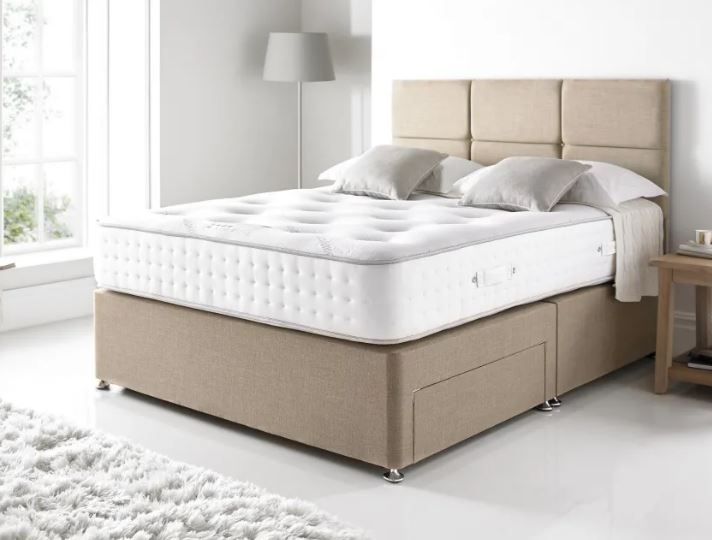 What colours will go with my grey bed?
The beauty of grey is that it works well with a number of colour combinations and styles. Ranging from monochrome to vibrant accent colours, some popular combinations to go with grey are:
Grey and Yellow / Gold
Grey and Blue
Grey and Red
Grey and Lime
The most popular paint colour to go with grey beds is white, this can create a clean, crisp and contemporary look. Shades of grey, from light to very dark charcoal , can also work well. Light greys can be used to create a warm, soft look and darker greys create a more dramatic look.
What is the next big colour to come after grey beds?
Shades of grey look set to dominate the bed market and will represent a safe long-term choice. Colours which are increasingly popular for upholstered beds are Blue, Blush, Teal and Ochre.
Neo-Mint seems to be the upcoming 'it' colour of 2020. This is great news as its subtle shade blends brilliantly with grey. This allows you to still work with your grey bed and perhaps add accents of Neo-Mint with furnishings and accessories.
Dulux's colour for 2020 tranquil dawn is a pale greyish green. Again, this follows on this design trend, proving your grey bed has staying power.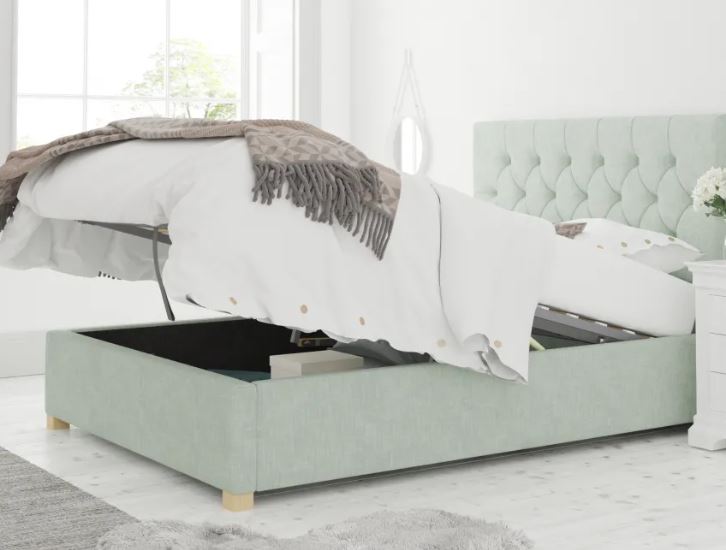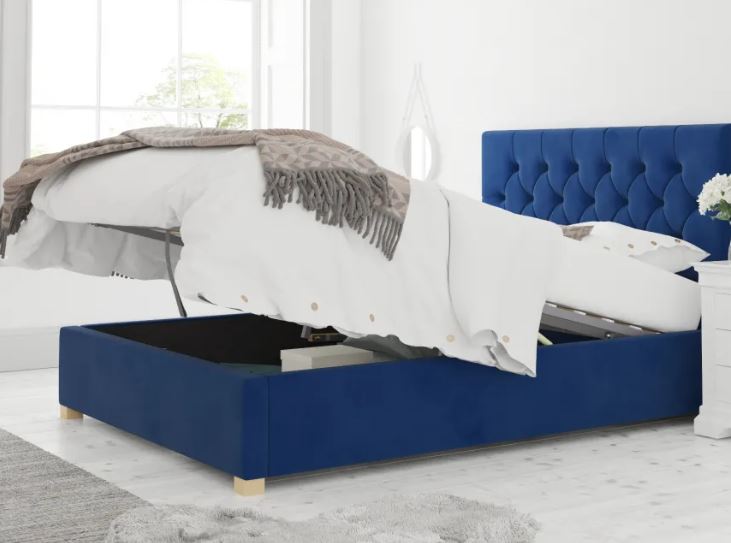 FAQ
How can I check the shade of a grey bed I'm interested in?
Many retailers offer sample colours of their upholstered beds. At Time4Sleep we have a number of grey beds which can be viewed in our showroom.
How can I find out the dimensions of a grey bed I am interested in?
Under each bed description there will be a section for dimensions. If you cannot find the information you need here, please call one of our friendly sales advisors who will be happy to assist.