What Should I Do With My Old Bed and Mattress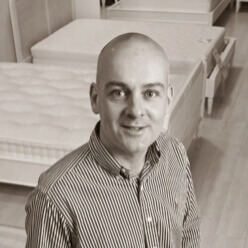 The average lifespan of a mattress is between five and ten years; after this point, the mattress can soften and sag, meaning the support it provides is drastically reduced. If you are thinking of upgrading your mattress or even your entire bed, you might be wondering what to do with your old one.
Unsure how to get rid of your old mattress? According to the National Bed Federation, over seven million mattresses were disposed of in 2019, so you are in good company. We've created a handy guide to help you decide on the best way to eliminate your worn mattress and bed frame in the most cost effective and hassle-free way possible.
Can I throw it out?
What you do with your old mattress and bed frame will, of course, depend on its condition, but if they are worn beyond repair, you may have no other choice but to throw them away.
Unfortunately, it is not as simple as putting your mattress out with the weekly bins. You can take your mattress to the tip, but this option is extremely labour intensive, and you will require a van to transport it. Some local tips will require you to have a permit, too, so it is worth checking online if you choose to go down this route.
City councils offer a bulky waste collection service which includes the disposal of mattresses and bed frames. Some councils charge for this service, and if you are getting rid of both a bed frame and mattress, you will have to pay the charge for both individual items.
Where to sell a mattress
If you are getting rid of your mattress, bed frame or both because you have upgraded your décor, you may want to consider selling your old one online. As long as it's in good condition and listed at a reasonable price, second-hand mattresses and bed frames can sell quickly – meaning you can put the money towards your newer model.
There are plenty of places to put your mattress up for sale – Facebook Marketplace, eBay, Shpock and Gumtree are all good starting points. Make sure to list as 'collection only' to take advantage of it being collected by a buyer.
Where to donate a mattress
If your mattress is not sales-worthy but it is still usable, or you simply don't want to wait for a buyer to collect, you have the option to donate yours to a new home.
This is a great option if you want to get rid of your old mattress for free, while knowing that you have chosen a more environmentally friendly option and that it has gone to a person in need. Don't have a vehicle big enough to transport it? Rest assured, some charities and organisations will even pick up used mattresses and bed frames free of charge – although many charities will not accept your old mattress if it does not have the fire label attached.
There are multiple charities that accept mattress and bed frame donations so it is worth checking with a charity you wish to support to see if it would be a good match; The Salvation Army, British Red Cross and The British Heart Foundation are just a couple of charitable organisations that will accept these types of goods.
Where to recycle a mattress
If your mattress is torn or worn in places but you don't want to throw it out, a responsible way to dispose of it is to recycle it. This option is ideal for bed owners who want an eco-friendly way to dispose of their old bed frames and mattresses. According to the National Bed Federation, only 19% of mattresses are recycled out of the 7.2 million replacement mattresses sold each year – which means that many of them end up on landfill sites.
If you have a means of transport, you can take your mattress and bed frame to your local recycling centre in your town or city. If taking your mattress yourself is not an option, you can call a company such as Collect Your Old Bed and have them pick it up and recycle it for you for a small fee. This way you can be sure that every part of your old mattress including the springs are recycled and it won't end up as landfill. The best bit? No heavy lifting involved!
More mattress disposal tips
The above options are some of the best ways to get rid of an old mattress. Although it may be tempting to try and bin your mattress by yourself, we do not advise doing so - especially if you intend to break it into smaller pieces and burn it. Not only does this go against local council rules, it is bad for the environment and a potential fire hazard.
If your method of disposal involves lifting, get someone to help you dispose of your mattress and bed frame as you could be putting yourself at risk by lifting a heavy object alone.
How did you get rid of your old bed? Did you sell it, recycle it, donate it or throw it out? Let us know on Twitter at @Time4Sleep.