What is a 3/4 bed?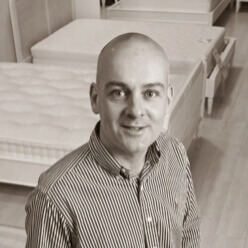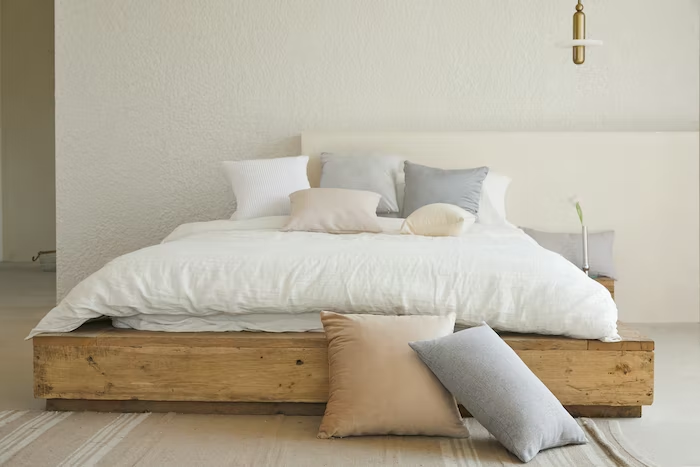 More compact in size than a standard UK double bed but more spacious than a single, a ¾ bed is essentially a "small double bed". Ideal for growing children, smaller bedrooms and spare rooms, you're sure to find the dreamiest ¾ bed to suit your needs here at Time4Sleep.
Here, we take a look at the dimensions of a ¾ bed, what type of bedrooms they're perfect for, suitable mattresses and bedding choices, as well as highlighting a few of our favourite small double bed frames!
What is a ¾ bed?
A ¾ bed is essentially a small or "compact" double bed. In practice, this means that a ¾ bed is the same length as a standard UK double, but the width of the bed is slightly narrower. To keep things simple, just think of them as a middle ground between a single and double bed!
Have a look at our Levisham Ottoman Bed below for example. Available in a 'compact double' size, this bed offers a refined design which is as chic as it is practical. The bed itself is upholstered in a stunning off-white linen material, while the base of the bed also lifts to reveal a spacious storage area beneath the frame.
Take a look at our complete collection of beautiful small double beds.
How big is a ¾ bed?
¾ beds, or small double beds, are approximately 120 cm wide by 190 cm long. In feet, this measures in at 4ft x 6ft 3".
Our Hannah Classic Bed is proof that you don't have to compromise on style with a ¾ bed – though she be little, she is mighty! Boasting a contemporary, strutted headboard and gorgeous natural arran upholstery, this bed also has the benefit of four drawers, ideal for storing away any odds and sods and saving further on precious floorspace!
What size bedroom is a ¾ bed best for?
A ¾ bed is a great option for any room as they let you capitalise on space while also allowing you to stretch out in your sleep! But most often, compact double beds can be found in bedrooms where there may not be enough space for a double bed or kids' rooms where your child is transitioning to a more 'grown up' bed.
Looking for a wooden ¾ bed for your spare room? Our Malmo New Oak Ottoman Storage Bed is the frame for you.
What mattress fits a ¾ bed?
A standard double mattress won't fit a ¾ bed, but don't fret – a small double mattress will! Measuring in at 120 cm x 190 cm, this compact double mattress will fit your ¾ bed frame perfectly – nice and snug.
For a great value pocket sprung mattress, look no further than our compact double Sleep Sanctuary Essentials 1000 Pocket Mattress. With a medium firmness, this mattress is made to the very highest standards with 1000 pocketed springs covered in multiple layers of comfy layers of luxurious, hand tufted fillings.
Or, for something a little more body-moulding, why not opt for our Sleep Sanctuary Memory Pocket 2000 Mattress? Offering incredible spring technology, this mattress has a sumptuous layer of 50mm visco elastic Blue Cool memory foam that adapts and cushions your every movement during sleep. Ideal for those who suffer with achy joints, this mattress uses an advanced open cell structure to provide excellent pressure relief while also helping to regulate body temperature to improve sleep quality. Dreamy!
What bedding do I need for a ¾ bed?
Many companies offer duvets, sheets and other bedding accessories to fit small double beds so there's no need to stress about hours spent wading through Google! However, many people actually recommend simply opting for double bed sheets and duvets as they can neatly tuck beneath the mattress and offer a little more bang for your buck in terms of cosiness (especially if you're worried about sharing one of these beds with a serial duvet hogger)!
Are ¾ beds suitable for kids?
Yes, definitely! In fact, many families use a ¾ bed as the 'next step' bed for kids who have outgrown their single bed. Not only do these small doubles make them feel more grown up but they also provide them with more room to stretch out as their bodies grow too!
A great small double bed for a kid's room is our Maxistore 6-Door White Wooden Storage Bed. Providing enough room for your growing child or teen to stretch out during the night, this sleek and stylish bed also features three sliding store doors on either side of the frame for tidying away their books, games and more!
Ready to start the search for a small double bed?
Prepare to save space in style. Browse our full collection of ¾ beds today and find your perfect match. From wooden beds, to white beds, upholstered and storage beds, the options are endless! And if you have any questions we haven't covered in this blog, don't fret – simply get in touch with our friendly, expert team today who are more than happy to find you the answers you need.