Time4Sleep Bedroom Style Trends: August 2021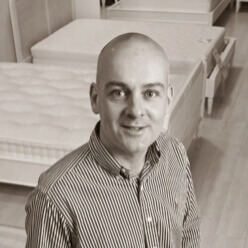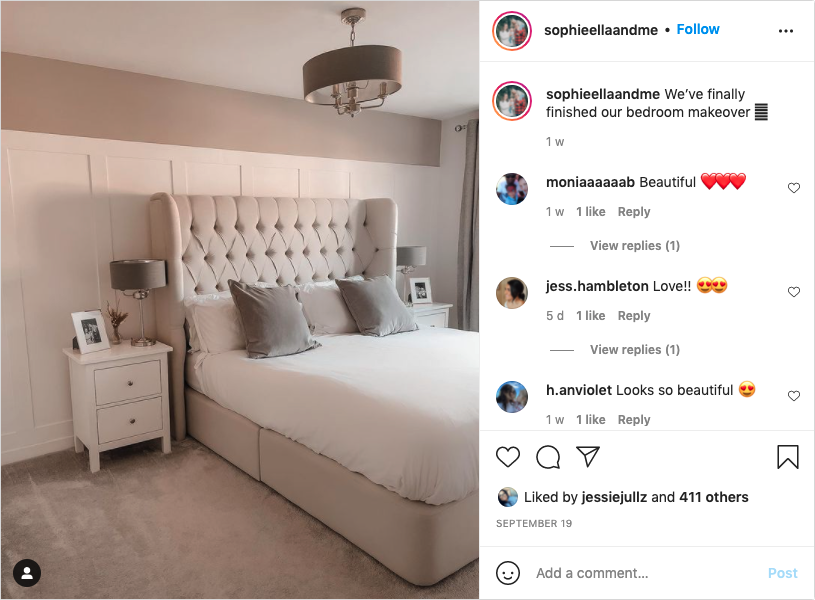 The last golden month of summer, August is the time for soaking up some rays in local pub gardens, grabbing last minute getaways and having a ball over the bank holiday weekend! And while you were socialising and sunning yourself, we were doing some serious style searching on Instagram to help give you some stunning bedroom interior design ideas as we head full speed into Autumn.
If you're looking to switch up your bedroom's look with the change of seasons, we've got some real treats for you this month. From statement headboards, to pink colour paint pops and TV beds that will help you to create your very own at-home cinema now the nights are drawing in, our August style trends are sure to get your inner Kelly Hoppen excited!
Bedroom or boutique hotel suite? We're hard pressed to tell the difference in Emma's gorgeous new boudoir! From the plush carpet, to the very en vogue white wooden wall panelling and lush layering of nude and mink tones, the fashionista behind @sophieellaandme has created a space that oozes warmth and sophistication wherever you look. A further sense of balance is brought to this cosy room with a clever use of symmetry. Matching white bedside tables feature either side of the bed, complete with matching lamps and picture frames, giving a sense of oh-so-satisfying equilibrium that makes this bedroom a truly calming sanctuary for sleep.
And of course, we need to talk about Emma's stunning statement headboard – what a headturner. One of our most popular beds at Time4Sleep, our Knightsbridge Upholstered Divan Base and Headboard makes a bold statement in this room, commanding you to crawl beneath its covers and cosy up! The very definition of luxury, the Knightsbridge is a masterpiece of handcrafted British design – it's sumptuous, deep-buttoned headboard adding a spectacular centrepiece to any space.
If you want to turn heads for all the right reasons, check out our beautiful selection of statement headboards.
Pretty in Pink
@perfectpinkhouse
We don't think this Instagram account could be named more accurately, it really is the perfect pink house. Fun, vibrant, bursting with girly energy and playful animal prints, there aren't enough adjectives in the dictionary to describe this visual delight of a bedroom – it makes you want to be a child again. But then again, you're never too old for a sleepover! Despite this bedroom popping with pink in every nook, the different tones and textures are geniusly curated to leave the space feeling anything but one-dimensional as there's so much to see and touch and snuggle.
For a room such as this that was made for playing in, our Hampton Day Bed with Guest Underbed is the perfect choice. Both practical in function and contemporary in design, the Hampton is ideal for bedrooms that moonlight as sleepover central come bedtime thanks to its versatile guest underbed. Mounted on easy guide castors, all you have to do is slide the guest bed from beneath the main sleeping station to get the party started! Space-saving. Stylish. Simples.
Looking for a space-saving sleepover solution? Explore our range of stunning guest beds and day beds
Home Cinema Sensation
@housetohomeatlast
Danielle, the style icon behind @housetohomeatlast, may say this bedroom isn't quite finished but we're already certain she's onto a winner. Sleek, chic and ultra-modern, we're obsessed with the depth of the navy blue feature wall as it evokes a unique mix of calm tranquility and sumptuous decadence. This sense of luxury is only heightened by the 1920s inspired, playful feather light fitting and the cool, sophisticated leather bed with its beautiful quilted design. We can't wait to see the final result!
The icing on the opulent cake, however, is undoubtedly the fact that this bed is so much more than just a bed – it has a TV housed in its foot end! At the touch of a button, our gorgeous range of TV beds at Time4Sleep open up to reveal a flat-screen TV for your personal viewing pleasure – talk about swish. From storage-savvy Ottoman TV Beds, to velvet-upholstered TV beds and TV beds with statement headboards, you'll never binge your favourite show in the same way again!
Take 'Netflix and chill' to another level with a browse of our incredible TV and Media Beds.
Does your bedroom deserve its moment in the spotlight?
If you're a budding interior designer, show us what you've got! Simply tag a picture of your Time4Sleep bed with @time4sleepuk on Instagram and we'll make sure your bedroom takes centre stage in our September Bedroom Style Trends feature.