The Best Single Beds For Increasing Storage Space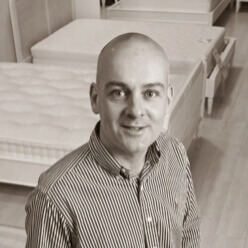 If your bedroom is a little spatially challenged, investing in a single bed with custom-built compartments is a great way to increase storage space without compromising your room for activities!
We specialise in stylish, space-saving solutions. To help you make the most of your bedroom, we have compiled a hitlist of the very best single storage beds that ingeniously combine luxury design with functionality, so you don't have to sacrifice your floorspace with cumbersome cabinets and drawers.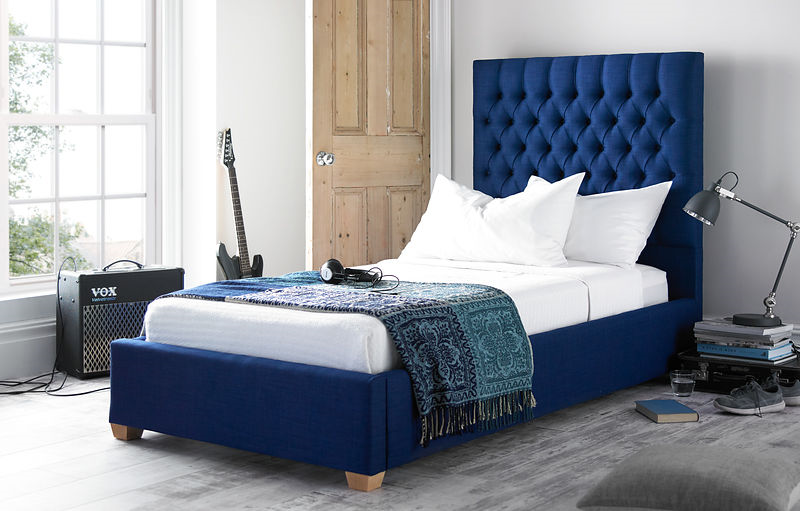 The best space-saving single beds and accessories to suit your space
When choosing the type of single storage bed that's right for you, it all comes down to the amount of storage space you actually need as well as your personal design preference. Explore our top picks for space-saving single beds below:
Single ottoman beds
If you're in need of the maximum amount of storage space, a single ottoman bed is the way to go. Using every inch of the area beneath the bed, all you have to do is lift up the base of the ottoman to easily store bulkier and occasional-use items in the discreet, yet large, storage space within.
Not only do single ottoman beds increase your room's storage potential enormously, but they also look stunning whilst doing it. Our beds come in a range of coloured fabric options, as well as in natural oak and contemporary high-gloss bed frame designs that add a classic, timeless look to any bedroom.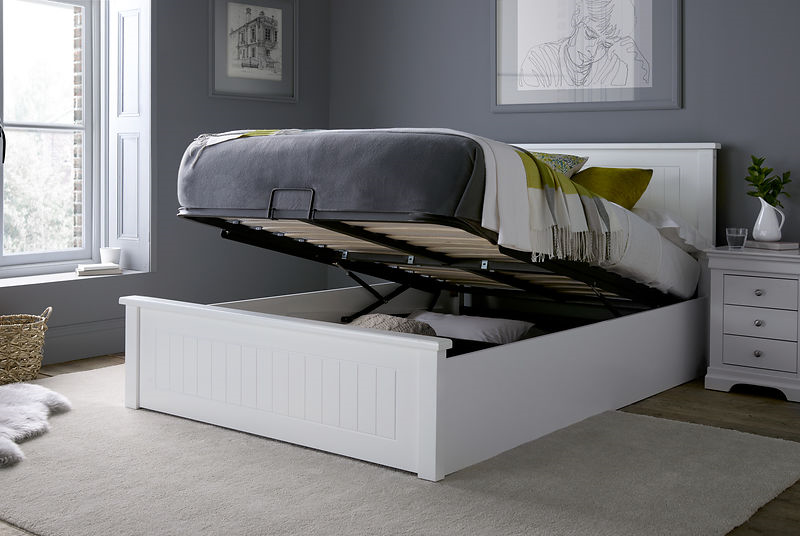 Single divan beds
Want your items more readily available? The ever-popular single divan bed is just the ticket. With a little less space than an ottoman, a divan bed has easily accessible drawers that offer a fantastic amount of storage for all your bedroom essentials.
As well as saving precious floor space, our single divan beds come in an array of beautiful colours and high-quality materials, making them a stylish and practical centrepiece ideal for controlling clutter in smaller bedrooms and guest rooms.
Single beds with a trundle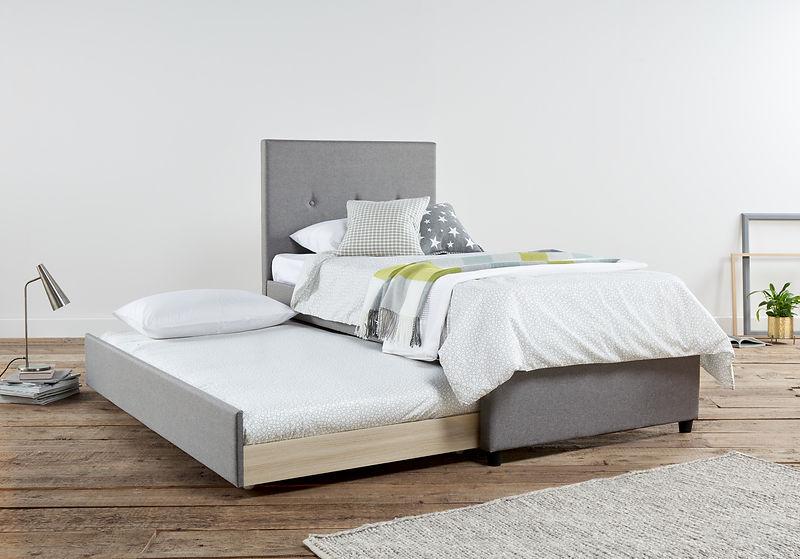 Goodbye inflatable mattress, hello space-efficient guest bed! Thanks to the miracle-worker who created the single bed with a trundle, you can easily increase the amount of available bed space in your room without compromising on style. Perfect for when you need to host multiple guests overnight, single trundle beds - or guest beds - incorporate a second hidden bed that pulls out easily from underneath the main bed frame. The underbed raises up on spring assisted legs to the same height as the main bed, meaning your guests can have a dreamy night's sleep on a comfy double in a matter of seconds.
Underbed drawers
A cheeky space-saving hack for single bed frames with space underneath, underbed drawers are a tastefully brilliant way to increase storage space. Our underbed drawers are ideal for keeping items such as clothes, spare bedding and books neat, tidy and (most importantly) out of sight, for a clean bedroom free of mess! A smart way of storing, our range of underbed drawers are mounted on castors and wheels for a smooth and easy glide whenever you need to pull them out from under your bed.