Small Bedroom Ideas: 13 Design Tips for Small Spaces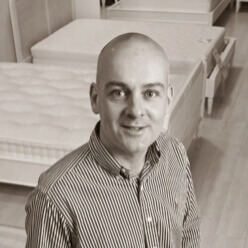 When it comes to interior design, space shouldn't have to be a barrier to a stylish, functional bedroom. A lack of space brings design challenges, but if you adopt the principles of minimalism, you can bring clarity to the forefront of the overall design.
If you're looking to redecorate a small bedroom, or you've just moved into a new place, we've got 13 design ideas that can bring any small space or box room to life.
How to Decorate a Small Bedroom: 13 Ideas
1. Consider white walls
The walls are a good place to start. Visually, white walls will expand the space within a room. Start with white walls and build on it by adding coloured furnishings, rugs, and accessories.
2. Go neutral
If white isn't your thing, then absolutely stick to neutral colours like cream. Darker colours tend to dominate a room. In a small space, boldly coloured walls will make the room feel more cramped.
3. Stick to minimalism
This might seem obvious but start from a position of keeping things as minimal as possible. Sometimes entering the right mindset can be the difference between nailing your new small bedroom design and over-doing it. When making style and furniture decisions, apply a minimalist outlook to decide whether your next addition is really needed.
4. Pick functional furniture
When you have limited space, everything you place into it has to have functionality embedded into its design. Can your storage units double up as surfaces for lamps and other table-top items? Does the wardrobe feature a sliding door rather than opening out into the room? Multi-purpose furniture can go a long way to solving a small bedroom storage crisis.
5. Go high with storage
With limited space, you might have to get funky with storage. One solution is to look up, using the space above the bed to position some shelves. High shelving can be the perfect place for things you don't use all that often, like books, or things that have no use, like plants. You could even go high with your bed, using a high sleeper to elevate your sleep station and leave room for plenty underneath.
6. Dedicate a corner to your bed
One popular space-saving innovation in small rooms is to push the bed against the wall. That way, you can use windowsills as bookshelves or use the wall to fix a reading light in place. Using a corner for your sleeping arrangement opens up the rest of the room – suddenly you'll have enough space to comfortably move around in.
7. Make use of bunk beds
For children's bedrooms, bunk beds are one of the first innovations you'll need to maximise the space available. Perfect for children sharing a room, they're also an option for children who have their own space. When friends come over to stay, they can make use of the bunk bed rather than pulling in a sofa bed or collapsible bed.
8. Let in some light
If you've got a sizeable window beaming light into your room, be sure to utilise it as much as possible. Natural light makes a room feel bigger. Coupled with those lighter, brighter walls, it can help to create a fresh, spacious vibe in your small space.
9. Create a statement wall or bed
Another option when it comes to wall styling is to just select one wall (often the one behind your bed). This is where you can create a contrast from your lighter, brighter walls. Apply a stylish pattern or bolder colour to create a centrepiece for the room. Alternatively, make your bed the statement of the room. Placed in the middle of the bedroom, it's an ideal solution for those who love their bed.
10. Consider foldable furniture
Aside from searching for furniture with storage innovations, you could look for pieces that can be folded away or stashed after use. Rather than a bulky chair, consider a foldable stool that can go under your desk when you're done with it. Another consideration is extendable tables or cabinets – use the extra surface space when you need it, then fold away when you're done.
11. Bring in some mirrors
Mirrors are an excellent way to reflect light. If you follow the advice we've already given, the brightness you've brought from bright, neutral colours and natural light can be taken even further with the addition of a couple of strategically placed mirrors. Don't go crazy but adding a couple of wall-mounted mirrors or vanity-style table mirrors can bring even more brightness to a room.
12. Be smart with wall space
Small bedrooms often come with empty walls, perfect for built-in wardrobes or other storage space. Clothing can be a major source of clutter for a lot of people. With a wardrobe not taking up space, having a small room doesn't mean you have to compromise on outfits.
13. Beds are for more than sleeping
Beds are probably the best place you can save on space by buying a smart, multi-purpose product. Ottoman beds and storage beds offer added storage functionality under the bed, freeing up space elsewhere. A cabin bed can do exactly the same job in a child's room. If you're decorating a spare room that isn't frequently used, use a sofa bed for a functional sleeping solution.
Small bedrooms bring their own challenges, but with a few sensible decisions and innovative ideas, you'll quickly find how far a small space can go. Apply a minimalist mindset and transform your bedroom into a stylish, modern space that truly feels like home.