Master Bedroom Decor Ideas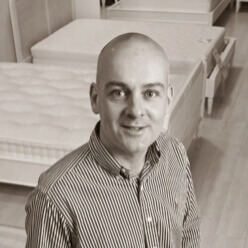 When it comes to home décor ideas, the master bedroom can be tricky. You don't want to sacrifice your personal style, but you also want a calm, relaxing area that promotes a good night's sleep – finding this perfect balance between style and function is vital.
If you're looking to revamp your master bedroom and need some inspiration, we've gathered five master bedroom décor ideas that will help totally transform your space.
1. Choose Your Master Bedroom Wall Colour Wisely
The most important thing to consider when decorating any room in the house is colour and it's especially important to get this right in the bedroom. Your bedroom should promote a sense of calm, allowing you to relax and unwind after a long day and, of course, get a great night's sleep.
Colour can affect moods, with bold shades such as red, orange, yellow and lime green raising energy levels and keeping the mind active. While a bright red wall in the bedroom may look striking, you'll no doubt find it much harder to rest and relax in such a vibrant space.
If you're looking for master bedroom colour ideas, neutral shades are a classic. Shades such as white, cream, beige and pale grey are timeless, and allow you to play around with accents of colour in the form of bedding and accessories to create different styles. If you have your heart set on colourful walls, or you're looking for more modern master bedroom ideas, try shades such as blues, olives, and muted tones. These will help create interest and a modern sense of style in your master bedroom while maintaining a calm, relaxing ambience.
2. Let There Be Light
Light makes any room in the house feel larger and is, therefore, a great way to make a bedroom feel like a brighter, more welcoming, and more open space. During the night, you'll want to keep the room as dark as possible to encourage deep, uninterrupted sleep – however, make the most of any natural light available during the day. A strategically placed mirror opposite a window can instantly boost the light within your bedroom, as can light coloured walls.
While you want as much natural light as possible to flood the room during the day, utilising lamps and candles will create a cosier, more restful vibe in the evenings.
3. Consider Your Bed
The bed is the most important part of the bedroom – after all, the entire room is named after it! If you're looking for master bedroom ideas to help create a stylish space and promote a good night's sleep, your bed is a great place to start.
The bed makes up the focal point of the bedroom, so getting the style right is important. A wooden bed is a great versatile choice, as it can be styled as classically or as modern as you'd like. For a chic vintage vibe, you can opt for a metal-framed bed, or choose a leather or white bed for a contemporary feel.
If your master bedroom is on the smaller side or you're simply looking to save on storage, you could also choose an ottoman bed. With plenty of space hidden away underneath, these beds are a stylish and functional way to tackle any bedroom storage issues and help create a tidy, organised master bedroom.
The perfect bed doesn't just look great – it feels great too. Make sure both your bed and mattress are comfortable and functional within your room, and you'll be enjoying a great night's sleep in no time.
4. Bring The Outside In
Whether you're fully redecorating your master bedroom and are looking for décor ideas or are simply exploring little ways to bring new life to your space, plants are definitely something to consider. Plants offer a stylish, calming touch, and are a great way to inject a bold pop of colour to a master bedroom while maintaining a relaxing atmosphere. Look for floor plants, hanging plants and flowers to bring an instant breath of fresh air to your master bedroom.
5. Play With Textures
If you've opted to create a calming, restful master bedroom with neutral shades, texture is a great way to add a little something interesting and an extra feeling of cosiness. Opt for colourful scatter cushions to transform your bed, or choose a richly patterned Moroccan style rug to bring colour and pattern to your room without overpowering it. Faux fur rugs or throws are also a great choice for bringing depth and a luxurious feel to the bedroom.
Pillows, textured throws, rugs and curtains are all ways you can have fun and bring a new feel to your bedroom without investing in a full makeover.
The master bedroom should be a haven, and getting the décor right will leave you with a space that not only looks stylish but promotes a restful nights sleep. With our tips, you'll be enjoying your new, relaxing space in no time.