How to style a white bed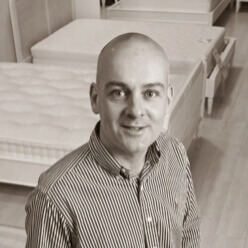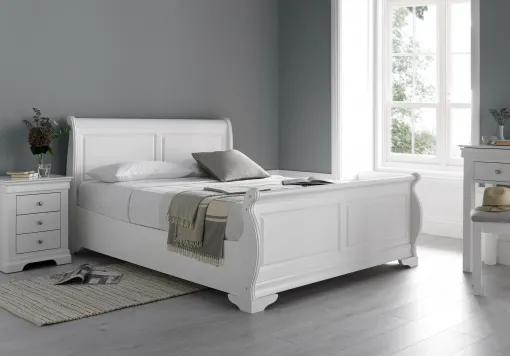 How to style a white bed
It only takes a quick flick through a few home style magazines and a scroll through some interior design blogs to see that white beds are all the rage at the moment. So, if you're the proud owner of a stunning white bed, you're already one step ahead of the fashion curve!
White beds are highly revered in the interior design world, as they're a brilliant way to curate a fresh, calm, contemporary and clean aesthetic in your bedroom. And what's more, white tones are the perfect canvas upon which to get a little creative with your furnishings, wall colours and furniture accessories. No colour, texture or pattern is off limits!
So, whether you have – or are in the market for – a white storage bed, a white guest bed or one of our stunning antique-style white beds, it's time to start brainstorming how you're going to dress it and level up your bedroom décor. From styling tips to bedroom colour suggestions, complementary furniture advice and finishing touches, we've got you covered with our guide on how to style a white bed.
How do you style a white bed?
When it comes to how to dress a white bed, the first thing to do is to consider what you want the overall look and feel of your bedroom to be. Close your eyes and imagine walking into your ideal sleeping space. Is it a cosy boho, hygge vibe? A fresh Scandi look? A chic, contemporary sleep sanctuary that embraces calmness and minimalism?
Once you've got your mental mind map sorted, that's when the styling can begin! And the interior design world really is your oyster with the versatility of a white bed and it's endless potential for changing up your bedroom's aesthetic. Here are some of our top tips for how to style a white bed.
Focus on the foundations
A white frame catches the eye instantly and you don't want to detract from its beauty now, do you? To get the most out of your white bed and amp up its fresh, crisp and clean look, get ready to dust off your iron and work the creases out of your sheets. You can spend all the money in the world on fancy accessories, but if the bare essentials look drab, the bed won't be fab! Make the effort to invest in properly fitting sheets that hug your mattress neatly and don't overhang, iron out the kinks and plump up your pillows. Now you're ready to get creative!
Buy some beautiful bedding
There's no room to scrimp when it comes to your bedding – it's vital that you opt for the best quality bed sheets, duvet covers and pillow cases you can afford. After all, you want to style your white bed in a way that's as luxuriously comfortable to snuggle in as it is stunning to look at! For a crisp, contemporary feel, why not choose a pure white cotton set that's easy to dress up or down? Or, if you're looking to add some extra cosy texture, you could opt for cool linen bedding or even a sumptuous waffle set!
Tone up your textures and layers
Is any bed complete without a little layering? We think not. Bedspreads, throws and blankets are an amazing way to add an extra bit of je ne sais quoi to your white bed, as well as a tonne of cosy texture that begs to be touched and an eye-catching pop of colour, too! From knitted throws to mohair spreads and quilted blankets, as long as every piece you choose works with your wider bedroom colour scheme, you're onto a big bed dressing winner that'll take your white bed styling to the next level. Get ready to play around with your layering, experiment with colours, get creative with textures and work those bedspread angles!
Create some throw cushion theatre
For those who really love to get creative, throw pillows are where styling your white bed can get really interesting as they add a further layer of tempting tension, calling you to climb beneath the sheets! For example, why not try a mix of shapes and sizes? From square cushions to barrel pillows, round and rectangular cushions, there are so many different styles to experiment with to amp up the interior design intrigue! If you're a little worried about how to get started, we'd recommend sticking to the trusty 'Rule of Three'. So, with this in mind, when browsing for throw cushions, consider your colour scheme and choose three cushion shades that both contrast and complement your space. Or, if you want to play with patterns, choose three designs that differ from one another, with a main dominating pattern that draws your selection together.
What colours should you include in your bedroom to suit your white bed?
The honest answer is any you please – you just need to strike the right balance! To help you with some inspo, here are some of our top colour tips to suit your white bed.
White on white on white
There's more than just one shade of white, you know – in fact, there are hundreds! Shoo away the thoughts of sterile, cold white walls and instead welcome velvety, creamy whites that soak up the sun and warming off-whites with undertones of grey and blue that sing with sumptuous softness. Plus, as we've said before, we can't stress enough about the benefits of white as a canvas for other colours in your space. If you opt for calming white walls to match your bed frame, add a splash of colour with your bedding accessories, throws and pillows to really draw the eye to your white bed centrepiece!
Bold and beautiful blues
Calming and tranquil, deep and bold, blue has forever been a favourite, go-to bedroom colour. Offering an incredibly versatile colour palette, a cool blue that's as pale as the autumn sky can soften a room with lots of bright light, while a deep blue that's as dark as the depths of the ocean injects a strong dose of decadence to any space and would work amazingly well as a feature wall to contrast with your white frame. Plus, in combination with your wonderful white bed, blue and white can also evoke a gorgeous nautical feel that transports you away to blissful beaches and rolling waves. What could possibly be dreamier?
Gorgeous, verdant greens
If you're a nature lover who longs to bring the outside in, a deep, luscious shade of green is the way to go. Refreshing, full of life, symbolic of growth and serenity, there are so many incredible green hues to choose from. If you're looking for a soft, relaxing shade, why not embrace a serendipitous sage? Or, for a high luxe look that wouldn't look out of place in a boutique hotel, how about a rich emerald or fabulous forest green? As well as calling upon nature and growth, green in the bedroom is also widely considered to be the most restful of all the colours on the spectrum – boasting both calming and stress-relieving benefits.
What bedroom furniture goes well with a white bed frame?
White bedroom furniture, of course! From wardrobes to dressing tables and bedside tables, our selection of superior white bedroom furniture includes styles to suit every bedroom aesthetic.
Wonderful white wardrobes
White wardrobes go really well with white bed frames as they create a sense of balance and uniformity as a white furniture set and also help to amplify the clean and fresh characteristics of white shades.
Take our Chateaux White Wardrobe below, for instance. Classically designed with a functional storage base and a spacious two-door handing compartment, this stunning white wooden piece is as practical as it is aesthetically versatile, working well in every bedroom.
Dreamy white dressing tables
Chic, contemporary and oh-so-stylish, for those looking to add a sprinkle of extra luxury to their sleep sanctuary, look no further than our choice of beautiful white dressing tables.
Our stunning Ice High-Gloss White Dressing Table is simple yet sleek, modern yet minimalist and a hugely en vogue interior design trend. Featuring two easy-glide drawers that are perfect for storing away any jewellery, make up or other accessories, this dressing table is sure to keep your bedroom looking clutter-free and fancy fresh.
Beautiful white bedside tables
Up the white wonderment in your space by framing your white bed with matching white bedside tables on either side. Perfect for storing your current page-turning read or acting as a base for a trendy lamp, a bedside table is a must-have for decluttering and decorating your bedroom!
Our Malmo White One-Drawer Lamp Stand Bedside Table is the perfect choice for bedrooms where space is at a premium. Featuring a handy drawer for housing your phone, bedtime book or other gadgets and gizmos, the Malmo bedside table is finished flawlessly in crisp, white paint and also has a small shelf near its base for extra storage and a sizeable top for a lamp or vase.
What finishing touches can you make to add some extra wow factor?
Now you've nailed the art of styling your white bed, crushed the colour palette and finessed the furniture game, it's time to add a few final flourishes to make your space a sanctuary.
Eye-catching artwork
To add another focal point to your walls, an eye-catching, framed piece of artwork could work wonders for your room. Focus on finding a print or painting that picks up on a tone from your chosen colour palette to tie it in with your décor and make sure to back it with a gorgeous white mount and frame to really draw the eye.
Magnificent mirrors
Mirrors are the secret to making your room appear more spacious and bright. Not only are they practical and stunning in appearance, but mirrors reflect natural light around every nook and cranny of your space! Depending on your design, you're sure to find the perfect mirror, mirror on the wall with a wide choice of wooden mirrors, gold-framed mirrors, chrome mirrors and many, many more.
Vivacious plants and botanicals
Bring some life into your room with some gorgeous plants and botanicals. A welcome splash of colour and freshness, there are many benefits to having plants in your bedroom beyond their attractive looks and scents – they can help you get a better night's sleep, too! Plants such as orchids and aloe vera are ideal for your sleeping space as they give out oxygen in the evening and also absorb toxins from the air, meaning you can breathe better and more deeply before bedtime and throughout the night.
Don't have a white bed yet? Say no more! From ottomans to single beds, king-size beds and wooden beds, we've got you covered with our incredibly stunning range of quality white beds.