How To Dress a Divan Bed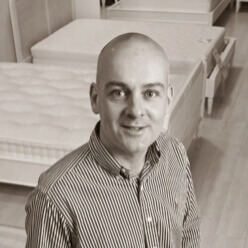 Divan Beds are an ever popular choice when it comes to beds. Whilst these go to beds are known for their sturdiness and durability, for those looking to create a chic style in their bedroom, how best do you dress your divan bed? From bedding and style choices, to cushions and blankets, we have taken a look at everything you need to know when it comes to dressing a divan bed.
What are Divan Beds?
Divan beds are a feature in many modern bedrooms and it's pretty easy to understand why.
Built with a wooden frame and finished with a light upholstering of fabric, a divan base is a simple construction which is made to the same measurements as your mattress. It's a compact and extremely functional bed choice which works well with a minimalist approach in the bedroom. The structure of a divan bed lends itself to a firm and supportive sleep, which you can expect to enjoy for the long-term, and also opens up opportunities for underbed storage solutions.
Sound good? If you're in the market for a new bed and this is piquing your interest, then check out our impressive range of Divan Beds! And if you already have a divan bed but don't know how to make the most of it, then read on for all of our styling hints and tips.
It's all in the bedding
If you want to create the best looking bed that just begs you to crawl up into, you need to invest in quality bedding. Taking time to find the best bedding set for you will no doubt pay off when it comes to getting some quality sleep.
Cotton bedding is a popular choice due to its breathability. Linen sheets can be a pricier option but offer a comfortable and cool feel, often lasting enough time to make it a cost effective option. And for those seeking ultimate luxury, there's always silk.
When it comes to divan beds, your bedding choice is entirely up to you and what makes you most comfortable. The key thing to keep in mind is that your mattress will align with your bed frame, so opt for tight fitting undersheets to give your bed a crisp look and think about how far you want your duvet to drape over the sides of your bedframe.
Accessories and Layering
Once you've got your bedding in place, it's time to think about all the accessories you can add to level up your divan bed and make it truly inviting.
Start with your pillows! From memory foam pillows to feathers or cotton stuffing, there's a whole lot of choice out there when it comes to choosing what to lay your head on each night. All that matters when it comes to dressing your divan bed as far as the pillows are concerned, is that you pop one beneath your duvet and one on top. This will create a really sleek, almost 'hotel' like vibe for your bed. Oh, and don't be afraid of giving your pillows a good plump!
To add some more style points to your divan bed, you can consider dressing it with a stylish throw or comfortable blanket. Draping a bedspread, blanket or throw over your divan bed is a great way to layer your bed, introduce pops of colour (if you've gone for neutral bedding) and help to warm yourself in the winter months. You can also add in some colourful cushions to make your divan bed the thing of dreams!
Styling your Divan Bed
Just because a divan bed doesn't come with a standout frame, does not mean your bed can't become your room's centrepiece and play a key role in your chosen style.
If you are going for a minimalist look in your bedroom, why not go for the Crystal 3000 Divan? Not only will you get a top quality sleep, but the simple style of the divan base will work well with a strong, basic aesthetic that could be complemented by cushion colour pops.
Our Makayla Classic Non Storage Linea Fog Base and Headboard is a brilliant choice for anyone looking for a more modern approach. With a sturdy base, the Makayla is bound to bring you sweet dreams for many nights to come and will be a focal point of any bedroom.
For the classic approach, our Elite Natural 1000 Divan is a top quality contender. The sleek grey upholstery would work like a dream with any upmarket boudoir. Think velvet pillows, silk sheets and dark colours!
How to maintain a well-dressed divan bed
Cleaning our beds is often overlooked, but giving your divan bed some TLC will help it be that long-term supportive sleep station that you deserve. Applying a mix of hot water and vinegar to your wooden divan bed frame is an easy way of keeping everything in tiptop condition.
For the upholstered fabric, a regular light hoover will help get rid of any dust or debris which is collecting on your bed. When it's time for a deeper clean, grab a damp cloth and some baking soda and gently rub in the baking soda to the upholstered areas of your bed before leaving for a few hours (more than enough time to enjoy a cup of tea!) and returning to vacuum it all up. You could also consider investing in some fabric cleaner, just be sure to test anything new out on a small area of your bed before you get stuck into your deep clean.
To keep your bedroom neat and tidy, why not opt for a divan bed which comes with some built in underbed drawers? Perfect for hiding away any odds and ends, choosing a divan bed with drawers can be a great way to maximise your floorspace.
Searching for more bed care hints and tips?
Check out our blog for all the advice you need when it comes to beds, including our Divan Bed Guide which has everything you need to know about one of the most popular sleep stations around!