How to Choose the Right Headboard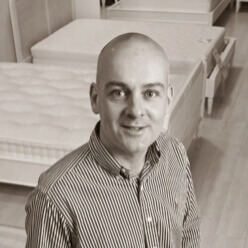 If you want to make a statement in the bedroom, a high-quality headboard is the answer.
Here, we've put together everything you need to consider – from designs to materials and heights – before you purchase the right headboard to take your bedroom style to the next level.
What's the difference between freestanding bed headboards and wall mounted headboards?
Put simply, wall mounted headboards are drilled and fixed firmly to the wall, whereas freestanding headboards come without any screws, requiring no drill work and stand proudly of their own accord. This allows for more flexibility – and means there's no need for Polyfilla when you decide you want a design refresh in the room again!
Different headboard designs
Once upon a time, the humble headboard was designed to insulate sleepy heads. But nowadays, bed headboards are so much more as they pack a huge aesthetic punch and can be handy for things such as added storage room, too.
With lots of different headboard designs to choose from, we've picked out the crème de la crème to give you some inspo:
Wingback headboard
A wingback headboard has two upholstered panels either side of the main board to give your bed a better sense of cosy headspace. Take a look at our Stocksbridge headboard for instance; inspired by Chesterfield design, the Stocksbridge features deep buttoning and distinctive wing design. Photographed in Linoso Charcoal below, the Stocksbridge is available in four fabric options – you're spoilt for choice!
Deep-padded headboard
If you're searching for a headboard to match a bedroom oozing with sophistication and class, look no further than a deep-padded upholstered headboard such as our Hannah Gatsby model below. Pictured here is the Hannah double bed headboard in forest green, a design that offers a truly contemporary floor-strutted aesthetic with a deep-padded, vertically lined design. Talk about a centrepiece.
Buttoned headboard
Give your bed a complete makeover with a timeless buttoned headboard – an effortless, luxurious lift for any bedroom. Handcrafted in the UK, our Madison headboard is a stunning example of how a buttoned headboard offers both contemporary chic and traditional design. With gorgeous buttoned detailing and available in nine different fabrics, the Madison is sure to create an eye-catching focal point in your space.
Sleigh bed wooden headboard
If you're after something a little more classic – and by classic we mean 18th century French classic, darling – why not take a look at our bestselling Louie wooden sleigh bed with its distinctive panelled headboard and graceful curves?
What height headboard should you get?
There's no hard and fast rule on headboard height. Instead, headboard widths are the measurable to take note of as they are based on standard UK bed sizes. If you need a headboard for your double bed, take a look for a double bed headboard; if you're looking for a feature to add to your king bed, check out a selection of king size bed headboards. Simples! The height, whether you fancy short or high, is purely down to personal taste and dependant on the design you're looking to create in your bedroom.
Browse our stunning range of headboards to find the perfect headboard for your bed. Our upholstered headboard collection comes in a plethora of material and colour options, so don't fret – we're sure to have just what you're looking for to make your bedroom décor pop.