How many springs should a good pocket sprung mattress have?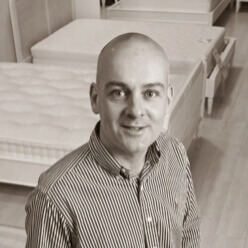 Shopping for a mattress and not sure where to start? Don't fret – we've got you covered. Your endless Googling of technical terms and in-shop sales pitches are at an end!
Here, we walk you through everything you need to know about pocket sprung mattresses, from how many springs they should have, their supportive benefits and a few comfy options for your perusal!
What is a pocket sprung mattress?
A pocket sprung mattress is one of the most comfortable and supportive types of mattress available on the market today.
A pocket sprung mattress is made up of hundreds of individual springs – each one contained within its own little pocket. This means that, unlike an open coil mattress, these pocket springs move independently of one another to help the mattress follow and support the contours of your body as you move throughout the night for ultimate comfort.
Plus, if you and your partner are a different size and weight, a pocket sprung mattress can be a great option as they work to ensure you both enjoy equal support and weight distribution on the same mattress. This means you can forget having to nudge your beloved awake when they stray on to your side and disrupt your sleep. Dreamy!
Are pocket sprung mattresses good?
Is the Pope Catholic? Yes! Pocket sprung mattresses are a great option for anyone who loves a cosy, well-supported sleep. Here are some of the key benefits you need to be aware of.
They last longer
If you're looking for a mattress that will stand the test of time, look no further than a pocket sprung mattress with a high spring count – they're built to last. With a good cleaning schedule and regular flipping, you'll easily get a good ten years out of your purchase without noticing any give or sag – much longer than traditional open coil options.
They provide ultimate support
A high-count spring mattress is incredibly supportive as the individually wrapped springs move independently of each other, meaning they only move where you move for targeted support. That means no disrupting your partner, full body support and a restful sleep every night.
They are brilliant for those with bad backs and sore joints
An orthopaedic pocket sprung mattress is specially designed to reduce stress on your back, neck and joints to alleviate aches and pains. Sleepers with these difficulties require firm support from their mattress and the higher the spring count, the firmer the mattress! As your weight is evenly distributed over each of the springs, the mattress will completely support your body and help you to maintain correct and healthy sleeping positions, ensuring you don't wake up with any unwanted aches and pains.
How many springs should a pocket sprung mattress have?
It's all about the spring count. A good, firm, high-quality pocket sprung mattress will generally have 1000 springs or above. It's important to note however that the more springs you have, the firmer the mattress and the higher the price tag. Before you buy, consider your sleeping needs. Do you have a bad back and require more support? Go for more springs. Are you a single sleeper in good shape? A 1000-spring unit such as our Sleep Sanctuary Essentials 1000 Pocket Mattress should be the perfect fit.
All of our pocket sprung mattresses have a spring count of 1000 or more, have a firmness rating to suit your preferences and are of the utmost quality to ensure you get a quality night's sleep.
Are pocket sprung mattresses better than memory foam?
It really comes down to personal preference as both pocket sprung mattresses and memory foam mattresses have their own pros and cons. However, if you're more prone to overheating in the night, it's best you opt for a well-ventilated pocket sprung unit over a memory foam alternative, as the latter contains heat-retaining qualities that can lead to an uncomfortable kip.
Plus, if you have sore joints or move around a lot in the night, the pocket sprung mattress is again the best option for you. Compared to memory foam, pocket springs will balance your body weight much more evenly and keep you from sinking down into the bed, meaning you'll best maintain healthy sleeping positions and keep your spine and joints in the correct alignment.
What's the best pocket sprung mattress in the UK?
Sleep Sanctuary Essentials 2000 Pocket Mattress
This 2000 pocket sprung mattress is a great value unit that doesn't compromise on quality and support. Each of the pocketed springs work independently of each other to provide high levels of spinal support and comfort. Hello comfy night's sleep!
Sleep Sanctuary Essentials 3000 Pocket Mattress
Our Sleep Sanctuary 3000 pocket sprung mattress is perfect for those looking for firm support with a little bit of give. The mattress features 1500 pocketed springs (based on the king size mattress), with an additional layer of 1500 micro springs for ultimate support. A great option for those sleeping with a fellow nighttime wriggler!
Elite Natural 5000 Pocket Mattress
If firm is the word for you, look no further. Our Elite Natural 5000 pocket sprung mattress contains a dual-pocketed system with initial upper springs that have a softer feel which firms up as you hit the lower springs below to create an overall firm feeling mattress. If you struggle with back or joint pain, this is the perfect sleeping station for you.
Want to explore our full range of mattresses? No problem! Check them out here.