How High Should Your Bed Be?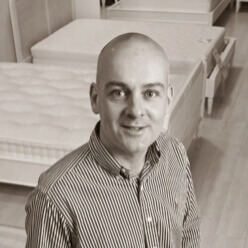 When choosing a new bed, it's easy to get swept up in materials, accessories and aesthetic and overlook how high your bed should be. But stop your sweet interior design self right there: we're here to tell you that bed height matters, actually.
Not only does the height of your bed contribute to the overall look and feel of your room, but it also significantly impacts your comfort and quality of sleep – which is pretty important when you're having to climb in and out of it every day.
There's no perfect one-size-fits-all height for everyone, so here are a few things you should consider when it comes to answering the all-important question: how high should your bed be?
What factors determine the perfect bed height for you?
Age and injury
Aches and pains are a sad a fact of life as we age, and a bed that's either too low or high can really exacerbate these aches and pains. Therefore, the wiser owls amongst us need to ensure they search for a bed that caters to their height and is easy for them to get in and out of without straining. This goes for those with painful backs and joints too; easy access is your best friend, so ensure the bed height you choose doesn't add to the struggle of a cosy night's sleep.
Mattress height
As well as the bed frame height, take note of your mattress height as this can add inches on without you realising. Some mattresses use a simple single layer design, but others can have up to as many as ten layers so don't be fooled! If you're in the market for a new mattress, check out our collection and be sure to double check their height dimensions to find your perfect match.
Aesthetic
Lockdown has surely had you hooked on Netflix's latest interior design shows. By now then, you'll be a Feng Shui expert and will know that the height of your bed can dramatically impact the design of your overall space.
For a minimalist, spacious Scandi look, opt for a modern low bed. But if you've got a bedroom with high ceilings and are looking to make a bit more of a traditional statement, a tall bed could be the answer to an elevated sense of chi. Don't make bed height an afterthought, incorporate it into your bedroom design plans from the outset – it'll most likely be the cherry on top!
How do you know if your bed is too high or low?
Bed height should correlate with your height – full stop. To test which size of bed is best for you, sit on the edge of your mattress. If your feet are flat on the floor and your knees are at a 90-degree angle in a straight line with your hips, your bed is the perfect height. However, if your legs are dangling it's likely your bed is far too high for you - and likewise, if your knees are up to your chin when your feet are grounded, your bed is far too low.
However, there is an exception to the rule: if your partner is a lot taller than you, you need a higher bed frame! Beds for tall adults are most definitely available, you just need to ensure that either you or your shorter partner can easily climb beneath the sheets too. Love is about compromise after all, so why not try a helpful step that is in keeping with your bedroom décor for easy access?
What are good low bed options?
If you're searching for low bed frames that scream contemporary chic, look no further than a platform bed. Our Kaydian Lanchester Ottoman Storage Bed has a platform-style ventilated mattress base that – despite being low to the ground – lifts up to reveal a unique and spacious floating storage area.
What are good high bed options?
To accommodate deeper mattresses or those with achy joints and long legs, antique-style high bed frames are your best bet as they're usually higher off the ground than standard beds. Our Amelia Oak Bed Frame could be the perfect fit: a stunning French-inspired frame that combines the elegance of weathered oak with a natural linen-look fabric to create a design that is both timeless and sophisticated.
After a high bed frame with built-in storage? We've got you covered. Our Marseille New Oak Wooden Ottoman Bed combines classical elegance with the versatility of ottoman storage. The sprung slatted base can be easily raised to reveal a generous fully boarded high capacity storage area within.
Can you make a bed higher?
Of course! You're spoilt for options when it comes to adding a couple of inches to your bed's height. Try sturdy mattress toppers, taller mattresses or, more simply, bed risers. Bed risers come in an array of materials to suit your aesthetic and saves you some serious pennies as they are an extremely affordable way to give your bed a little added boost.