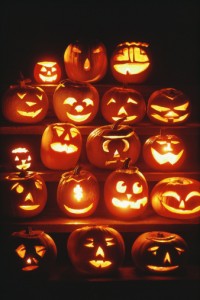 It's the Halloween season, and if you want your children to get any sleep in their kids' beds tonight, you'd better tire them out with some spooky fun and games! Here are just a few ideas for treats little ones can enjoy before bedtime.
A spooky film
- but not too spooky, or they might not go to sleep! Something aimed at kids, like Frankenweenie or Paranorman, is ideal for a trip to the cinema.
Apple bobbing
- a Halloween classic, and very easy to play. Just fill a bowl with water and apples and let your kids try to catch them with their teeth - no hands allowed!
Trick or treating
- take your children to your neighbours' houses in spooky costumes to collect sweet treats. You might want to check with your neighbours first (especially if the costumes are particularly scary….)
Creepy meals
- tell your kids you've prepared some ghoulish snacks for them in bowls they have to reach into while blindfolded. Spaghetti can become worms, pickled onions are eyeballs, jelly is brains - urgh!
Treasure hunt
- this kids' game can be given a spooky twist by hiding goodies like sweets and toys around the house - along with some scary surprises to discover like rubber spiders and skeletons in cupboards!