Double the Bed, Double the Comfort? Super King vs. Twin Singles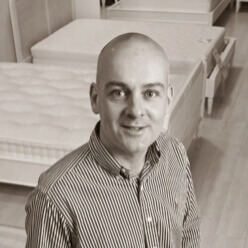 We all want to be able to climb into bed every night and have an even better sleep than the night before, don't we? And sometimes – as much as we adore them – sharing your bed with a partner can make this quest for night-on-night comfort a little bit challenging.
A good quality mattress is a great place to start, but what about the actual size of your bed itself? Space in bed can be the difference between stretching out and getting a restful snooze and being stuck right next to your bedfellows' snores in the middle of the night!
Here, we take a look at the benefits of two of the largest bed arrangements available on the market – super king beds and the conjoining of two single beds. Which is more practical? Which is cosier? What are the differences in dimension? Let's take a look at the facts!

Size comparisons between two single beds and a super king
A super king mattress is 200cm long and 180cm wide (6ft x 6ft 6"), while a single mattress is 190cm long by 90cm wide (3ft x 6ft 3").
However, by combining two single size mattresses together lengthways means that your ziplocked bed would measure in at 190cm long by 180cm wide!
Benefits of choosing a super king bed
Great for sharers
If you share your sheets with a loved one, it's nice to think that you're sharing one whole bed together that isn't separated by a dividing line (even if you can cover this up seamlessly with bedding). Super king beds are extremely decadent and serve as the perfect bed for sharers who like to cosy up beneath the covers, just as much as they love their own space to stretch out!
Storage options
Lots of our super king beds at Time4Sleep come with exceptional inbuilt storage solutions. From divan beds with drawers to ottoman beds with large storage cavities beneath their frames, we're sure to have the ideal bed for you to tidy away any loose bits and bobs without having to compromise on your floor space with additional furniture.
Perfect for tall people
For those lovely long-limbed sleepers amongst us, a super king bed and mattress allow for an extra 10cm (or 4") in length. And who doesn't love extra legroom?
Stylish designs
Our super king size beds are the largest beds we offer, offering unrivalled comfort and a whole host of stunning, on-trend designs. From wooden frames to velvet upholstery and much, much more, you're sure to find the bed of your dreams within our collection.
Benefits of choosing two singles
Easily manoeuvrable
Assembling and ziplocking two single bed frames together is a lot easier than setting up and moving an enormous bed frame. This is particularly true if you're manoeuvring the build in a bedroom where space is at a premium. All you need is a connecting bar to affix to the frames or a twin bed ziplock connector and you're away!
Cost effective
While dependent on the type of single bed you choose, sometimes linking two single beds together can be much cheaper for your wallet than buying a super king bed frame. Especially if you only need to buy one to link to a single bed you already own! Plus, if you ever wanted to separate them and put them in different rooms, you've essentially got two beds for the price of what was originally meant to be one. Result!
Mattress flexibility
If you're sharing with another person, you have the added benefit of picking your own dedicated side and your own mattress to go with it! For example, if your partner prefers a softer mattress while you would much rather sleep with firmer support, you won't even have to worry about making your case before judge and jury – you can just get your own!
Want to know more about our excellent range of beds in all shapes and sizes?
Get in touch with our expert team today. We're on hand to help you find the dreamiest bed to meet your wants and needs. Get ready for a lifetime of rejuvenating sleep!