Best Wood for Wooden Beds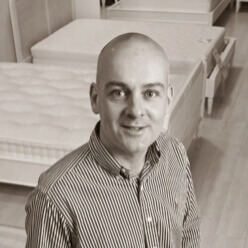 You can't go wrong with a wooden bed. Elegant, durable and sturdy, wooden beds are dripping with timeless sophistication. But with so many different types of wood out there, how do you know which is the best wood for wooden beds?
Fret not! From details on different types of woods and their benefits to our top picks, we've done the hard work for you.
Different Types of Wood for Wooden Bed Frames
Oak
Oak bed frames are a very popular choice and it's easy to see why. Its key qualities match the imagery conjured up by the majestic oak tree: durability and strength. Oak also has water resistant properties, fares well against wear and tear, and carries a naturally beautiful wood grain look. Take a look at our Bordeuax oak wooden sleigh bed - a firm favourite with our customers!
Rubberwood
Rubberwood is a mid-density hardwood, which comes from trees known as Hevea Brasiliensis that produce latex. Despite the name, rubberwood is anything but rubbery and provides a very durable base for your sleep station. It's also easy to work with, great for the environment when reused and relatively inexpensive.
Hardwood
Hardwood comes from broadleaved trees such as beech, oak or ash trees. These broadleaved trees are typically slower growing, meaning that the wood is typically denser making them sturdier and more durable options for your wooden bed frame.
Walnut
Walnut's durability has taken it beyond the realms of the bedroom as it was used to make aeroplane propellers in the First World War. That said, as it's not quite as durable as oak, some walnut bedframes might be prone to the odd scratch or two. Still, that doesn't stop Walnut providing a classy and elegant finish to any bedframe.
Mahogany
Mahogany oozes indulgent opulence, but its incredible sturdiness and durability also makes it a long-term investment. There are some downsides, however: mahogany is not the best option for those shopping on a budget or those looking to create a bespoke bed frame since its hardness can cause workability issues.
Cherry
Over time and with more exposure to light, cherry wood's reddish-brown colour gets darker, making it a staple choice when it comes to antique furniture. Whilst it might need more care and attention than your stronger wood options, with the right amount of TLC, a cherry wood bedframe could prove to be a very worthwhile long-term investment and add a touch of class to your bedroom.
Pine
Comparatively cheaper than hardwood options, pine wood is a popular furniture material due to its affordability and adaptability. A softwood by classification, pine can be a bit more malleable for wannabe carpenters out there looking to craft bespoke pine bed frames, or the interior designers looking to change colours with the seasons. However, despite the positives, pine isn't the most durable when compared with other types of wood and can naturally wear out quite quickly.
Time4Sleep's Top Picks: Best Wood for Wooden Beds
For us, there are only three types of wood that are worthy of the best wood for wooden beds title: oak, rubberwood and hardwood. As beautiful as they are durable and strong, we truly believe no other wood makes better beds than these three. To show you them in all their glory, take a look at a selection of our bestselling wooden bed frames below:
Inspired by the unique influences of renaissance France, the Louie bed is a classic, versatile hardwood bed frame boasting graceful curves and sophisticated detailing.
Handcrafted, the Louie is finished in a brown stain finish, creating a sense of serenity and relaxation in any bedroom. Plus, the Louie doesn't just look beautiful; the bed comes with a sprung slatted base for extra comfort and support.
Our Marseille oak wooden bed combines elegance with the versatility of ottoman storage. The sprung slatted base can be easily raised to reveal a generous fully boarded high capacity storage area housed within.
The beautiful oak finish lends itself equally well to both a traditional and contemporary bedroom design. With graceful curves and sophisticated detailing, the Marseille will add a touch of luxury to any space.
Our Rubberwood Pick: Oakridge Wooden Bed Frame
Our Oakridge rubberwood bed features an innovative finishing technique that gives the look of a real oak product. This ever-popular shaker-inspired design is manufactured from rubber wood that has a dense close-knit grain whilst also benefiting from many of the properties of hardwood.
If you're looking for a well-constructed, good looking and comfortable wooden bed at an affordable price then look no further – the Oakridge is the bed for you.
Want to explore our full range of wooden beds? Say no more. We've put together everything you need to know in our Wooden Bed Buying Guide – from benefits to cleaning and care advice, and our top tips on how to find the best wooden bed for both yourself and your space!