Bedroom Style Trends December 2020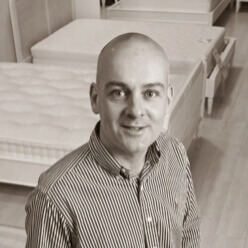 It's finally 2021 and we've never been in greater need of a new year. But how about a new bedroom, too? Let's be honest, you spent far too much time in 2020 looking at the same four walls so it's high time you shake your bedroom design up a little bit.
And who better to get some style trend inspiration from than our very own Time4Sleep customers? Here, we've selected our most gorgeous Instagram customer submissions from December to give you some interior design ideas: scroll on for some new year, new room inspo!
Industrial boho beauty
Behind door number 32 we have the forever fashionable Amy and Jack who're slowly turning their new Victorian house into a home – with some help from Albert the Cockapoo! We love the contrast of the dark forest green feature wall against the light pink bedding. The layering of the furry pillows and velvet throw really help to add texture and softens the otherwise industrially furnished space.
Our Serenity ottoman storage bed in Cool Grey works brilliantly in Amy and Jack's bedroom. Not only does the soft grey upholstered headboard complement their colour scheme, but in what is quite a compact room, the Serenity saves valuable floorspace. Its base lifts effortlessly to reveal a large storage space within, meaning any extra bedding, books or other occasional use items can be packed away neatly to maximise space. Result!
If you're searching for a high-quality ottoman bed for your space, find out everything you need to know in our Storage Bed Buying Guide.
Boutique chic
Firstly, can we please get an amen for @emandhart's caption? Secondly, would you take a look at this calming oasis of boutique chic wonderment? From the cool grey tones to the curves of the ceiling, bed and wardrobe design, we are in love with this room. It wouldn't look amiss on a double page spread in Ideal Home.
Bringing a real sense of opulence to the space is our Knightsbridge divan base and headboard in this stunning shade of Silver. Handcrafted in the UK, the luxurious deep buttoned headboard makes a spectacular centrepiece in this (and indeed, in any) bedroom. Have a colour scheme that requires a darker coloured fabric? Say no more. Our Knightsbridge bed comes in a range of darker greys such as Harbour Dove and Platinum – simply visit the product page to check them out!
Want a mooch of our range of upholstered beds? Here's our Upholstered Bed Buying Guide.
Colour pop perfection
POW! Talk about a colour pop. We have no idea what this duo are talking about in their caption – this room is styled to perfection! Laura and Jon of @hanburyno.15 sure know how to make their bed look pretty in pink. We adore the drama of this bedroom; from the sharp, almost clinical, two-tone white and charcoal wall to the softness of the curved fur rug and fluffy faux flowers.
Whilst we no longer stock this particular bed frame, we haven't stopped playing with pink at Time4Sleep. We're obsessed with a bold colour statement and our range of pink beds do just that. From pink ottomans to blush divans and raspberry upholstered headboards – we've got you covered.
Looking for a pink lady all of your own? Check out our gorgeous selection of pink beds here!
Sleepy playground paradise
Our inner child is crying out to take a nap in this room – eat your heart out Peter Pan! You can't get much more on-trend than the soft grey and ochre yellow combo, but it's the small child-like touches that Leanne of @very_lt_interiors has used that make this interior design out of this world. We love Leanne's use of stars throughout the décor, from bedding to wallpaper, rug and bunting. The repetition of the print throughout the room creates a real sense of balance in the space, a calming sense of harmony perfect for any active little tyke to lay their weary head to rest come night time.
Leanne has chosen our crisp, clean Portland Soho bed for her little lads' bedroom, adding our handy underbed storage drawers to hide away any extra toys to keep their room clutter-free. The Portland is manufactured from solid rubber wood, a material which is widely praised durability, making this bed a brilliant bet for an active child's bedroom who might get a little trigger happy with the old crayons. Plus, you'll be doing your bit for the planet, too! Although the rubber tree is primarily grown to source rubber, the left-over wood is heralded as an environmentally-friendly product, as it makes use of trees that have been cut down at the end of their latex-producing cycle.
Looking for the perfect bed for your little one? For all the answers to your questions, take a look at our guide 'Which bed is best for my child?' here.
Does your bedroom deserve a moment in the spotlight?
If you're a budding interior designer, show us what you've got! Simply tag a picture of your Time4Sleep bed with @time4sleepuk on Instagram and we'll make sure your bedroom takes centre stage in our next Bedroom Style Trends feature.