Are TV Beds Safe?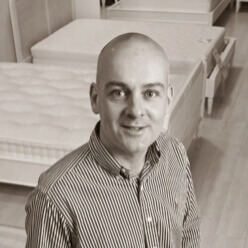 TV beds are the ultimate statement of luxury – they literally turn your bedroom into a private home cinema. But whilst our customers can barely hide their excitement, the first question we normally get asked at Time4Sleep is 'Are TV beds safe?'.
Simply put, of course they are! But we can understand the logic – if you've never owned a TV bed before, the thought of a screen magically rising from the foot of your bed can feel quite revolutionary! If you've got a nagging safety concern that's putting you off securing your dream home cinema setup, we're here to put your mind at ease. Here are our top picks of some key TV bed frame safety features that prove they're just as safe as normal beds.
Auto shut off
Once you're done with bingeing Netflix for the evening and it's time for some shuteye, all you have to do is press a button and your TV will lower itself into the footboard of your bed. Fancy, huh?
For those of you who are constantly worrying whether you've locked the front door or turned the oven off, we know it might stress you out wondering whether everything is properly turned off once your TV disappears. And stressing about double checking things doesn't exactly go hand in hand with a peaceful night's sleep, does it?
But trust us, everything's fine. You can rest easy knowing as soon as your TV is lowered, it's completely turned off and safe. Take our Copenhagen Upholstered Ottoman TV Bed for example; its latest generation slimline foot end of the bed houses a TV mechanism which automatically turns your TV off thanks to its auto shut off feature. No risk of overheating here, thank you very much!
Top quality materials
We don't skimp on quality and our TV Beds are no exception. If you've got safety on your mind, just know that our TV Beds are made with high quality materials which meet all UK regulations. Our trusted suppliers manufacture beds of consistently high specification, meaning you can relax and feel all smug and safe in your sumptuously comfortable TV Bed.
You can't deny our Kaydian Titan TV and Media Bed oozes top quality and style – just look at her! The Titan TV bed frame is upholstered in an incredibly soft charcoal fabric and sports an eye-catching feature headboard making this the ultimate multimedia bed.
More storage, less tripping
Many of our TV bed frames also double up as storage units meaning your floor is less cluttered and your less likely to trip or feel embarrassed when an impromptu visitor drops by – how very handy indeed! Ottoman TV beds are a unique blend of style and practicality, maximising your room's storage as the bed base can be raised to reveal a sizable area for packing away bedding or other occasionally used belongings.
Our Carmel Upholstered Ottoman TV Bed not only looks the part but is packed full of the latest tech. The bed has a built-in sound bar and USB ports, is designed to accommodate a screen up to 42" and has a deep storage space beneath the base to help you keep your bedroom looking tidy and chic.
If you're after some further advice or info about our stunning range of TV beds, our TV bed buying guide should have all the answers you need to take one step closer to your private home cinema!