Are Ottoman Beds Comfortable?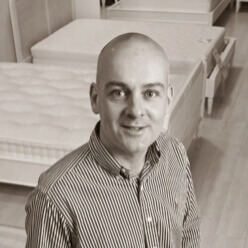 No matter what type of home you live in – apartment, two-bed semi or Buckingham Palace – storage space always seems to come at a premium. We're forever reliant on the latest space-saving innovation to help us declutter and live a hygge-focussed stress-free lifestyle. And this is even more important when it comes to the bedroom.
Here, we look into the humble storage bed that's revolutionising the way we sleep and store: the ottoman bed. From comfort to benefits and style, do ottoman beds really live up to the hype?
What is an ottoman bed?
If you're looking to add more storage space in your bedroom as well as get a comfy night's sleep, you need to know about ottoman beds – they're absolute gamechangers.
Essentially, an ottoman bed is a bed that uses gas-lift hydraulics to lift up its base and reveal a large in-built storage space within. Opening from either the foot end or from one side, all you have to do is lift a tab to easily store away any clutter or occasional use items. Simples!
The stunning Maxi Driftwood Upholstered Ottoman Storage Bed
Why should you choose an ottoman bed?
Extra storage space
The main benefit of an ottoman bed is the amount of extra storage space you have underneath your mattress. Unlike divan beds or underbed drawers, ottomans make use of the entire bed base to give you maximum space-saving potential.
Long-lasting quality
As they're built with bulky storage in mind, good quality ottoman beds are well-known to stand the test of time. Durability is as much a part of their design as their unrivalled functionality.
Style that suits you
Our range of ottoman beds are available in a range of coloured fabric options, upholstered headboards, leather and wood finishes. No matter your interior design, we're guaranteed to have the perfect ottoman bed to suit your space.
How comfortable are ottoman beds?
Ottoman beds and quality go hand in hand. Built to endure, these frames aren't just practical in their space-saving ability, they're super supportive too. Constructed from only the best materials, ottoman beds are built with all the same features and fittings you'd expect from any top of the range bed to provide you with utmost comfort and support for a sound night's sleep. In fact, the majority of our ottomans are built with sprung slatted wooden bases that support your mattress in all the right places to cushion your body whilst you sleep. Goodbye achey joints!
Plus, to ensure you've got the perfect amount of room to stretch out to your sleepy heart's content, our ottoman beds are available in a huge range of sizes from single ottoman beds to doubles, king sizes and even super king ottoman beds.
Our beautiful Serenity Upholstered Ottoman Storage Bed
What mattress should you choose for an ottoman bed?
Although bed frames do much of the heavy lifting when it comes to comfort (please excuse the pun), your choice of mattress is just as important to guarantee a comfortable sleep. When buying an ottoman bed, you've got a few extra things to consider.
Remember – you need to be able to lift this thing! Of course, the hydraulic system will do much of the work, but you don't want to add any undue pressure or weight that could compromise the gas-lift system. As a general rule of thumb, give heavy metal sprung variants a wide berth and go for a light option instead that will ensure your ottoman bed continues working smoothly for years to come.
But just because you're having to buy a light mattress doesn't mean you have to forfeit any of your needs. There are many lightweight mattresses that still cater to a firmer feel preference meaning that those with bad backs or sore joints don't need to worry about losing any much-needed support.
Here are our top picks:
Memory foam mattresses
Memory foam mattresses contour perfectly to your body's shape and sleeping positions to help reduce pressure on your joints while you sleep. They're lightweight and work brilliantly for the longevity of your ottoman bed, and super comfortable to grant you the perfect night's sleep.
Hybrid mattresses
A hybrid mattress is a great choice for an ottoman bed as they seamlessly combine pocket spring technology with the latest memory foam to create a highly comfortable mattress with a firm comfort rating without being overly heavyweight.
Are ottoman beds worth it?
We'd like to think the evidence speaks for itself! Space-saving, innovative, discreet, stylish, and comfortable – what's not to love? Ottoman beds are most definitely worth it.
After all, no matter how big our home, storage space is a precious commodity. Plus, if you can have the comfiest night's sleep of your life on top of that storage space too, sign us up!