Once you've decided on the size of your new bed, your next step is to choose the right bed frame. Whether you need help understanding the different types of beds available, or you're curious to learn more about which beds offer storage solutions, our handy guide will help you make the right decision.
When it comes to choosing a bed, there are many things to consider. Durability, size and storage space are top of many buyers' lists. Design is just as important too, particularly when the bed is the main focus in the room.
Beds are one of the most important pieces of furniture in the home - people do spend approximately one-third of their lives in them after all. Nothing affects your daily performance more than sleep, and we all know how difficult it can be to function after a restless night.
Before you rush straight into buying a mattress, make sure you take some time to pick the perfect frame first.
Types of Beds Available from Time4Sleep
At Time4Sleep we offer a wide variety of beds, and it can be difficult to understand the differences between them. Below we have provided information and the key attributes of our most popular bed frames.
Guest Beds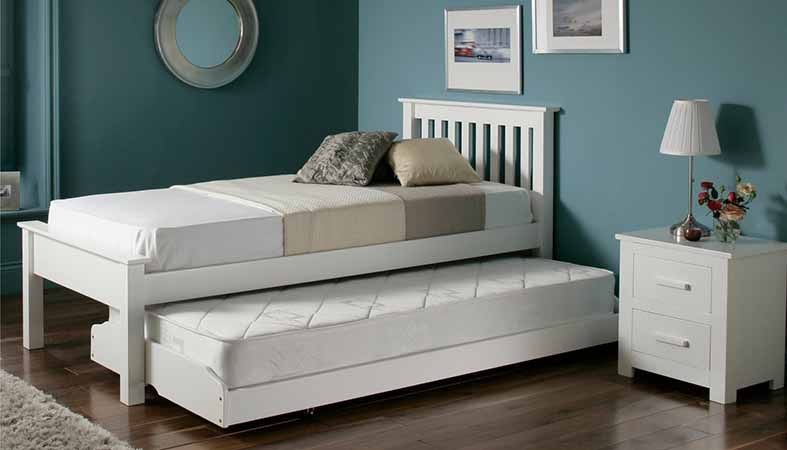 A guest bed is a style of bed featuring a second mattress that can be neatly tucked away underneath the main frame. This allows you to use it as a single bed on a normal day, and simply pull out the additional mattress when guests come to stay. The second mattress sits in a bed frame, so there's minimal fuss involved.
The highly practical bed features spring-assisted legs, which enable the additional mattress to be raised and become level with the main bed. You can then extend it from a single to a double mattress if desired.
Guest Beds at a Glance:
Great way to add extra sleeping space in the home
Great for children's sleepovers
Discreet storage
Great for visiting family and friends
Divan Beds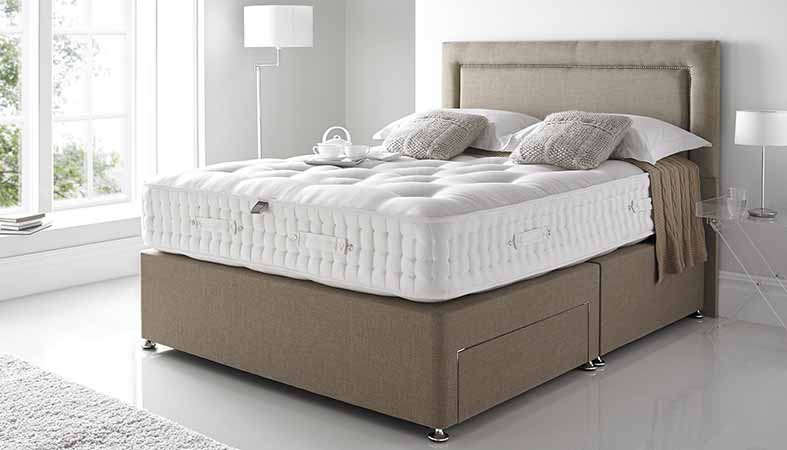 One of the most popular and simplistic designs, a divan bed is essentially a base made of two parts that are joined together with a bracket. The base usually sits on castors or gliders, and drawers are often built into the base to provide underbed storage. A headboard is then required to complete the bed.
Divan beds are a versatile solution if you're looking for a bed that also meets your storage needs. The good thing about divan beds compared to regular beds is that you can close the drawers to hide what's kept underneath, keeping your room looking and feeling tidier.
Two types of divan base exist: the sprung edge and the platform top. The traditional divan bed has the sprung edge design, which is a base made up of coil or pocket springs that provide cushioned support for the mattress. This helps to minimise the wear on the mattress over time.
The platform top has a hard top and gives an overall firmer feel to the bed. The platform top is often the cheapest option, but despite the price is tends to work best with particular mattresses (such as non-sprung memory foam or solid latex).
Divan Beds at a Glance
Versatile beds with storage
Sprung edge or platform top options
Various colour options and upholstery available
Available in all bed sizes
Ottoman Beds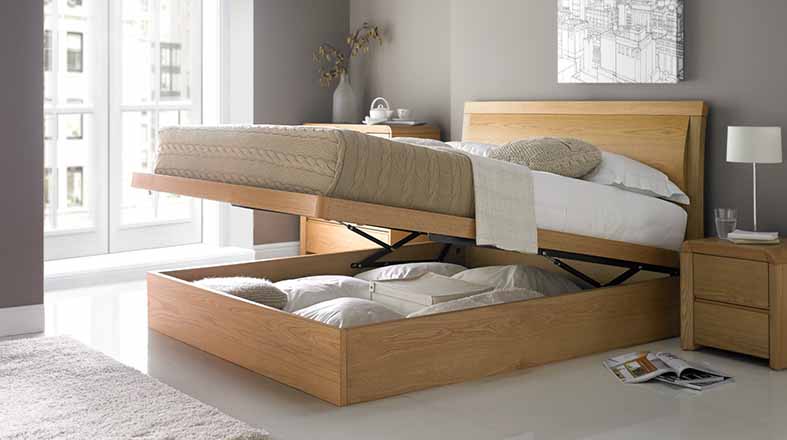 An ottoman is a style of bed that enables you to easily lift your mattress, without disturbing the covers or pillows, to reveal a hidden storage compartment underneath.
No matter the size or style, or the number of pillows or blankets you have, the bed's gas struts make access simple. You can also keep the mattress lifted to free up your hands when putting items away.
Ottoman beds can come with either one large storage space, or a space that's split into sections. Whichever you choose, the space is always accessible by lifting the mattress.
Ottoman Beds at a Glance
Easy to lift
Hidden storage space
Great for small rooms
Stylish & available in a range of colours
Sleigh Beds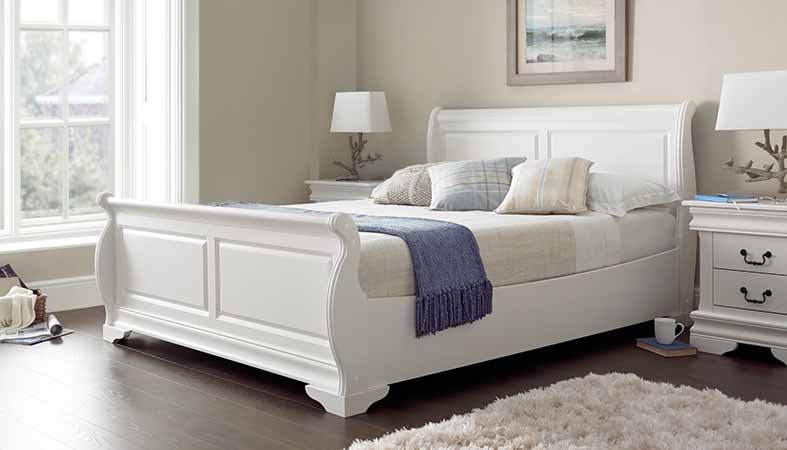 A sleigh bed is a style of frame that can be likened to that of a traditional sleigh. They often feature a large, wide headboard that curves outwards at the top, and a footboard that's larger than most, and follows the same curving design as the headboard.
The sides of the bed frame are also larger than most, and while the height of the bed is similar to standard, this means storage space is decreased to make space for the 'sleigh-like' side panels. Sleigh beds stand on four feet, and some may feature a gap big enough to store very small or flat items underneath, but most styles are very close to the floor.
Sleigh Beds at a Glance
Unique bed built to look like a traditional sleigh
Wide headboards
Less storage space than other bed types
Vintage designs that also work well in contemporary designs
Bed frames made using oak and mahogany
Leather and upholstered versions also available
Mid Sleeper Beds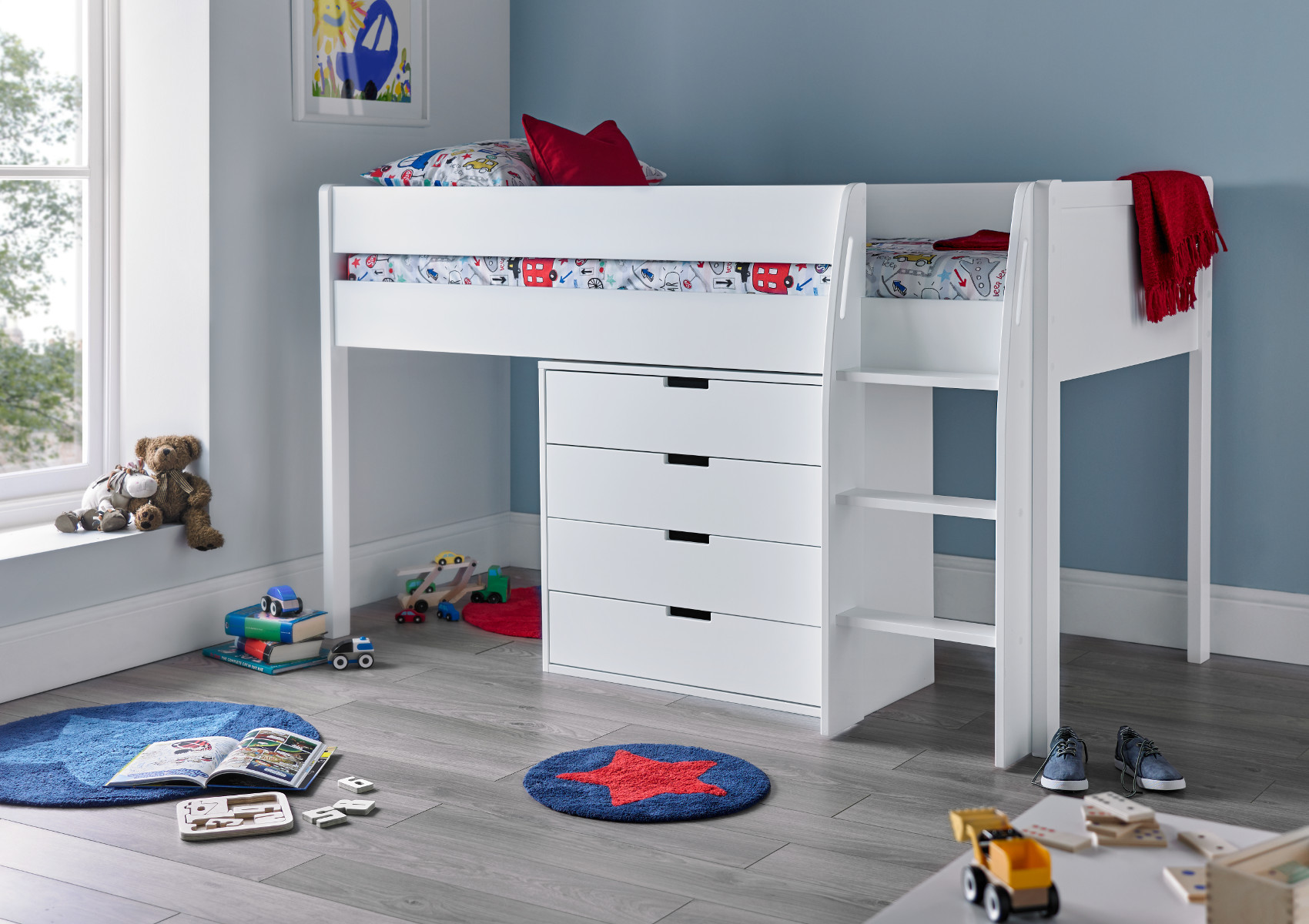 A mid-sleeper bed is a happy medium between a standard single bed and a single high-sleeper bed. They give you the benefit of an increased amount of storage underneath the bed, and your children the novelty of having to climb a ladder into bed, without being above your head height.
The space underneath can be empty to be used for storage or additional features, such as desks and bookcases, can be built into the framework.
Mid Sleeper Beds at a Glance
Extra storage space beneath the bed
Great for growing children
Detachable ladder to access the bed
Space for a desk beneath the bed
Bunk Beds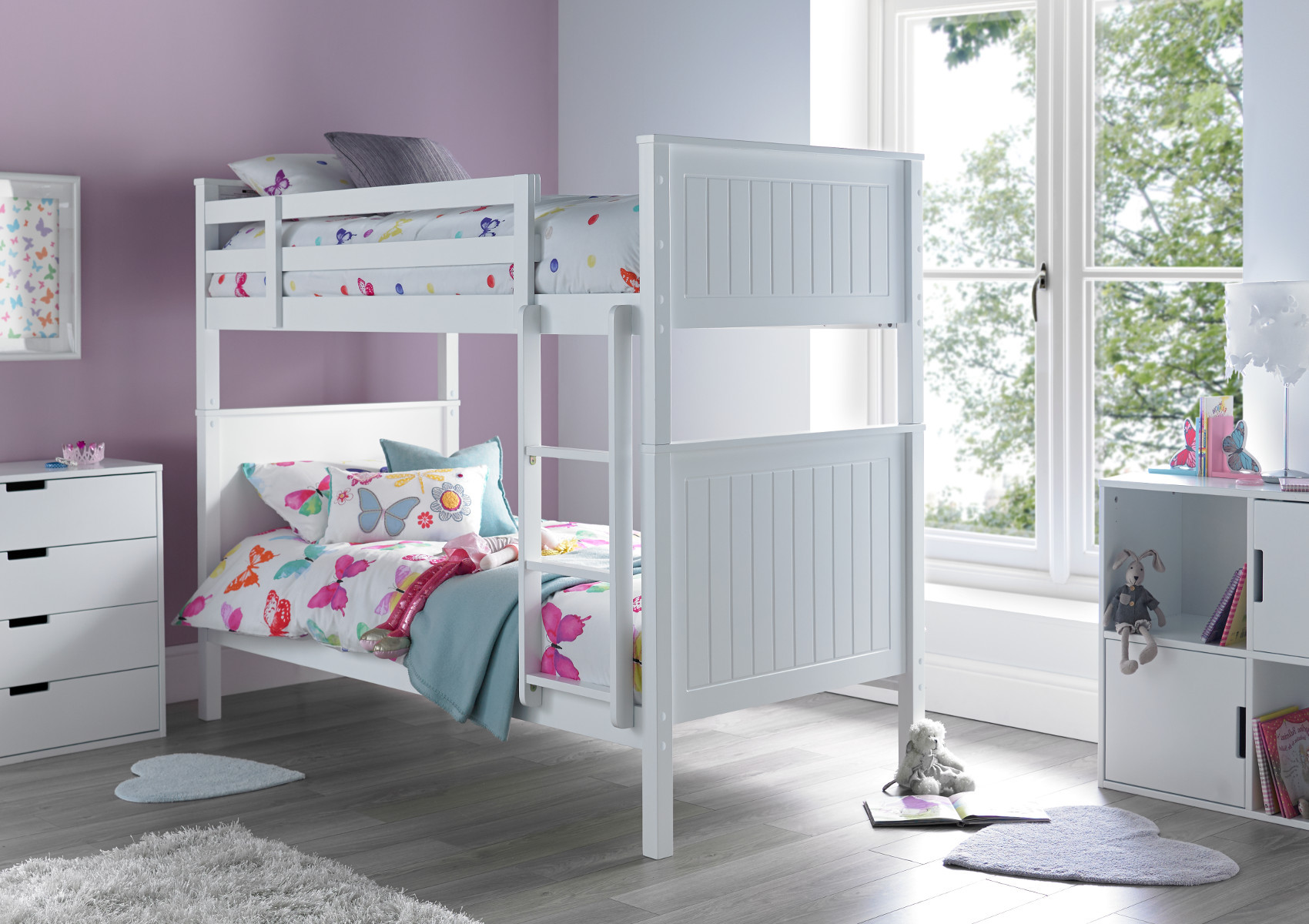 Bunk beds are designed to accommodate two single mattresses, one placed above the other. Two frames support the mattresses and are connected with a ladder for access to the top bunk. The frames can be made from metal and wood, and designs range from the classic to the quirky and modern.
You still have the same amount of storage space as under a single bed with a bunk bed, but also the added benefit of being able to sleep two people, while only taking up the space of one.
Bunk Beds at a Glance
Great space saving beds
Metal or wooden bed frames
Great for young siblings and sleepovers
Option to separate into two single beds as your children grow up
Storage options available
Cabin Beds
Cabin beds are in the same family as bunk beds and mid-sleepers. They're higher than a single bed so the frame raises the mattress off the floor, but a ladder isn't usually required to reach the bed. The height of cabin beds varies with the design, but the majority sit much lower than mid-sleepers.
The cabin bed differs from the mid-Sleeper as the space underneath the mattress is much smaller and it is not left empty. The space is used for built-in storage facilities, such as drawers and shelves, making it a great place to store toys and books at a level that is easily accessible to children.
Cabin Beds at a Glance
Lower than a mid sleeper, higher off the ground than a single bed
Built in storage space beneath the bed which includes shelves and drawers
Great space saving bed option for kids rooms
Day Beds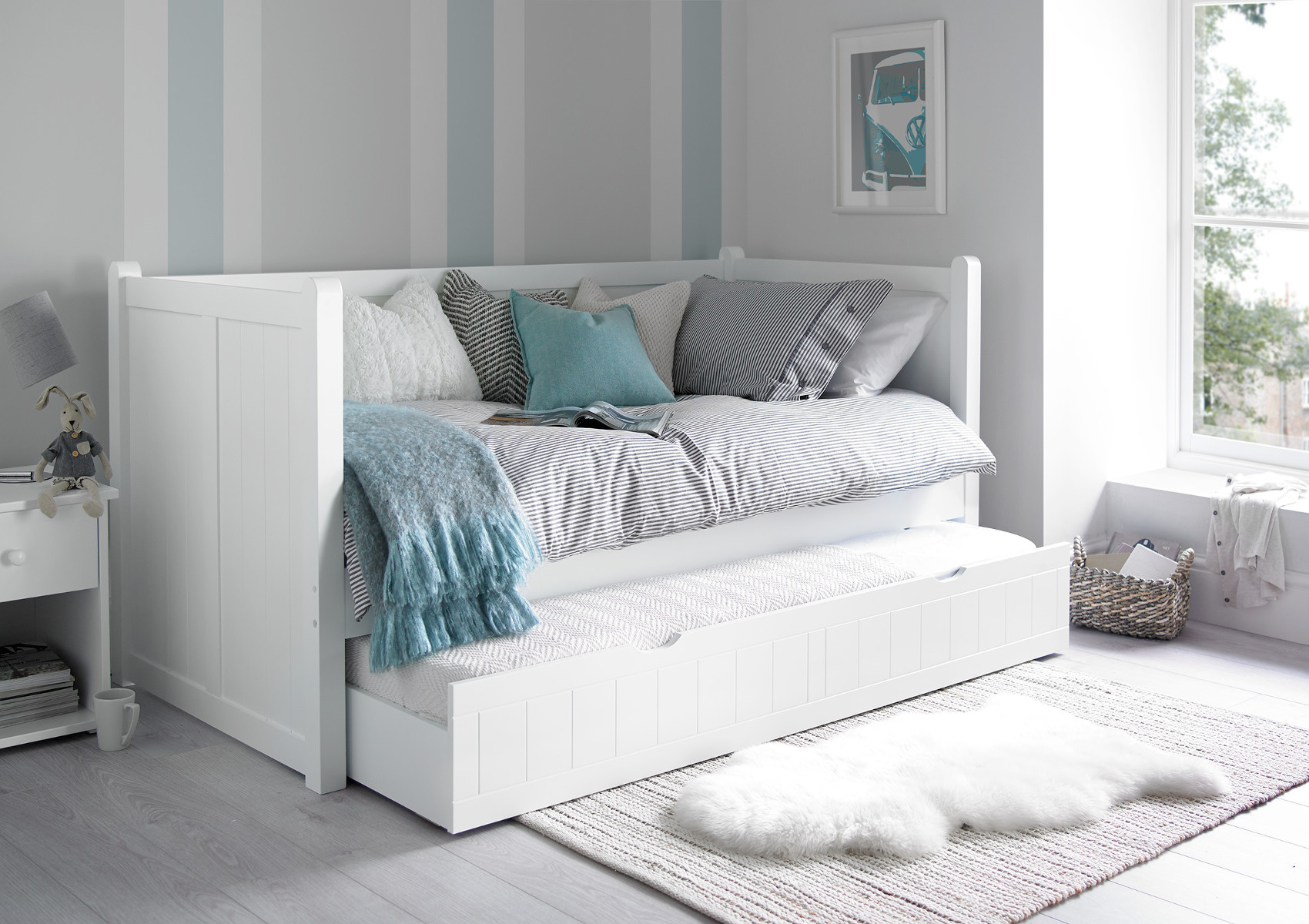 Day beds have two identities. Primarily, they act as a sofa during the day and can be transformed into a bed at night – or whenever an extra sleeping space is required. The day bed typically features a single mattress which is often enclosed by a high top frame on three sides. Frames of wood or metal are usually used and tend to vary greatly in design.
A selection of day bed designs also features an additional mattress underneath the slatted base that can be pulled out to accommodate an extra person.
Day Beds at a Glance
Multifunctional - sofa by day, bed by night
Great for smaller rooms and for guests
Some varieties have an extra mattress built in which means they can accommodate more than one person
Wooden Bed Frames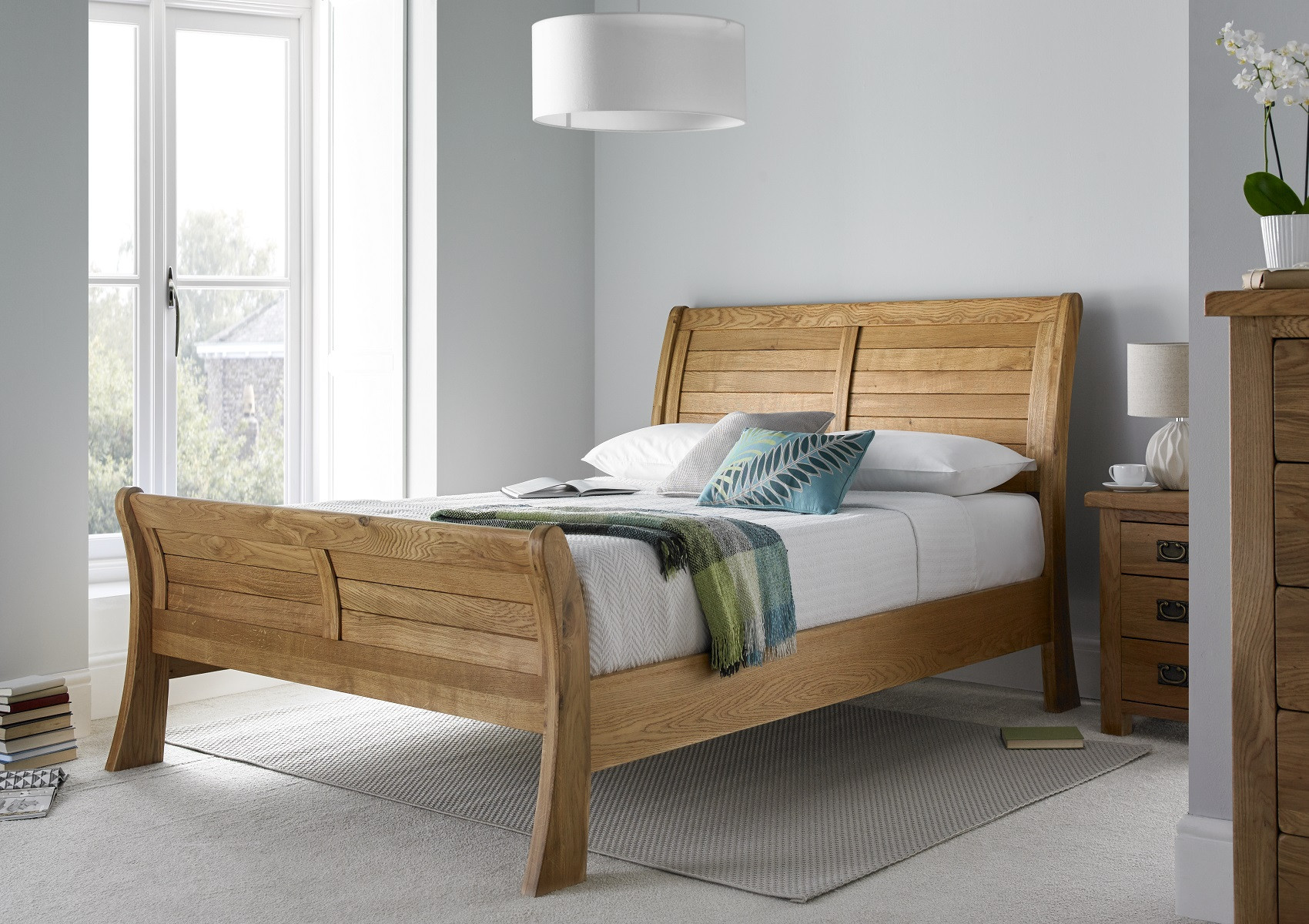 'Wooden beds' is the term used to refer to a style of bed frame that's made from solid pieces of wood. They come in a huge range of styles, from sleigh beds to vintage-looking French styles. Wooden beds are versatile, can be customised to suit your current style, and even accommodate a selection of storage needs.
Known for being robust and long-lasting, wooden beds tend to be a popular choice for many. A timeless material, wooden beds are made in countless styles and finishes including solid oak, pine, ash rubberwood and mahogany.
Wooden Beds at a Glance
Popular bed frame choice
Wide variety of styles available
Storage options available
Made using Oak, Pine, Mahogany and other high quality woods
Upholstered Bed Frames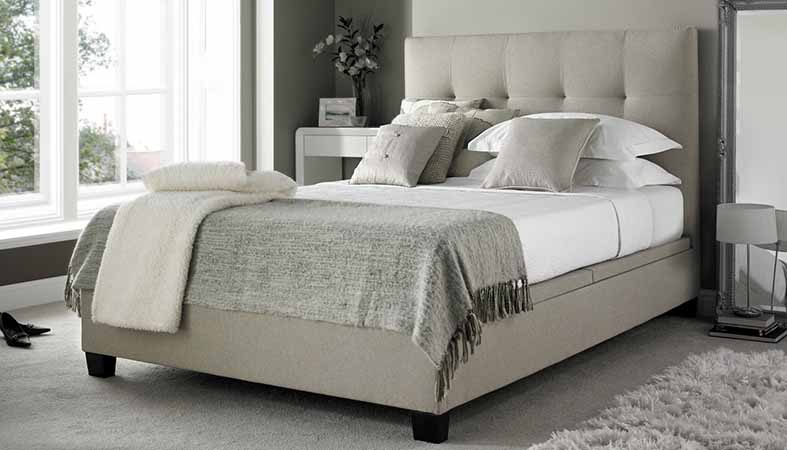 An upholstered bed is, in essence, a bed frame that's been covered in a soft, durable material, and often incorporates some form of cushioning. Upholstered beds and headboards can feature subtle style features such as seams or buttons that are fixed deep into the material, to create a more defined depth of texture and cushioning.
Upholstered beds require slightly more care and attention than a wooden bed might when it comes to maintenance, but offer a warmer and cosier feel in return.
From crushed velvet to sleek leather, in both neutral and bold hues, it should be easy to find a design that matches your style perfectly. The size of upholstered headboards varies greatly, from the very luxe and grand to smaller, more discreet designs.
The upholstered bed may symbolise luxury but you don't need a huge home to enjoy the style. Many upholstered beds now come with ottoman storage or even drawers built into the base.
Upholstered headboards can also be purchased separately to give an existing bed an upgrade.
Upholstered Beds at a Glance
Option to choose from a wide variety of colour options
Matching headboards available
Available in all sizes
Storage options available
See all of our upholstered beds
TV Beds
A TV bed appears like a normal bed frame with a high headboard, but with the addition of a higher than usual footboard that discreetly houses an LED screen inside. This means the footboard can vary in height and width depending on the model.
The footboard can either be operated manually on certain designs or opened at the push of a button. Electrical mechanisms built inside activate automatically, sliding the TV up and out of the frame. Designed specifically for the film and TV lover, some TV beds can be completely controlled with a remote control.
TV Beds at a Glance
TV built into the foot of the bed
Hide the TV away at the touch of a button
Stylish frames in a variety of colours
Great for decluttering a bedroom
Antique Style Bed Frames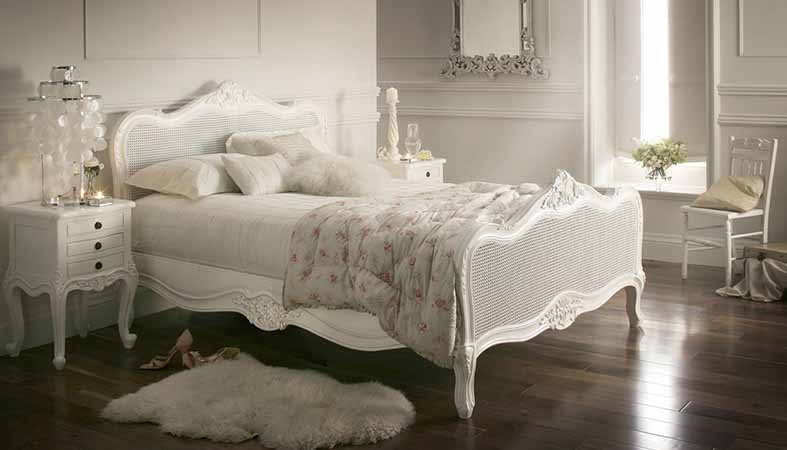 An antique style bed refers to the type of bed frame that features ornate detailing and small intricacies that give it a more traditional, 18th century feel. Often made from solid wood or brass, this style is sturdy, reliable and ideal if you want your bed to be a feature in your room, as well as a functional piece of furniture.
Antique style beds are often best kept as stylish additions to a room, in a space that's open and light enough to really show off their style.
Antique style beds add a vintage feel and a touch of elegance to the room. They're available in classic period designs made from rattan, oak and metal and are made to withstand the test of time. Metal frames are available in brass, nickel and golden hues and are commonly painted white too.
Antique Beds at a Glance
Beautiful bed frames inspired by history
Crafted using the finest materials including oaks, brass and mahogany
Intricate detailing
Built to last
See all of our antique style beds
French Style Bed Frames
French style beds are designed to become beautiful focal points in a bedroom. Their style can either be intricate or beautifully simplistic, and they tend to be made from wood.
Simple French-inspired styles often feature smooth, swooping curved edges and satisfying shapes, while more intricate designs incorporate rattan headboards, curling brass metalwork or sculpted embellishments on both the headboard and footboard.
French style beds work wonderfully alongside other period pieces, or against a neutral setting to really show off the style and sophistication of the bed.
They're perhaps not one for those who need a good level of storage space in their bedrooms, but instead are ideal if you want to create a theme in your bedroom. They're also an excellent option for creating stylish, welcoming and beautiful guest bedrooms.
French Style Beds at a Glance
Intricate designs
Work well with other period pieces in the bedroom
Great for larger guest rooms
See all of our French style beds
Chosen?
Do you now know which type of bed will work best for you and your home? Once you've chosen your ideal frame, make sure you head over to our beds section to view our full range of classic and contemporary beds. Our bed frames are crafted from the highest quality materials and are shipped directly from our UK based warehouse.