If you're looking for high quality furniture that celebrates quintessential classic design, you can't go wrong with a wooden bed. Elegant, durable, sturdy and easy on the eye, our range of wooden beds create a striking focal point in your bedroom that oozes timeless sophistication.
Here, we've put together everything you need to know about wooden beds – from benefits to cleaning and care advice, and our top tips on how to find the best wooden bed for both yourself and your space!
Benefits of a wooden bed
Classic design to suit any space
For ultimate comfort, durable frames and style that will never go out of fashion, a wooden bed is the perfect option to create a traditional aesthetic in any room – whether you're after a more classy or rustic interior style - complimenting a wide range of decors and themes.
Endless colour and style options
Our range of wooden beds are available in plethora of eye-catching colours and designs. Whether you fancy a dramatic dark oak, a beautifully crafted grey frame, or a sleek white painted finish, we are guaranteed to have a style to suit you.
Built to last
As wooden beds are built with solid natural materials, their sturdy composition mean they are incredibly durable and not easily damaged. In fact, unlike other bed frames that can require a lot more upkeep, a wooden bed can thrive for years on end without losing its lustre, comfort, decadence and appeal.
Wooden bed styles: which type is best for you?
Wooden rattan bed
If it's elegance you want, a luxury rattan bed is the answer. Inspired by ageless French design, rattan bed frames add that extra je ne sais quoi and touch of lavishness to any bedroom. Complete with solid slatted wooden bases, rattan beds are widely celebrated for their sturdy and durable nature – providing you with incredible nights' sleep for years to come.
Our Loire rattan bed is a stunning frame that would not be out of place in any Parisian boudoir. Combining gorgeous weathered oak with an intricate, hand-crafted rattan headboard, this bed exudes opulence and sophistication. Plus, the Loire's wooden slatted base helps to support your mattress in all the right places to cushion your body whilst you sleep, meaning you'll wake up feeling fresh and ache-free!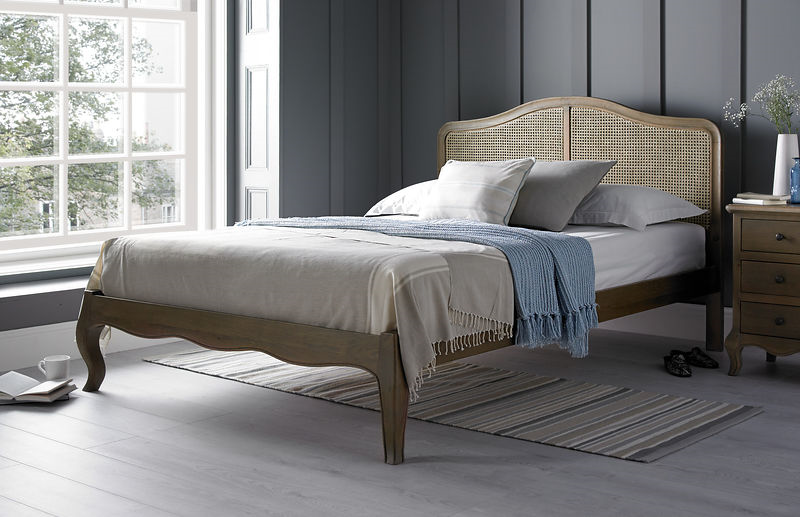 Wooden ottoman bed
Want to level up and add innovative storage solutions to your wooden bed wishlist? Look no further than a wooden ottoman bed. With all the style and comfort of a wooden frame, wooden ottoman beds contain a huge concealed storage area beneath their base so you can save precious floorspace and declutter your bedroom. All you have to do is lift up the bed base to store away your spare bedding and other occasional-use items!
Want some inspo? Feast your eyes on our beautiful classic bed frame, the New England Ottoman – the pièce de résistance of any bedroom, from masters to guest suites.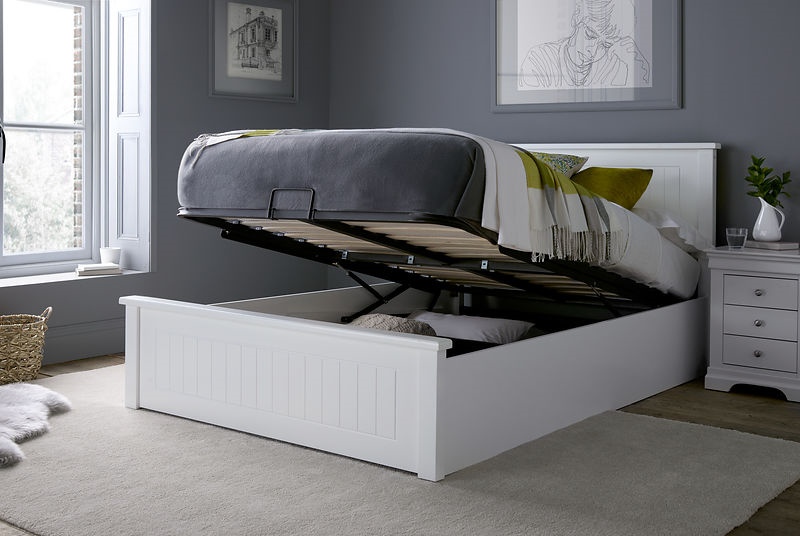 Wooden sleigh bed
After slaying all day, it's time to get your jammies on and sleigh all night. For ultimate comfort and timeless design, a solid wooden sleigh bed is the hand-crafted centrepiece you've been searching for.
Our bestselling Louie Sleigh Bed has been a customer favourite since day one. Inspired by eighteenth century renaissance design, the Louie harks back to the luxurious styles of ancient antiquity with its handcrafted hardwood features and oak stain finish. If you're looking to make a statement and be the envy of your nearest and dearest, this is the wooden bed for you.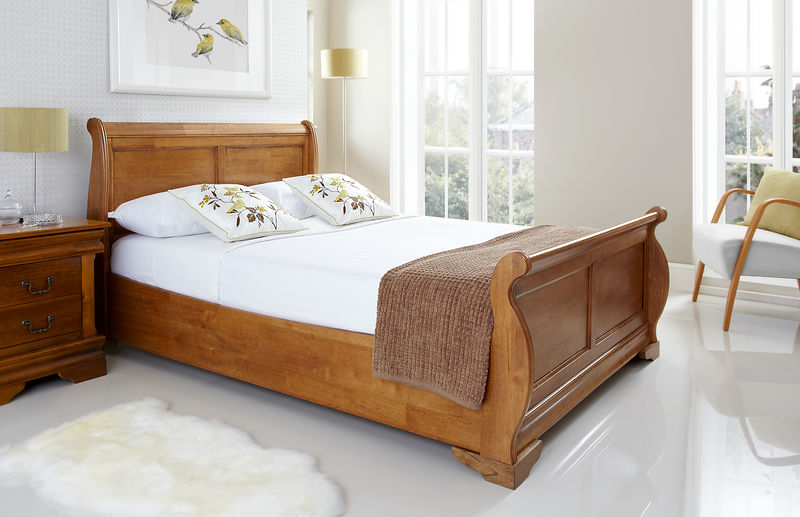 Fancy something new? Take a look at our latest addition to the sleigh bed family with our Marseille Oak storage sleigh beds available in double and king size!
Do wooden beds provide good back support?
Yes! In fact, the majority of our wooden beds come with the option of having either a slatted wooden bed frame or a slatted spring wooden bed frame – both of which are widely lauded as being brilliant for those who need extra back support.
Slatted bed frames are ergonomically designed to actively support the lower back when sleeping on your side or back, whilst also helping sleepers to maintain correct spine alignment throughout the entire back.
If you prefer your bed to have a firmer feel, a standard wooden slatted bed is your best option as they are made from a sturdy solid wood that keep your mattress securely in place. Sprung slats, however, have a little more give and are slightly curved in shape allowing the slats to adapt to your shifting body weight throughout the night and relieve any pressure or strain on your joints for a restorative night's sleep.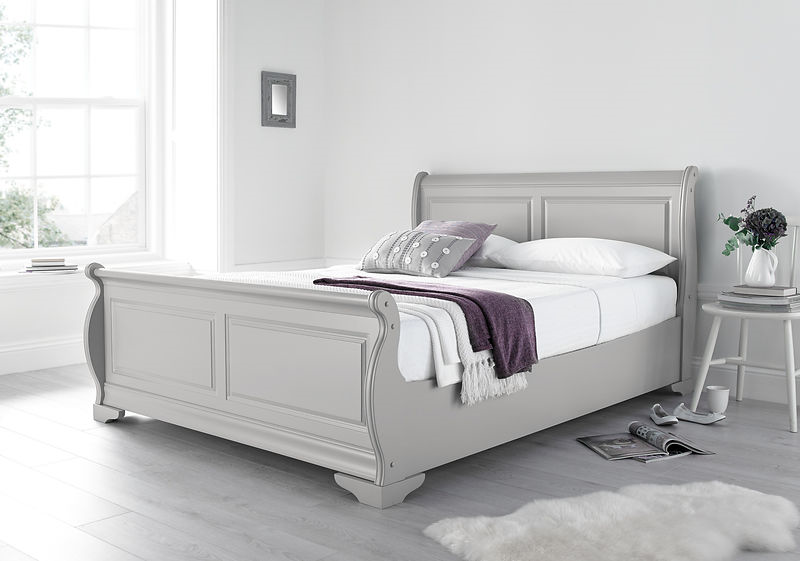 Our Louie Grey Wooden Sleigh Bed features a sprung slatted base for extra support and comfort.
How to clean a wooden bed frame
If you're the proud owner of an elegant wooden bed, a good cleaning routine is a must to keep your prized possession in pristine condition. A regular hoover of your bed frame will help get rid of any lurking dust or dirt that could contribute to heightened asthma or allergies when you rest your head.
When it comes to products, it's best to keep it simple. A good polish spray will give your wooden bed a shiny gloss and an anti-bac spray will provide you with that inviting, fresh new bed smell which will have you begging to crawl in!
But remember, whilst wooden beds are sturdy, choosing the wrong cloths or sprays could cause damage to the frame or its beautiful finish. Make sure you don't drench the wood with liquid, take care to select wood-friendly cleaning products and use soft cloths when it is time to give your bed a spring clean to avoid damaging your bed.
How often should you clean your wooden bed frame?
We recommend that you maintain a regular cleaning routine to keep your wooden bed in tip-top condition. This should include weekly polishing and vacuuming of the wooden bed and a more thorough deep clean every couple of months with a soft cloth and wood-friendly cleaning spray.
Need a mattress too? Say no more. Browse our collection of supportive yet luxuriously comfortable mattresses and say hello to the best night's sleep you've ever had!